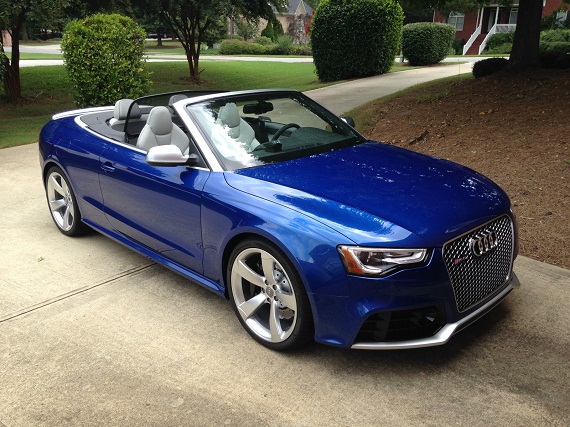 Audi's decision to launch a convertible S4 was interesting to me for a few reasons. First, the concept of a really fast 4-seat convertible is sort of odd to me; I can understand why a roadster would have its appeal, but even then really fast ones are sort of odd. It's just not very pleasant getting buffeted by the wind at 130 m.p.h. and chopping the roof off tends to make the offending car all bendy. In order to combat that, manufacturers add support and strengthening in the floor – but that makes the car heavier and not handle as well. So, your very fast coupe – or in the case of the S4, sedan – is now a slower, more-ill handling car that musses your hair. On top of that, the idea of Audi's strength – all wheel drive and adverse conditions – failed to mesh with the intention of most convertibles – sun and fair weather. But the S4 cabriolet pointed towards a future in the S range: Audi's crack unit quattro GmbH produced them, because they were the only 2-door variant of the S4 at that time. Of course, more recently we've seen the introduction of the coupe version of the B chassis, the "A5" and accompanying S5 – but first, Audi went all high performance and made a RS variant of the B7 A4. Great! Then they offered it as a ultra-exclusive, $85,000 2-door, 4 seat convertible. Huh? I mean, the concept of paying 85 large for a trumped up Audi A4 is staggering in and of itself, but then why do it? You already had a S4 convertible. You were about to introduce a new lineup of the "5" series, along with convertibles there – including the replacements for the RS4 – the RS5 coupe and cabriolet. So why do it? Because people with a lot of money bought them, that's why. And after a staggeringly short amount of time with them, they move on:
Year: 2015
Model: RS5 Cabriolet
Engine: 4.2 liter V8
Transmission: 7-speed DCT dual-clutch semi-automatic
Mileage: 598 mi
Price: $84,995 Buy It Now
PLEASE NOTE, I AM AGRESSIVELY SELLING THIS CAR, AND WILL TAKE THE FIRST REASONABLE WHOLESALE OFFER… YOUR WAITING UNTIL THIS AUCTION DRAWS TO A CLOSE, WILL NOT BENEFIT YOU. YOU MOST LIKELY WILL LOOSE OUT TO GET THIS CAR/…. IF YOU SERIOUSLY WANT IT, MAKE A FAIR OFFER NOW. NOT BUT A FEW OUT THERE BUILT THIS WAY!! VERY LIMITED!! AND FIRST YEAR FOR THIS COLOR ON A CARIOLET!!!….

NOTE,UPDATED PICTURES OF WINDOW STICKER AT END OF PICTURES!! L@@K !!!! ALSO, I JUST PUT $2000.00 WORTH OF 3M CLEAR BRA ON THIS CAR!!! THE EXTENDED FRONT END OF THE CAR IS COVERED, ( half way up the hood )THE WHOLE FRONT END AND LOWER FACIA IS COVER, THE ROCKERS, REAR LOWER QUARTERS, HEADLIGHTS, FENDERS, SIDE MIRRORS, AND INSIDE DOOR HANDLES ALSO PROTECTED.,!!!! SEVEN YEAR WARRANTY ON FILM, AND LABOR COMES WITH IT!! In like new condition FIRST YEAR (2015) FOR THE SEPANG BLUE CONVERTIBLE IN THE USA!! ..Every one tells you their car is like new, perfect condition, flawless, and then you get a look at it, and wonder what planet they came from. You wont be dissapointed with this vehicle. No excuses, no apologies, just a flawless car, the way you would expect a NEW 598 mile vehicle to be represented. Then you have me, a perfectionist, to be lucky enough to buy it from. No curb rash, no paint work, no chips, no dings, no chin rash, just a perfect example , of a well cared for car. I have sold 4 cars over the past 12 months, a new 2014 stingray, a 2013 Bentley GTC, a 2013 mustang boss 302, and a 2013 Mercedes sl550. I have references out the ying yang, and all who have bought from me will tell you the same thing, the cars they bought from me far,far and away, exceeded their expectations. If you dont think this one doesnt knock your socks off, , Ill knock off 20k on the spot!!!!!

REASON FOR SALE , JUST GOT MY DREAM MOUNTAIN HOUSE, AND ONE OF MY TOYS MUST GO !!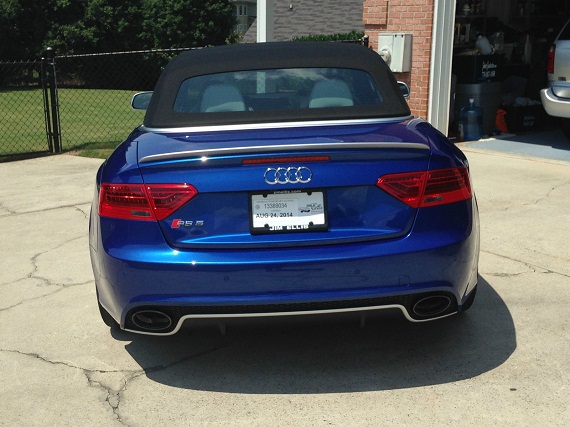 If you're looking for a dream house in the mountains, that, too, will be for sale in 9 months after this seller finds his next point of interest. He'll probably take a loss on it, too – just like the hit he's taking on this RS5. Without factoring in taxes, registration, and maintenance (hey, he has to clean it – or pay someone, right?), this owner is automatically throwing the best part of $4,000 away. Factor in the other items, and my guess is that figure is much higher. And for what? To drive the car 598 miles? What is that, two and a half tanks of gas? It's a staggering $6.67 per a mile gone – just in sticker price, and factor in the bra and it's now $10/mile. It's no surprise then that the car is perfect, and the color combination is good too – Sepang Blue is just gorgeous. This car really bucks the saying "it's only new once". I get that to some people, $5,000 or $6,000 isn't much money – but like my original question about the genesis of this car; why do it?
Because Audi made money, that's why.
-Carter