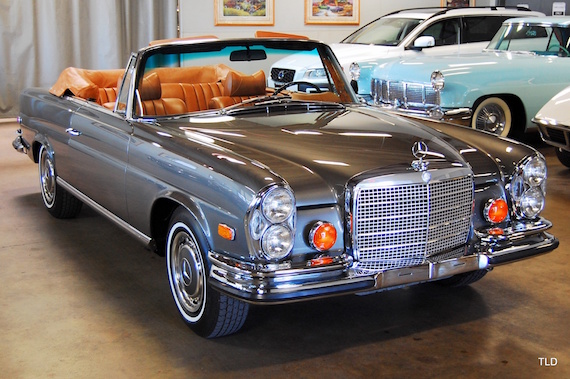 In the last few years, the Mercedes-Benz lineup has grown substantially. Just when I thought it couldn't get any bigger, along comes the S-class Cabriolet. While the myriad of SUVs that Mercedes sells are responses to growing trends in the marketplace, the S-class Cabriolet is a revival of an old theme, the car you see here: the 280SE Cabriolet. The 280SE Coupe and Cabriolet were the swan song of the W111 chassis, with production of the 3.5 V8 variant lasting through the summer of 1971. This restored 1970 280SE Cabriolet for sale in Chicago is fitted with a 4-speed manual gearbox, an option not often seen on these grand tourers.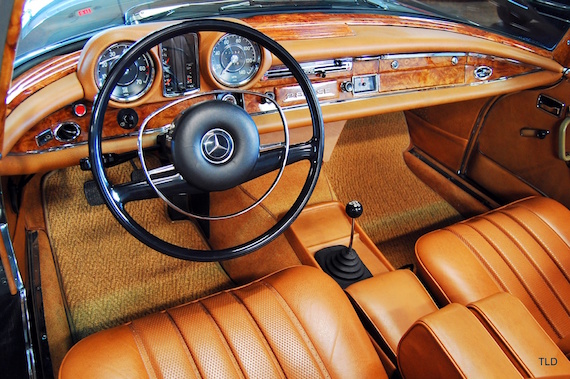 Year: 1970
Model: 280SE
Engine: 2.8 liter inline-6
Transmission: 4-speed manual
Mileage: 80,062 mi
Price: $220,000 Buy It Now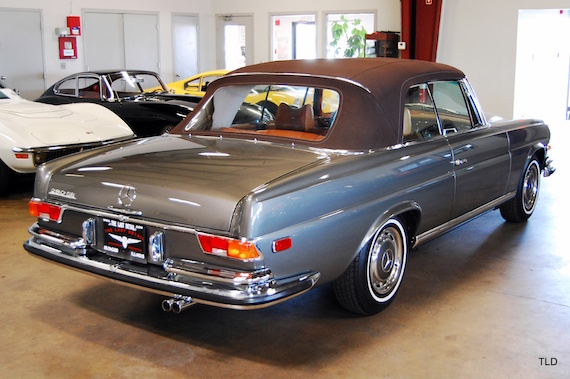 1 of 400 Built for 1970!!

Rare 4 Speed Manual Transmission!!

Stunning Cognac Interior & Brown Convertible Top

Complete Service History back to Original Owner!!

Presented in its original color of Anthracite Grey Metallic, this 280SE Cabriolet is truly a spectacular example. Being the product of an extensive restoration, this car is nearly flawless. The highly detailed exterior is polished to a mirror finish, and is complemented by the exceptional chrome and trim work surrounding the car. Once inside the cabin, the cognac interior blends nicely with the burled hardwood throughout the interior, both in pristine condition. This well preserved Cabriolet features manual windows, and the stereo delete panel with a hidden AM/FM CD player in the glove box. Included in the sale are the complete service records dating back to the original California owner!

Under the hood of this 280 youll find the thoroughly detailed 2.8 liter M130 straight six, which makes 160 horsepower and 182 pounds of torque. Mated to the 2.8, is the factory ordered 4 speed manual transmission which is rarely seen on these cars. Thorough servicing throughout its life and recent restoration work ensures that this car was well serviced, and it shows! The car starts instantly and settles into a smooth idle, but once under way, it shifts through all the gears crisply and handles better than new. This is easily the one of the best performing 280 cabriolets weve ever had.

Low build numbers, exceptional condition, and the right color combination make this 280 the perfect addition to any enthusiasts portfolio! A thorough TLD detail has just been performed to make sure that this car meets our strict standards, so stop by our showroom and see how nice this low grille Cabriolet really is, down to The Last Detail.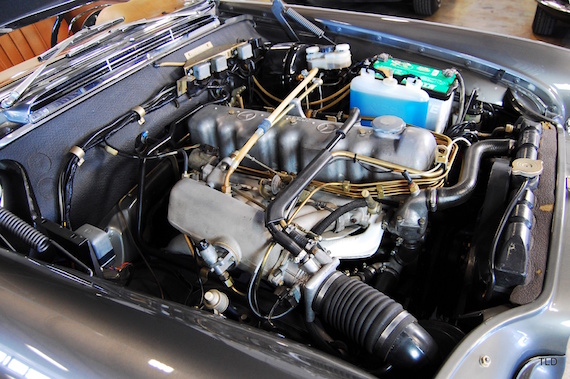 These final W111s are pulling money that would buy a small house in some locales. Such is the reverence for this hand-built Benz, quality which shines through in every detail. If this car had the 3.5 liter V8, I wouldn't really bat an eye at the price, but given this is a six-cylinder variant, the price is quite strong. Maybe it's the rare manual gearbox pushing the value up there, but I doubt that would be a bonus for many buyers in the market for a grand tourer like this. I always thought of these cars as a better engineered Rolls Royce Corniche. These cars just had panache which can't be replicated these days, even in the most expensive of vehicles. If only I could borrow this Benz for my trip to the beach in the next few weeks. Oh, to dream…
-Paul