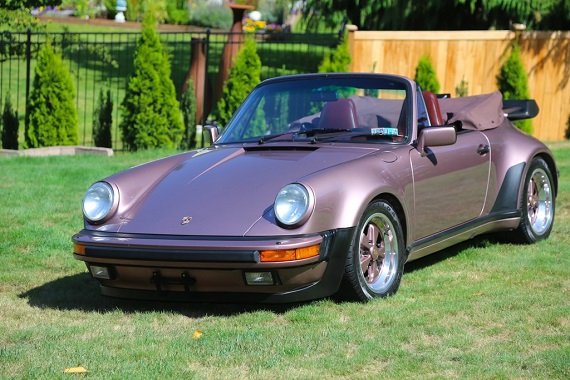 Contrasts: they don't always work, but when they do they create something that is much more interesting than the norm. I think we see this a lot with modified cars where contrasts in style become much more prevalent. With factory cars these contrasts usually come about through color combinations between the interior and exterior, but even more so when those colors appear to contrast with the ethos of the car itself. That is what we have here. The 930 needs little introduction. As Porsche's turbocharged rear-engine Goliath it provided rewards to those able to master its dynamics and treachery to those who could not. Subtle is probably the last adjective that might be used about it. In neither appearance nor performance is it anything approaching subtle. Cassis Red Metallic seems a near opposite. A color that is both vibrant and also soft that may even suggest playfulness. It's beautiful in a way that belies the nature of the 930. When combined we get a stark contrast, one that has been found on many Porsches before and after it and which remains one of my favorite hallmarks of the brand. Does it work? That will be up to individual buyers. But it's about as far from triple black – the über aggressive alternative – that we can get.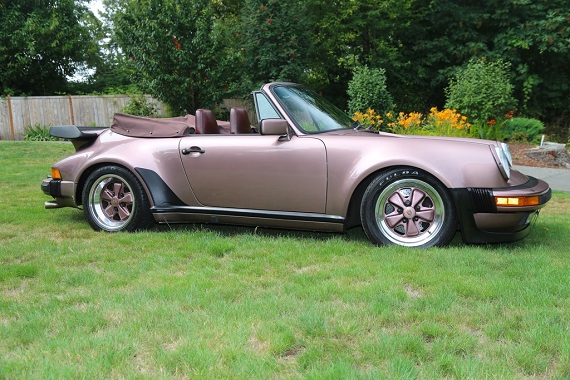 Year: 1988
Model: 911 Turbo Cabriolet
Engine: 3.3 liter turbocharged flat-6
Transmission: 4-speed manual
Mileage: 48,218 mi
Price: Reserve Auction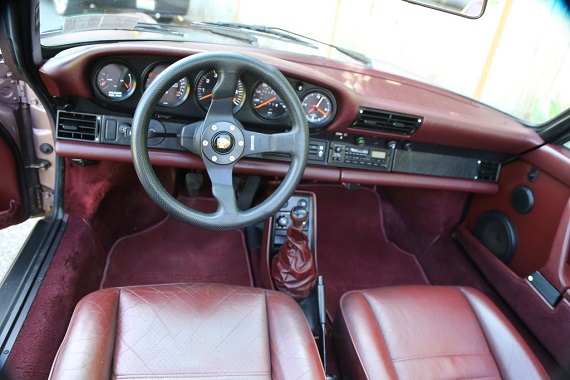 For Sale
THIS IS A WORLD WIDE RESERVE AUCTION
1988 Porsche 930 Turbo Cabriolet
Only 48,218 Miles
This Unique Porsche is Car #458 Out 591 Made.
Special Hard To Find Factory Exterior Color
CASSIS RED.

With Factory Painted To Match 7JX16 Alloy Wheels.

supple Leather Interior is a Cassis Red Metallic with some burgundy.

Turbo 6cy 3.3 liter Air cooled
4sp Manuel Transmission.
limited slip differential.

This Car Runs Drives Handles Amazing
This Car Is All Factory Original Body An Paint

OPTIONS:

Power operated Top.
Power windows.
Power seat height an backrest adjustments full power.
Air Conditioning.
Adjustable Outside Mirrors.
Automatic Heating Control.
Tinted Glass All Around.
Front an rear spoilers.
Integrated fog lights.
Head Light Washers.
Cassette Radio.
8 loudspeakers.
Leather covered steering wheel.
The Factory exhuast has been upgraded

BODY:

ALL ORIGINAL NEVER PAINTED

NO DENTS NO DAMAGES NEVER IN ACCIDENT

PAINT IS IN SPECTACULAR CONDITION WITH NO PEALING OR CHIPPING

STILL HAS MIRROR PAINT SHINE

STORED IN HEATED GARAGED

ALL DOORS LINE UP AN BODY LINES

100% RUST FREE

With 930 Turbo values steadily increasing over the past few years, the demand for these vintage Porsche's continue to rise with each passing year, making this a sure-fire classic car investment that any collector or enthusiast is guaranteed to be proud to own I AM A SMALL COLLECTOR OF PORSCHES AN OTHER CLASSIC AN UNIQUE CARS AN THIS IS 1 I HATE TO SEE LEAVE

BIDDERS:

CALL STEVE @ 425-922-5122 WITH ANY QUESTIONS

Bid With Confidence
Check my Feedback Rating
Once Sold Please Contact Me Right Away Or Within 24hours
I can help arrange cheap reliable shipping
Non Refundable Deposit of $1000 Due in 24Hrs
Full Payment Due in 72Hrs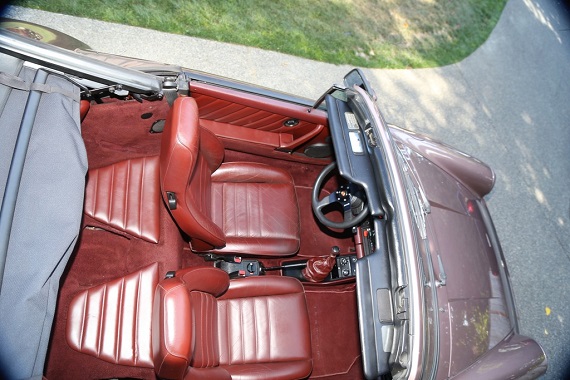 The pictures appear a bit touched up, but this is one of the better looking examples of Cassis Red I can recall seeing. It is one of the few we've seen on the 930 and the only one I've seen with color-matching wheels. With regard to those wheels, I'm not sure I'm sold on them. In some of the pictures I love the look and in others it seems like a little too much and I wonder if I'd prefer the more common Black Fuchs. That this is a Cabriolet perhaps lends itself to the Cassis Red wheels since we also get a peek at the Burgundy interior. Regardless of your specific tastes in this regard, the color itself is unique and always a favorite. It works particularly well on the 930 as it helps to accentuate the wider rear and that wider stance provides a note of aggression juxtaposed with the less aggressive exterior color. Bidding remains on the reasonable end at $72,922, but unsurprisingly that is not enough to reach the reserve. While bidding may not get there I'm going to assume that the reserve is likely above six figures, but we'll have to see.
-Rob