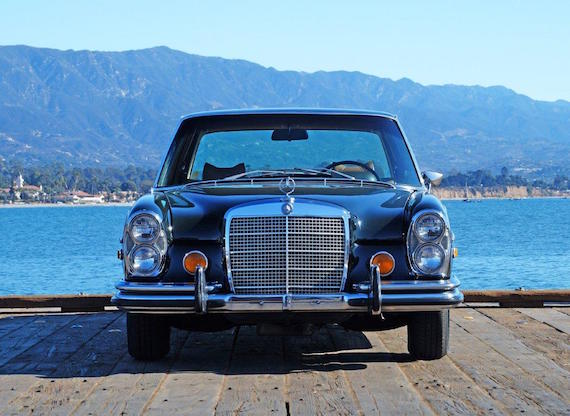 Even in the face of an increasing drive towards economy, manufacturers are still battling it out in the horsepower race. Mercedes has been one of those companies leading the charge over the last decade, with some formidable performance entries with forced induction V8 and V12 engines. This tradition started years prior with this car, the 300SEL 6.3. Taking the M100 V8 from the 600 and shoehorning it into the smaller W109 S-class was no small task, but the result was a luxury saloon that could hit 60 mph in just a tick over six seconds. This was remarkable performance for the day, competing favorably with a number of American muscle cars while providing unmatched comfort at the same time. This 300SEL 6.3 for sale in California is a four-owner car, originally purchased by the owner of a Mercedes-Ben franchise in Pittsburgh, Pennsylvania.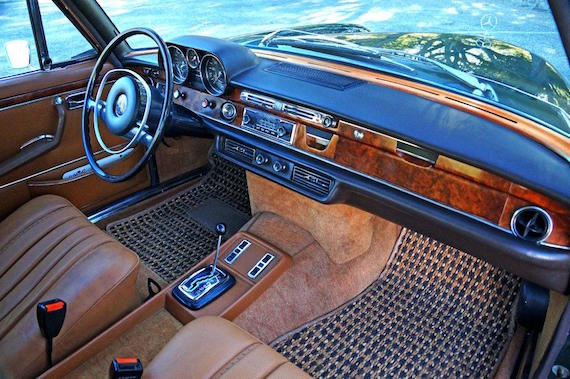 Year: 1970
Model: 300SEL 6.3
Engine: 6.3 liter V8
Transmission: 4-speed automatic
Mileage: 104,353 mi
Price: Reserve auction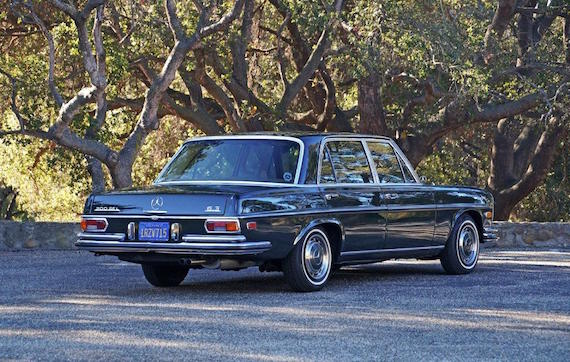 Offered for sale is a gorgeous, well-cared-for, very original, numbers matching, heavily documented 1970 Mercedes-Benz 300SEL 6.3 finished in desirable and attractive Dark Green (DB 291) over Cognac leather. The 300SEL 6.3 started out as an auspicious personal project by company engineer and amateur racer Erich Waxenberger, who was able to somehow squeeze the heralded 6.3L V8 M100 engine from the flagship 600 limousine into the popular Paul Bracq designed W109 body, which until that point was offered only with a 6-cylinder engine. Seeing the opportunity to more comprehensively utilize the M100s production facilities, Mercedes surprisingly decided to slate the car for production, developing Waxenberger's weekend project into the ultimate wolf in sheep's clothing – an elegant and supremely comfortable sedan that provided performance similar to – if not better than – most of the dedicated sports cars of the era. Independent road tests confirmed an astonishing 0-62mph time of 6.3 seconds (fittingly) and standing quarter mile time of 14.2 seconds.

This beautiful example was purchased new by Charles Becker, the owner of Charles G. Becker Mercedes-Benz, a factory authorized dealership in Pittsburgh, Pennsylvania. He used it as his personal car until the late 1970s, when he sold the car to his friend and insurance agent. He kept the car until 1982 when he in turn sold it to his banker, also of Pittsburgh. The third owner would keep the car for the ensuing 25 years until 2006, when it was sold to the last and most recent owner, an attorney from Milwaukee, Wisconsin. In the nine years of his ownership the previous owner spent nearly $25k ensuring the car was as mechanically sound as possible, primarily with Brooklyn Motoren Werke, Inc., a well-respected marque expert in Brooklyn, WI. In addition to the most recent service receipts, the car also comes with a stamped service booklet and a thick stack of receipts going back to the 1970s, documenting the car's mileage as well as thorough and consistent care throughout the its ownership history.

Having had cosmetic refurbishments performed as needed rather than ever having been fully restored, the car remains quite original and exceedingly presentable. The desirable Dark Green finish has only a handful of minor imperfections, none of which are significant enough to appear in any of the photographs, and the chrome and glass are in excellent original condition. Always properly garaged, the car's undercarriage is solid and original and the body is straight with consistent panel gaps and fits throughout. The interior is equally clean, the carpets, dash, wood accents, interior panels, headliner and rear seats all in excellent original condition and the front seats recently reupholstered in the correct material and pattern. Everything on the car works as it should, including the power windows, lights, heat, original Becker Grand Prix radio and the air conditioning, which has been converted to R134A.

The results of Brooklyn Motoren Werke's efforts are evident and the car is in excellent mechanical condition. The original engine starts easily, idles consistently and pulls strongly and smoothly through each of the transmission's gears. The car drives and brakes straight and the air suspension performs flawlessly, free of any leaks. Rather than list all of the recent mechanical work, PDF copies can be made available to qualified buyers upon request. The car leaves nothing to be desired from behind the wheel, the torquey M100 leaping to attention with grin-inducing force when asked, but smooth and unobtrusive while merely cruising down the highway. The air suspension yields an incredibly comfortable ride quality making the car a joy to drive in any circumstance.

Whether as a serious collector or a weekend enthusiast, if you're in the market for a 6.3, this very original, well-cared-for, mechanically excellent, heavily documented example deserves your serious consideration. Values have more than doubled over the last seven years and, with room for additional appreciation, a car in this mechanical condition, with this history and finished in these colors is a wise and thrilling investment.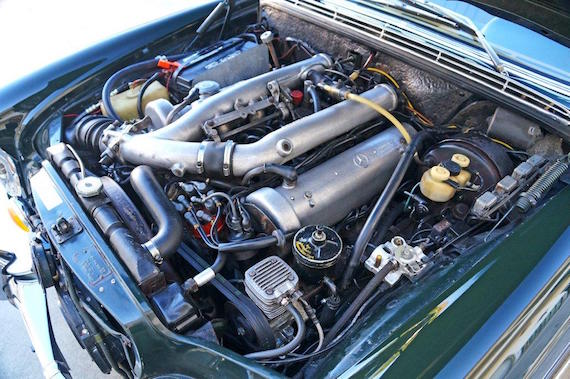 We haven't seen many 300SEL 6.3s sell recently on GCFSB, but taking a look at the Hagerty Price Guide, the middle ground for these cars appears to be around the high $30,000 range, with excellent examples bringing upwards of $50,000. Given where bidding is heading on this rather original car, I'd hazard a guess that somewhere in the $45,000 to $50,000 territory would be where bidding settles. We'll see if this car meets its reserve. In the mean time, I'll sit here and admire a car from a company who has been in the business of creating high-performance sleepers for around 50 years.
-Paul