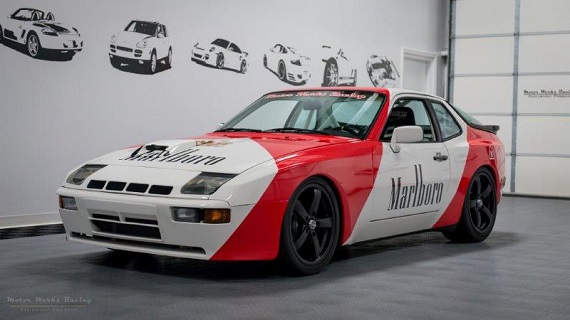 While there are faster cars, cheaper cars, flashier cars and cars that are easier to drive at the limit, few manage to be quite the combination of speed for dollar input as the 944 Turbo. Naturally almost perfectly balanced and with seemingly endless amounts of tunability and tweaking, the 944 Turbo is effectively now a 35 year old design that somehow still seems fresh. Every time I see a new 944 Turbo build I smile, as each time they just seem so naturally suited to the track-biased modifications. Today's example is no exception and comes from a group who recently have been doing many of the best looking track builds, Motor Werks Racing. They've turned up these 944s and then dressed them in period livery that makes for one heck of a great looking package: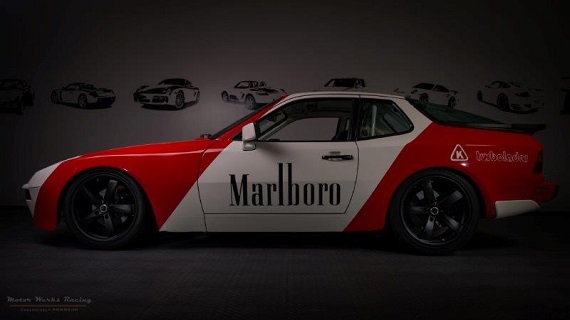 Year: 1986
Model: 944 Turbo
Engine: 2.5 liter turbocharged inline-4
Transmission: 5-speed manual
Mileage: Not Listed
Price: $30,500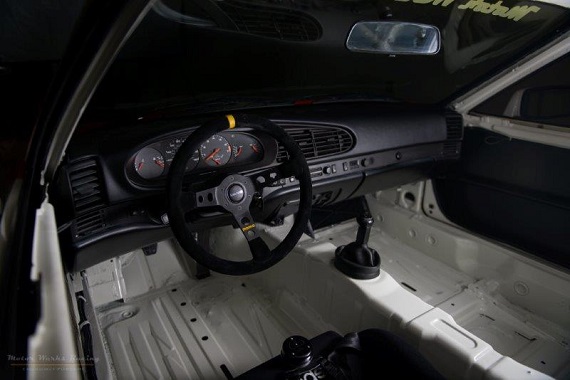 1986 944 Turbo Tribute Car
ENGINE
· Freshly rebuilt 2.5 Turbo Engine with big valve ported & bowl blended head, balanced internals, polished crank, polished oil pump, turbo valves & valve springs, new rings & rod bearings, gaskets & seals and all new hardware.
· Newly rebuilt Koklin Turbo w/ 360* bearings
· New Tial wastegate with custom outlet exhaust
· MASS Air Flow with custom EPROMS
· 55 Lb. Injectors
· Motorsport fuel pump
· High flow, low pressure drop intercooler pipes
· Silicone boost hoses
· Billet bypass valve
· Custom 3 ½" intake pipe
· All new belts, tensioners & rollers
· All new gaskets, filters & fluids
· All sensors & ignition components are new
· New coolant expansion tank, cap & cooling hoses
· New water pump (not remanufactured – OEM)
· A/C & power steering delete
· New Aluminum flywheel
· New Sport Cup Clutch
· New clutch slave cylinder
· New engine mounts
· New radiator
· New oil cooler lines & fittings
· Custom catch can kit
IGNITION
· New spark plugs & wires, distributor cap & rotor
· New ignition & injection harness
· New alternator
· New battery
SUSPENSION
· New Koni suspension with camber plates
· New front coil over conversion
· New control arms with new ball joints
· New Escort adjustable rear sway bar
· New adjustable rear drop links
· New Delrin rear sway bar mount
· Motorsport hollow front sway bar with new drop links & bushings
EXHAUST SYSTEM
· New stainless steel Custom 4" exhaust
· All new hardware & gaskets
BRAKING SYSTEM
· Stainless steel brake lines
· New Cross drilled rotors
· New brake pads
· New stainless steel brake lines
· New brake master reservoir
INTERIOR
· Back half weld in roll bar
· New Sparco Race Seat
· Schroth Harness
· New Momo Steering wheel with hub adaptor
· Lightened interior – all sound deadening & carpet removed
· Color matched interior
· New dash cover
EXTERIOR
· New 18" wheels
· New Hoosier R6 tires
· RSR Wheel studs
· 924 GTS front body: front bumper, fenders, center valance & hood scoop
· 924 GTS Lexan Headlights
· GTS Driving lights & corner marker lenses
· Grill mesh for radiator protection
· Sunroof hard mount kit – pinned in place
· New Custom Marlboro Tribute Graphics package
Misc. Items
· All new fluids & filters
· New Fuel lines, regulator, dampener & fuel pump
· All maintenance services completed

DYNO Tuned to 375 RWHP @ 15 PSI
$30,500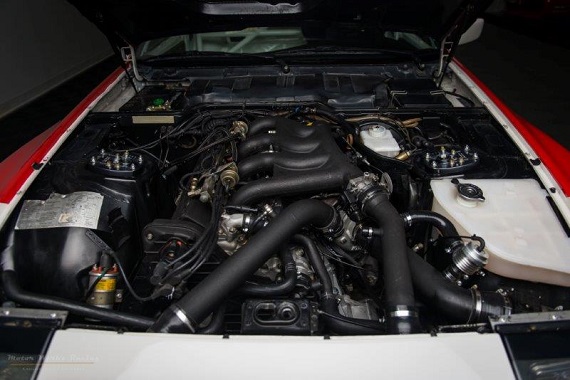 Black wheels aren't my thing, but these evoke memories of the Formula 1 legend McLaren MP4 powered by Porsche. Of course, the Marlboro livery helps that image live. To be honest, this isn't the best looking tribute Motorwerks Racing has done, as they've completed a few classic 924 Turbo GTR tribute cars that are pretty amazing. But with a host of 924 Turbo bits coupled with a great 944 build, this car surely won't disappoint. Paying someone else to build a track car for you will never be a cheap route to go, but compared to 911 builds these 944s remain seriously cheap and extremely potent. At $30,000 you could find cheaper track-ready examples, but I'm not sure you can find many built to this level and looking like this.
-Carter