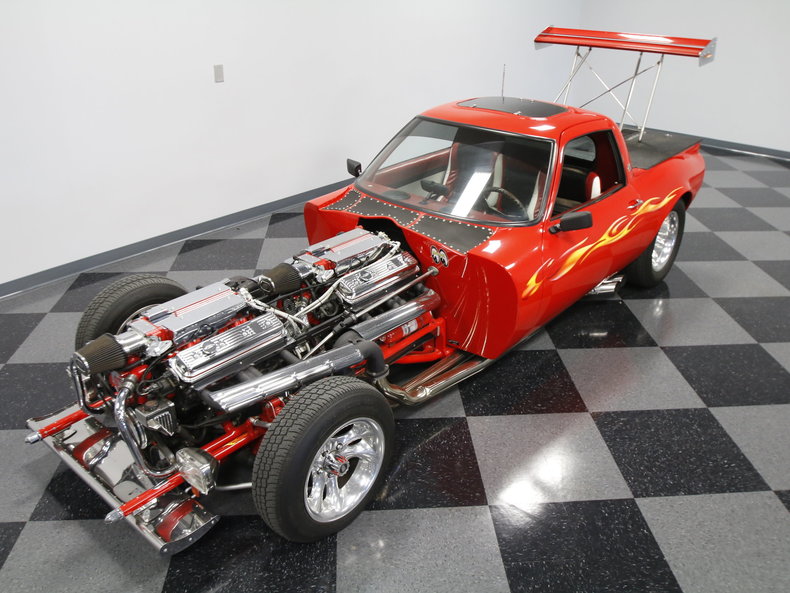 Generally speaking, engine swaps are usually an improvement over the stock running gear even when they're home brews. And if you're really clever with your swap, you can end up making quite the sleeper; V8 powered Volvo wagons come to mind. But some people go over the top, and throw an absolutely crazy motor into a car which was never designed to have anywhere near the power levels capable of the new mill. Such is not the case here. That's because the builder of this Opel GT designed that the popular adage "There's no replacement for displacement" meant putting a V8 into the nose of the diminutive GM product. And by "a", I actually mean two V8s. In an attempt to dispel the notorious "Mini-Corvette" moniker, this GT tops out at 11.4 liters of American muscle with just a bit of Opel sprinkled into the mix. Though far from our usual flavor, let's take a look at this crazy creation: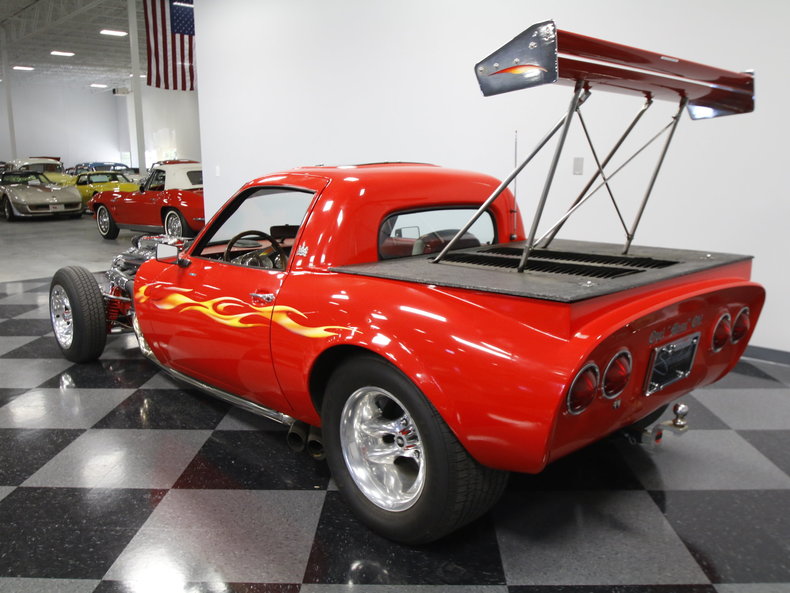 Year: 1970
Model: GT
Engine: Two 5.7 liter V8s
Transmission: 4-speed automatic
Mileage: "7,562" mi
Price: $44,995 Buy It Now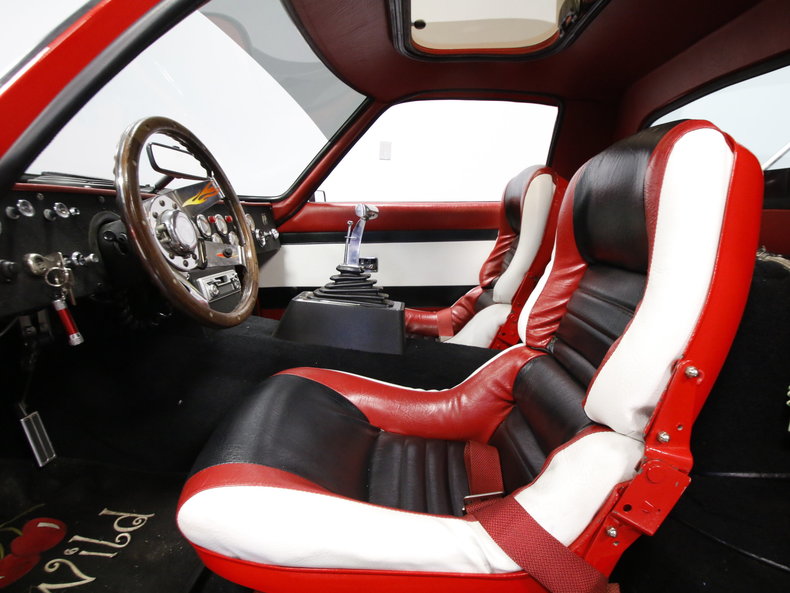 We already know you're looking at this because you a fan of the outrageous. So yes, while we do call this car a 1970 Opel GT, the dual fuel-injected LT1 V8 motors, custom frame, massive rear wing, and so much other custom work makes this a true one-of-a-kind for the street or strip.

Usually we'd save the motor description for later, but this dual V8 setup is pulpous-built to make a raucous first impression. With bright valve covers, shrouds, piping, and even a shining front rear wing, this is about making sure it will be noticed. Then again, let's face it, everyone is already in awe of what it looks like to double-down on iconic American power. The body was borrowed from an Opel GT, but even that has been heavily modified. The rear has been turned into a truck bed whose cargo is the radiator and support equipment (this one even gets the car/pickup joke by calling it the "Opel-Mean-Oh.") This flat deck provides the perfect place to mount the massive rear wing. Also, have you noticed the complete headlight and taillight package? Yup, this mean machine is eligible in many areas to legally have a license plate hung on it. We'll now just let your imagination run wild with all the black tie dinners you crash with this interloper. We know you will be the center of attention!

Inside is a custom red, white, and black design that looks particularly handsome on the late C3 Corvette leather bucket seats. We could pretend that you're enjoying features like the B&M shifter, sunroof, or the woodgrained steering wheel, but really you're just probably wondering why there are so many Dolphin auxiliary readouts. The answer to that one is simple double the motor means double the gauges! There's an AM/FM/cassette stereo, but you already know your favorite soundtrack will be trumpeting out of the side exhaust.

With two fuel-injected 350 cubic-inch LT1 motors boldly sitting out front, do you get the feeling that this Opel GT is out to get revenge on everyone who called these the "Baby Corvettes"? But the undercarriage pictures tell a much more complete story. From there you can see an investment in a custom tubular chassis that can handle the power and torque created by this 16-cylinder monster. And yes, this is a true beast. After all, plenty of us love the power and sound that this iconic LT1 gave us in cars like the C4 Corvette and Trans Am…now add 100% more! It mates to GM's stout 700R4 four-speed automatic transmission (yes, this one has overdrive) and sends power to a Ford 9-inch rear. The custom creation also gets the suspension details right, too. There's a double tubular A-arm independent front suspension, and the rear has a coilover setup with air shocks to dial in the ride height. Control is also well in hand with disc brakes up front and massive 295/50R15 BF Goodrich rubber in the rear.

We've never seen anything like this before, and we likely will never again. So if this one-of-a-kind dual V8 custom build has you intrigued, you might want to hurry up. Because once it's gone there won't be another. Call today!!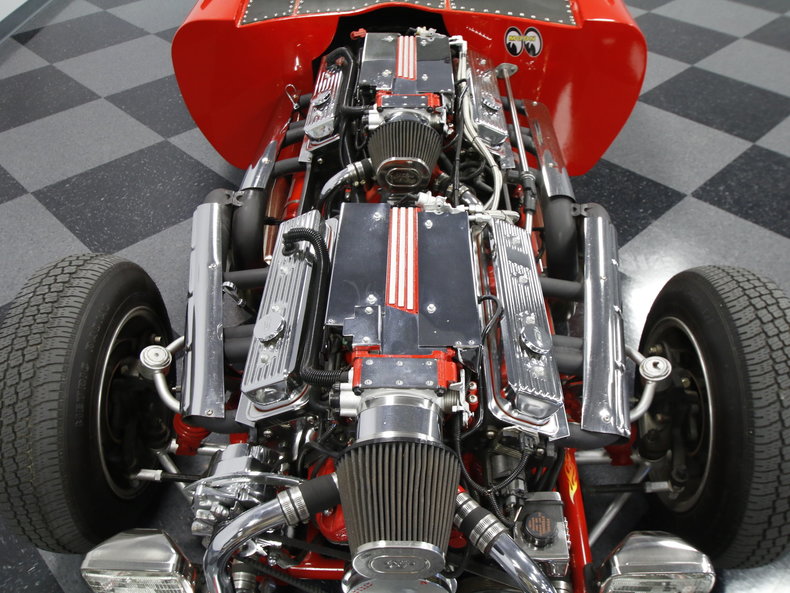 If 5-year old me were to draw a car, it would probably look an awful lot like this. Maybe the only change I'd make would be to add flames, and the front wheels would be three feet off the ground with the rears spinning away. Strangely, neither of these scenarios seems all that unlikely looking at the creation in front of us. I mean, most enthusiasts have talked about doing something crazy like this, but nearly all of the time it's left on the mental drawing board and no one actually attempts it. This car throws out that drawing board and is just mental. At $45,000, you could buy a much better handling, better driving, and likely faster Corvette, but if you just want to turn heads pretty much anywhere you go this will trump just about anything this side of rolling down Rodeo in a jet-powered G-wagon.
-Carter