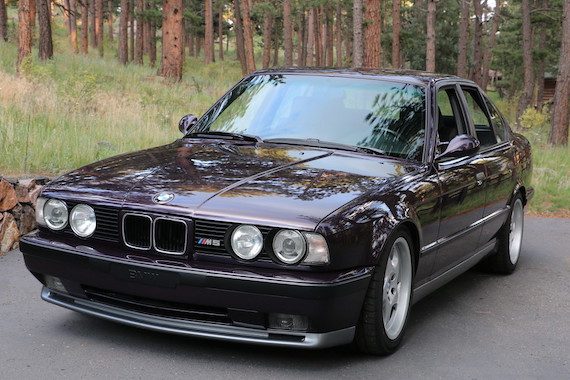 Long overshadowed by both the E28 and E39, I think the E34 version of the M5 is in fact one of the last definitive M-cars, and is certainly worthy of the kind of attention that it now seems to be getting among M-enthuasiasts (especially those priced out of the E30 market). On the outside it's modern but understated, a little conservative even, with only a few external features distinguishing it from an ordinary '90s 5-series. But underneath that utilitarian exterior lies a screamer of a straight six engine, the S38, which has a lineage traceable to the race-bred motor in the iconic M1. While production of this generation M5 ran from 1989 to 1995, cars outside of the US received a revised version of the motor in 1991. The new unit bumped capacity from 3.6 to 3.8 liters and pushed power output from 311 to 335 hp. This particular car is a European-spec example equipped with that larger 3.8 liter motor. It also comes in a rather fetching color.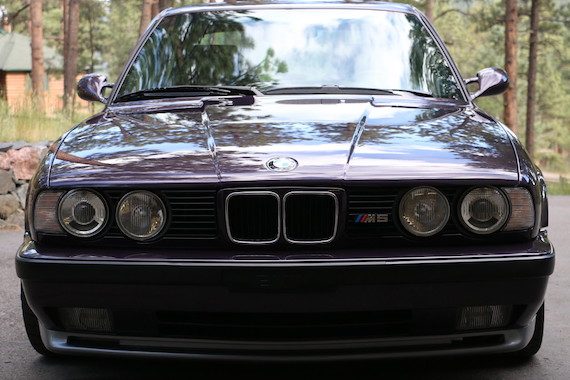 Year: 1993
Model: M5
Engine: 3.8 liter inline-6
Transmission: 5-speed manual
Mileage: 148,000 mi
Price: $28,000 OBO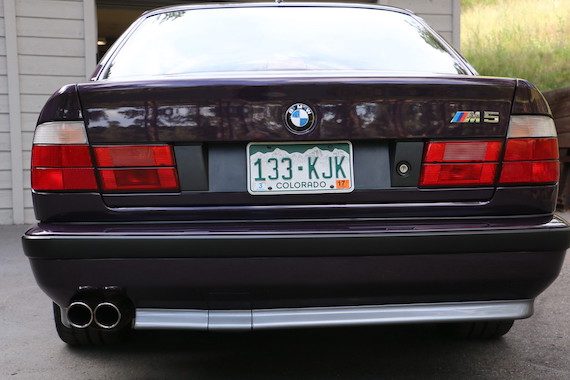 1993 M5 Daytona Violet with Anthracite M cloth/Amaretta suede
VIN WBSHC91050GD63734
148,000 miles on chassis, but please keep reading

I have owned this rare beauty for 12+ years after purchasing it from its' first US owner who federalized it in 2001. I have a binder with all documents, including those papers. Though in far from perfect condition when I bought it, I have gradually mechanically restored and upgraded it.

COSMETIC: Exterior in very good to excellent condition. Front resprayed due to road rash, new or slightly used ellipsoidal headlights,projector fogs, clear lenses front and rear, M sport mirrors,new grills,etc. Interior very good to excellent with recent repair of door cards and re-dye of rear parcel shelf. Instrument panel replaced and fully documented. Full clear bra.

ENGINE: Fully rebuilt by Paul Burke with less than 16k miles. Compression was increased to 11:1, Napier Cut piston rings, slightly oversized intake and exhaust valves, updated timing gear. I can provide full specs on motor. Clutch was replaced when motor was out with a 3.6 single mass flywheel and BMW clutch kit.

DRIVETRAIN: Factory rebuilt transmission (5 spd.) 27k miles ago, with UUC DSSR and SSK; Blanton rebuilt 40% LSD with 21k miles

SUSPENSION: EDC's were replaced 34k miles ago with H&R springs, adjustable Dinan front bar, Touring rear bar; front strut bar, adjustable camber plates; All front suspension parts refreshed recently, including control arms with spherical bearings and rear subframe bushings
The steering box was replaced with a factory box 7500 miles ago

BRAKES: Fronts were upgraded with e31 324×30; Stoptech pads and SS lines

WHEEL/TIRES: M-system 2 with staggered Throwing Stars in excellent condition; Bridgestone RE-11s with exc. tread

OTHER: I have spare parts including original lights and lenses, elephant mirrors, dual mass flywheel and clutch kit with 30k miles, another set of M system wheels, a set of e38 M-Parallels, a Dinan rear adjustable bar and SLS elimination kit, Dinan camber plates, and more

Please view pictures at: vicse34m.smugmug.com

I have maintained my M5 as obsessively as many on this forum, including frequent fluid changes of brakes,transmission,differential and engine oil. It is rarely driven. I am asking $28,000 or best offer. Please call if you have any questions or need other pics. I have a garage lift, if undersurface pics are requested.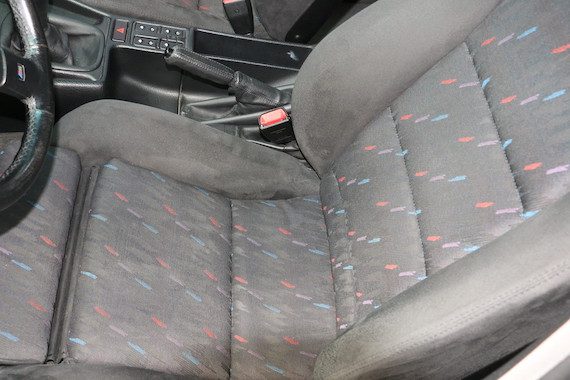 I've always been a fan of BMW purples ever since my dad brought home an E36 in Madeira Violet some years ago; the Daytona Violet on this car looks stunning. The clear turn signals and M-side mirrors are nice additional touches, while the anthracite cloth interior is a welcome change from the silver-gray leather I expected to see inside. The overall condition on this car looks excellent. This is the result, no doubt, of the fastidious care apparently lavished on it by the current owner, who has been restoring it since he purchased it over a decade ago. That restoration work includes a rebuilt engine (16k miles ago, it seems) and transmission, as well as some work done to tidy up the interior.
As lovely as this car appears, I'm not sure it's worth the asking price of $28,000. By way of comparison, Carter wrote up a similar Euro-spec M5 last year. That one had much fewer miles on the clock (85k) and yet the asking price was only $20k. I think that's probably closer to the mark. I suppose one could also look at things another way: an 85k mile car probably has a lot of expensive restoration work ahead of it, of the sort that has been taken care of on this car already. The S38 is known, for example, to be a bit finicky, requiring consistent mechanical attention to keep it running properly. It'll be interesting to see where the price on this one settles.
– Craig