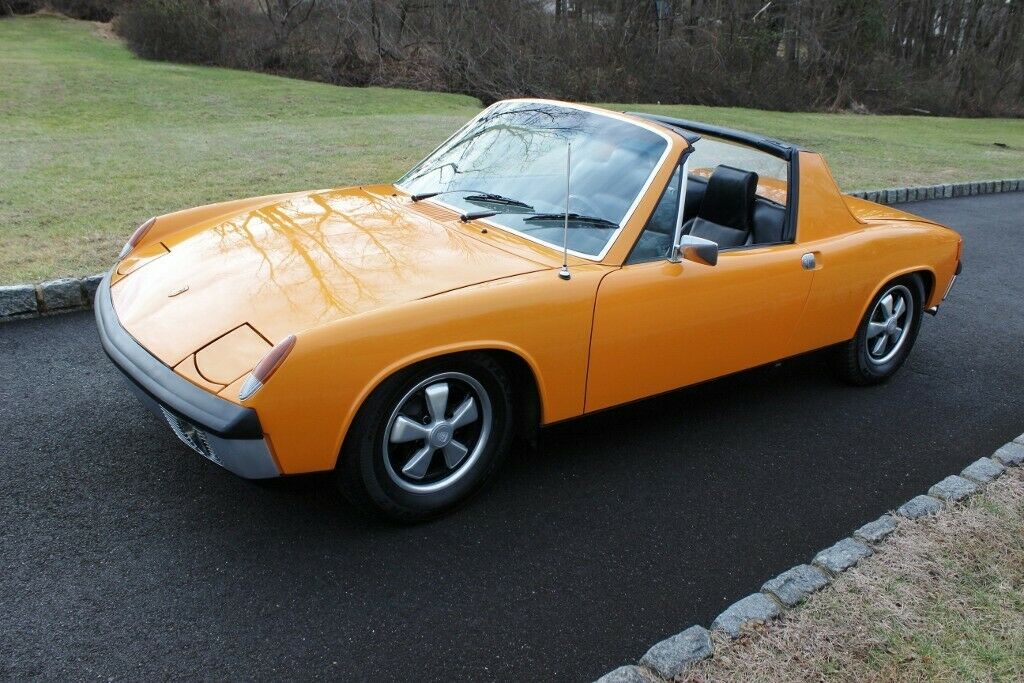 The aura of the 911 is so thoroughly encompassing it overshadows nearly every other Porsche model conceived and constructed, but especially this seems to be true of the 1970s. During that time Porsche launched groundbreaking models like the 924 and 928; generally, both very unappreciated compared to the air-cooled siblings. But the 914 seems nearly forgotten despite its similar engine behind the driver and atmospheric cooling setup. Why? Well, it's not the prettiest Porsche design, it's true – but presented properly it is still quite neat.
The most collectable are the original 914-6s, but of course the low cost of ownership for some time meant there are a lot of motor-swapped 914s cruising around. Some are better than others and not all are desirable – I'd take an original and clean 914 over a poorly swapped car. But some really grab attention, as this Signal Orange 2.2-swapped car did to me: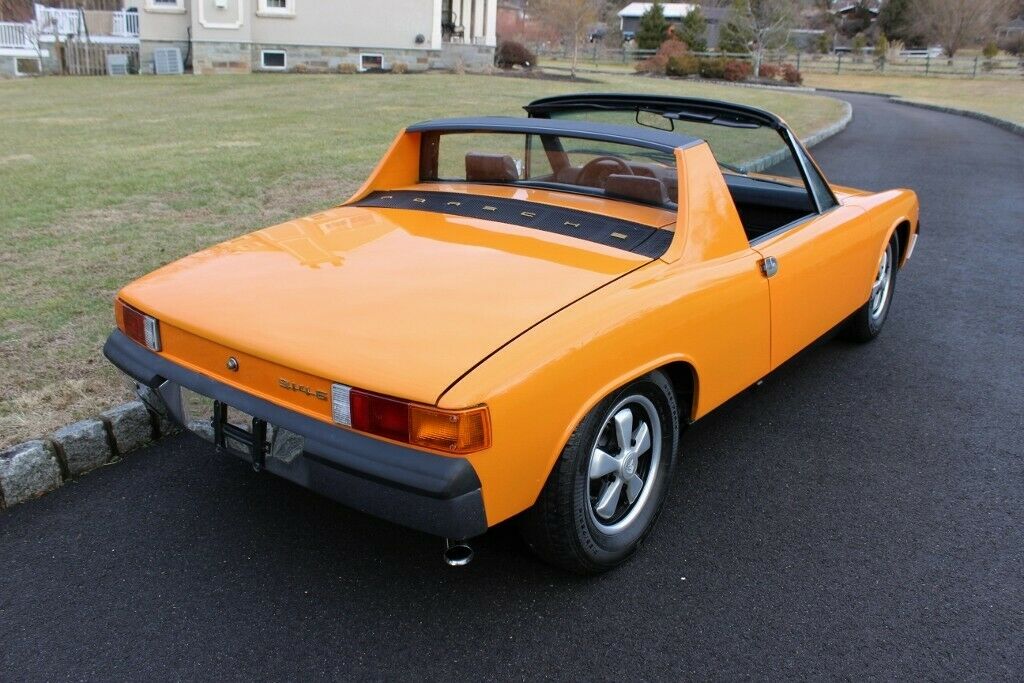 Year: 1970
Model: 914-6 Tribute
VIN: N/A
Engine: 2.2 liter flat-6
Transmission: 5-speed manual
Mileage: N/A
Location: Martinsville, New Jersey
Price: No Reserve Auction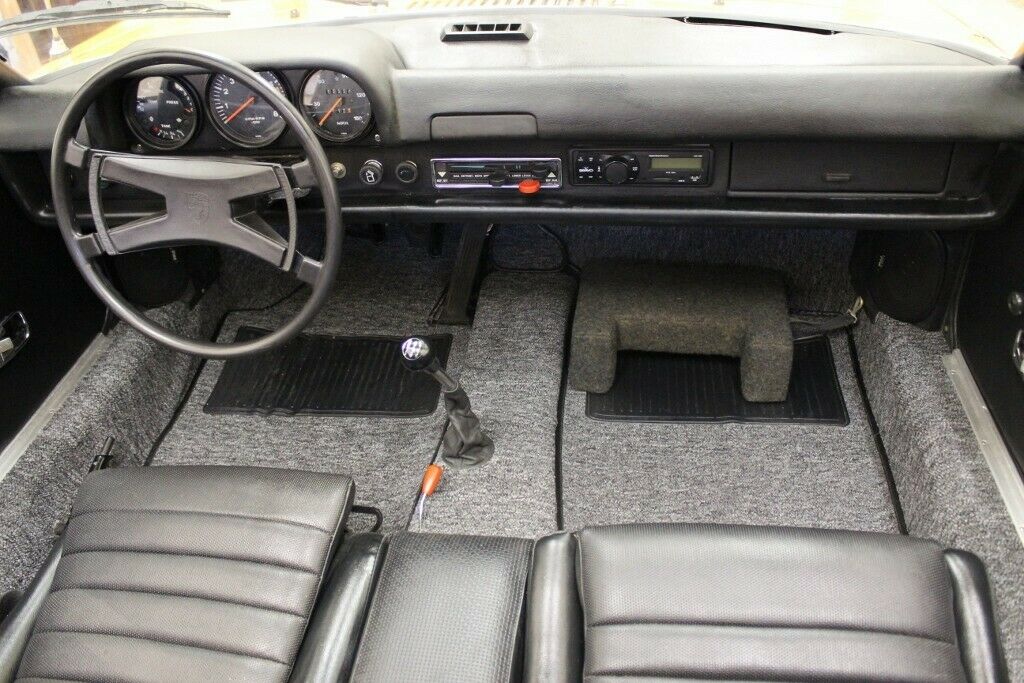 1970 Porsche 914-6 Conversion/tribute done to a very high standard. This Porsche is turn key and ready to be be driven and enjoyed. All parts are Porsche such as correctly dated Fuchs,engine trim/componenets and original type interior. What makes this so nice is that it is almost identical to the 914-6 and only an expert would know the difference. Why spend 100k on a restored 914-6 when you can buy this for a 1/4 of the price.

Exterior: Paint was done to a high standard by professional paint shop. High quality Urethane materials used. Paint code is Signal Orange same color used on all Factory Porsche race cars in 1970. No scratches,dents or rust anywhere. All glass free of chips. All lights work as they should. Euro lenses no cracks. Fuch wheels including spare are 14 x 5.5 with like new tires. all doors,trunks open and close with ease.

Interior: Shows like new- High quality materials used-new carpets plus seats have been re-done. New door panels. All gauges work. Most rubber gaskets have been changed.

Mechanicals: Engine has been rebuilt and runs great- Starts up easily and idles nice. Great acceleration and does not smoke. Motor is a 1970 911 and re-built with 911E sport cams. Transmission is a desirable side shift. Goes into all gears with ease with no grinding noises. All brake calipers rebuilt by PMP performance . New shocks all the way around. Dual Exhaust including headers are stainless steel.

Other: Floor pans are rust free. The notorious hell hole(under battery) is also rust free. lots of receipts and manuals,booklets are included. Car cover,front nose bra also included. Car has push button start to avoid problematic key start issues. This is a NO RESERVE auction -I will be listing on other sites so this auction may end early-open to offers. Please consider this 914-6 they are incredible fun cars! One of best handling road cars ever built- Thanks for your interest

This Video is From When I Purchased 2 Years Ago:
https://www.youtube.com/watch?v=V0VhvehOCp0

On Jan-13-20 at 15:40:13 PST, seller added the following information:

Undercarriage video: https://www.youtube.com/channel/UCQarQTddtNeTaIfTUTZB-Tg
With over $18,000 worth of 52 bids so far, it's clear I'm not the only one who noticed this car. It seems to be very well thought out and executed. The 911E-upgraded motor should be good for the best part of 150 horsepower and is period-correct to boot. The fit and finish are nearly perfect, and here's a great example of how sharp a clean 914 can look. Sure, it's not original – but who cares at this price? Considering you can't even come close to touching an early 70s 911 for anywhere close to this level, these 914s are still seriously overlooked air-cooled alternatives.
-Carter