In 1952 Volkswagen introduced there first pick up version of the VW bus. The intended use for the VW single cab was for farm workers and construction companies. The single cab featured a bed with fold down gatesthat allowed the Volkswagen it to carry objects larger then itself and made the truck the work horse of the VW lineup.
These days, the single cab, and its slightly bigger sibling the double cab, are more at home in collections and at shows, than putting in a hard days work. This beautifully restored 1970 bay window for sale in Erin, Tennessee is one of those trucks that has retired to the garage life.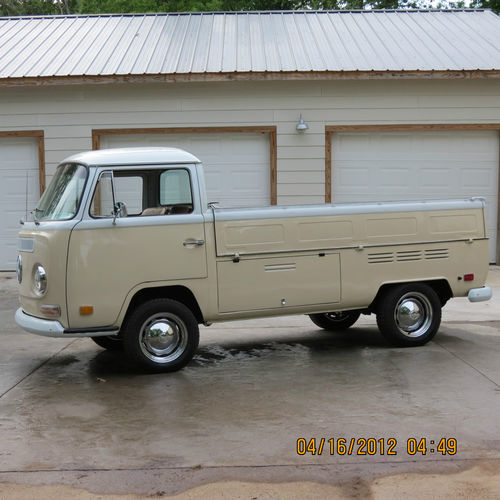 1970 VW single cab restored truck with 1600 dual port 4 cyl engine and manual transmission; new beige and white paint job inside and out everything was removed for body work and painted. It has new upholstery, door panels, kick panels, floor mats, sun visors, headliner, windshield and back glass all new rubber for doors and windows, all new trim and light lens, new shocks, brakes, tires, new channel  in gates new tin, engine has had a light overhaul, new carburetor, engine was removed to paint as well as the engine compartment was also painted. Truck runs very strong and is road ready!! If you have any questions please give me a call at (931) 289-3976 after 4:00PM and weekends call (931) 289-6324. Please serious buyers only and I will not consider any trades. I have the right to end this auction early due to vehicle for sale local. Thanks!!!
What for years has been a favorite of the crazy old VW hoarders, these truck have been gaining popularity in recent years with a wider audience of VW enthusiasts; and the pricing reflects that.  These have been steadily going up in price over the past 5-10 years with basket cases commanding upwards of $5K, and nicely restored trucks anywhere in the $18K-$30K range.  This nicely restored bay window is priced with the resr of the market, and will likely get close to asking eventiually, but not within the timeframe of this auction.  If this was a split window, my guess is that it would already be gone.
-Brian