In all the years that the Porsche 911 has been with us, we've only seen the Speedster appear three times, in 1989, 1994 and 2012. There were also two 993 based Speedsters produced by the factory, one for Ferdinand Porsche and the other for noted Porsche collector Jerry Seinfeld. Of all the 911 Speedsters, the 964 based one is my favorite. The smooth, integrated bumpers mesh well with the trademark tonneau cover. Most of the Speedsters you come across these days have low mileage and have been stashed away by collectors, and this one for sale in Florida is no different.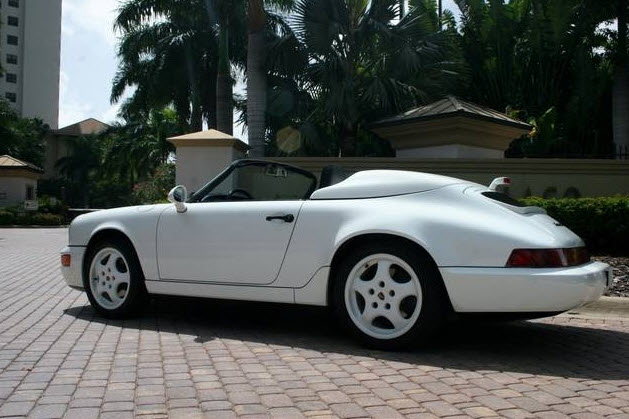 This unique and extremely rare Porsche Speedster is in concours condition and a must have to complete your ultimate Porsche collection. With only 23,602 miles, this Porsche is one of only 427 shipped to the USA! Immediately recognizable and a real head turner is the iconic bathtub styling. This is the final edition of the drop top, air cooled 964 Speedster and a must have. The 1994 edition is significantly more performance oriented with a larger 3.6 liter engine (247 hp), larger wheels and tires, better brakes (ABS) and a faster top speed (162 mph).

This car is equipped with a 5-speed G50 gearbox, color coded 17" wheels, AM/FM/CD player, black soft top (in near perfect condition), automatic rear spoiler, driver airbag, power windows and locks, cockpit tonneau cover and complete books/keys. The Dunlop tires are brand new. It has a clean Carfax with no accident history. Don't miss this opportunity to own a rare collectors Speedster in immaculate condition.
It seems that $80,000 to $100,000 is the sweet spot for mint, low mileage 964 Speedsters right now. The overdose of white might not be to everyone's liking, but I'm a fan. While it doesn't have the more aggressively bolstered seats with color keyed seatbacks, the cloth seats are a nice touch that you don't see too often. Even though their price doesn't reflect it, the 964 Speedster holds a special place in my heart, as they personify simple motoring pleasure.
-Paul