In comparison to what BMW was doing at the time when it came to personal luxury, Mercedes-Benz had a different idea for the early 1970s. The W111 was no stranger to the motoring scene, but at the close of the 1960s, Mercedes went ahead and equipped the mainstay 280SE coupes and cabriolets with the new M116 3.5 liter V8. This engine equipped the car with 200 horsepower, a 130 mph top speed and the capability to run to 60 mph in 9.5 seconds. Only 3,270 of these coupes were built. Most were equipped with the 4-speed automatic transmission but a few emerged from the factory with a 4-speed manual. This 280SE 3.5 for sale in Pennsylvania had a respray from white to black along the line somewhere and is edging close to 100,000 original miles.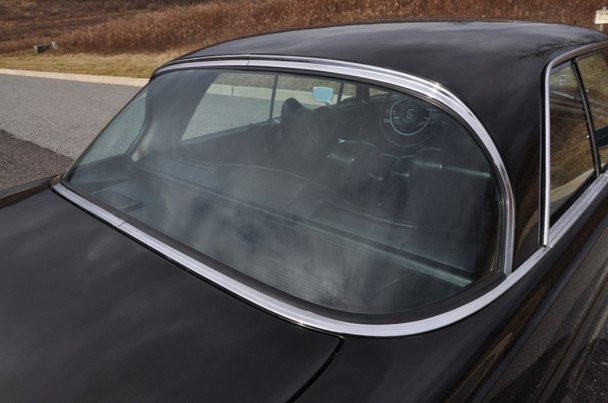 "If you feel obligated to ask about the price you not only will never understand the car, you have branded yourself incapable of ever appreciating its virtues even if someone gave you one." Car & Driver Magazine 1970.

The bluntness of opinion on behalf of Car and Driver is no surprise to anyone who has ever had the pleasure of owning or even driving one of Mercedes' all time greats. As the last of the hand built cars rolled off the line in July of 1971, it was evident that there was a huge leap forward during these last few golden years. That the 280SE 3.5 cars were the future for Mercedes-Benz, and the rest of the auto industry, in many ways. Even in its day nothing compared to the quality, performance, and of course price. The 280SE 3.5 today, in both Coupe and Convertible format offers exceptional value for money and a superb experience to which no other car of the period can compare.

The example on offer here Chassis # 111 026 12 001714 was produced in June of 1970. It was delivered new with the following options as per a copy of the original Data Card as supplied by Mercedes-Benz Heritage:

chassis number: 111 026 12 001714
engine number: 116 980 12 001328
transmission number: 000536
key code: HZ 0019
exterior color code: 050 – white
interior color code: 241 – black leather
option codes:
401 single seats
410 sliding roof
420 automatic transmission, floor-shift
461 instruments in English
491 USA version
503 outside side view mirror, left
513 Becker radio
524 paint coat preservation
531 automatic antenna
570 folding armrest
586 air conditioner / electric windows
598 heat insulated glass / heated rear pane
641 white wall tires
669 mode of packing VE I

While we have notated a color change from the original "050-White", to the more desirable and complimenting current Black. We can also make it known that the job was completed extremely well, and according to the most recent owner, completed long before 1991 and probably when new or close there to. Otherwise the car shows to match the above options without fault. The 3.5 Mercedes tend to have a survival rate unlike many of the other W111 variants for the sole reason that they were so expensive when new. As such, but not always the case, many cars were purchased new by connoisseurs and "high-society" types alike. As a result they were often dealer maintained and kept within the same family. They often received much care over the years, and hardly ever became "used cars" languishing in dealer lots. From this we have noticed that when long term, low-numbered-owned examples become available they often exemplify this theory, as almost always do they show to be well cared for when in original condition.

The example on offer here is a delightful representation of a one-repaint, estimated two owner example that has been extremely well cared for. It embodies the exact patina so often desired by those seeking a car with a true original interior. In comparison, the rest of the car shows to be of the same quality throughout and mechanically well cared for all these years as well. Unfortunately our history for this example leaves us on paper around 1991; when the estimated 2nd collector owner acquired this 3.5 in 1991 with just over 78,000 original miles showing on the clock. Carefully stored, enjoyed sparingly, and serviced by the same technician until late 2012, this 3.5 now shows only 97,424 miles, for a total of approximately 19,424 miles in nearly 20 years.

Our current ownership of this fabulous example has given us the privilege, as with many cars, an enthusiast's point of view in our testing and enjoying it to accurately communicate all of its attributes, both positive and negative.

Cosmetically the car shows overall as a very original, but one re-paint example. Taken into consideration the age of the repaint, it does show well overall, is deep, smooth, and consistent. There is however one or two minor blemishes in the way of a chip and a small dent or two. Nothing that warrants refinishing or immediate attention, but to be critical, minor blemishes such as these are present. The view down the side shows completely straight factory metal without any sign of previous body work or accidents. The doors fit perfectly with good gaps and an easy shut. The same is true for the trunk lid and the hood as well as all of the panel fitment, superb, and the way it came from the factory. The chrome overall shows well for a driver, and must be put in this category only because of the age of the original chrome present on the car. It does show some light signs of age, but again, nothing that would require any attention. All of the rubber components on the car are in excellent condition. New window seals, door seals etc… can be found throughout and are without flaws. The glass is all original apart from the windscreen which appears to be newer but correctly installed, all of which are in excellent condition. The tires show to be newer, and the rockers are clean with all rubber accent trim (unique to the 3.5) in good condition as well.

The interior is the most impressive part of this car, showing as a true original in almost every way. The only item we have taken note to not being original is that of the driver side floor mat, which is a custom replacement, close, but not perfect. Otherwise a thorough inspection can reveal that since at least 1991 all of the seats were covered with sheepskin covers. Only until recently were they removed to reveal excellent original seats, both front and rear. The driver's side shows hardly any wear on the bolster and the rear seats are nearly new, all very well preserved with outstanding patina. The center console, carpeting and surrounding trim are all nearly flawless, and are in impressive condition. The dash fascia shows every bit to be original wood, chrome, gauges, and Becker Radio. All of which is in perfect working order, as is all of the instrumentation, lighting, and accessories throughout. The switches for the optional sunroof, A/C, and power windows all work as expected. Even the radio antenna protrudes when the radio is switched on. The headliner is excellent, but upon close inspection there are a few minor stains that can be noted towards the rear. The top of the dash has no blemishes, is clearly original and in excellent condition as is the matching original wood trim surround. The steering wheel does show two very small cracks at the thick part where the brim is connected to the center. Very typical for Mercedes of this era, but not something that would need attention for years to come. The door jams are very clean, and the doors show nice original chrome.

The trunk and engine bay are always key investigative points in determining how Mercedes-Benz's of this era were kept. The trunk shows very well, clean under the matt with no rust issues currently present, nor do we believe there to ever have been as evident by the original sound deadening material etc… The engine bay is very presentable, not show quality, but something any owner could be proud of when showing off the 200hp 3.5 V8. It is in the engine bay that we can understand the high level of detail when the color change was completed, there is but one small chip, showing that the car used to be white. Otherwise, no indication, and very well completed. Otherwise, many items are very original, still date coded and overall the engine bay is very original. We can see original wires off of the distributor cap, original A/C lines etc… While the car has clearly been kept up over the years as evident by its superb running condition and thorough inspection; we unfortunately do not have the paper records to back this up. We are however currently researching this and do expect to have something shortly.

The underside of this example as with any W111 or Pagoda car from this era is always where the first blemish or indication of its prior life will be given away. We unfortunately have noted one small section in the left front wheel well, outer sub-structure of the chassis member that has suffered the unfortunate demise of typical 1960's Mercedes rust proofing (or lack thereof). Even great examples such as this, well cared for years on end can suffer from what can be considered a "typical" rust issue on these cars. As such we have highlighted it to the best of our ability, and have concluded that any experienced restoration facility could remedy this issue with little effort. Otherwise the floors are straight and solid, the inner fenders are thin and sharp as they should be and there is no indication of any filler usage anywhere on the car at all. It can be said that despite its small issue, this is indeed an excellent rust free, and solid example.

Any present issues tend to fade away upon putting this example to work. It starts easily, revs freely making good power, and pulls away without fault. The transmission shifts very well (smoothly), and the brakes are free of any pulling or softness. The steering is tight and the car handles nothing short of impressive, especially considering the size. It can be considered then that this is a true driver, well preserved, and scrupulously kept. It is an example that offers many great things for its new custodian.

Absolutely the last of the collectible Mercedes, the 3.5 is one of the greats and a must have for any connoisseur or collector looking for a fine example that won't disappoint. Complete with all tools in their original pouch, jack, spare, wheel chock, owner's manual, Becker warranty & owner's manual in original plastic, and a log of the most recent owners enjoyment/per mile. Please inquire with any interest.
The interior of this car is really stunning, with a patina that gives it the aura of an old drawing room. Having spent time inside a number of W111s, every time I step in one it's like putting on a pair of old, comfortable jeans. There's a familiarity and comfort about these cars for me, which is probably why I've always wanted one. With the wide grill, liberal use of chrome and size of this two door, the 280SE 3.5 strikes an imposing pose on the road. It's no secret that values for the 280SE 3.5 are strong. Not surprisingly, the coupes tend to bring less than the more rare cabriolet. Coupes in similar condition to this particular car are bringing in between $40,000 and $60,000 these days.
The following is a short piece from Deutsche Welle TV highlighting a 280SE 3.5 Cabriolet in action, with some period footage from Mercedes-Benz:
-Paul