Warning!
This post is in our archives. Links in this post may have been updated to point to similar cars available to bid on eBay.
Meet my new all-time favorite 2002. I shall call him Bandit.
From the black-and-gold theme to the Metric Mechanic 2.4L to the immaculate everything, this car combines classic and unique in a way many strive for but few achieve. It has the looks inside and out, a consistent but not overdone theme, and enough well-chosen go-fast parts to make your gearheart burst. Will the $26k Buy-It-Now bust your wallet? Maybe, but I might start looking into a loan…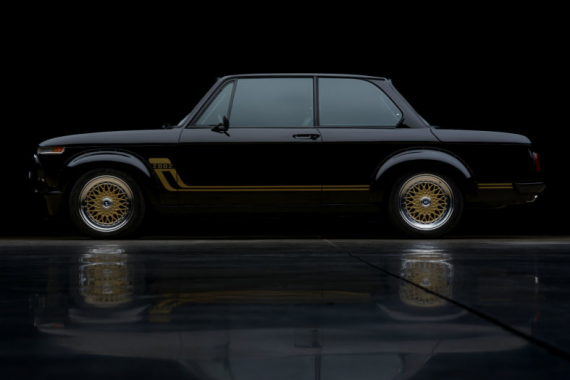 1975 BMW 2002 with new upgraded drive train from Metric Mechanic. The engine is their 170 HP 2.4L Rally Engine with all the upgrades, 87mm stroker crankshaft, tri- metal bearings, forged pistons, moly rings, blue printed oil pump, oil pan baffle and windage tray, ported 18I cylinder head with bronze guides & bee hive valve springs, sport camshaft and single row timing chain. Dual 45 DCOE Webers, Tii mechanical advance distributor, MSD 6AL and plug wires, IE Motorsports step header, 325I lightened flywheel with 228 mm clutch. CR245 transmission with rare dog-leg 5-speed conversion from metric mechanic and their 3.25 ratio variable limited slip differential with new drive axles and drive shaft. The cooling system is upgraded as well with an aluminum radiator, Spal electric fan and programmable electronic controller, silicone hoses, Carter electric fuel pump, Optima Red Top battery and the car has been completely re-wired using a new Painless Performance wiring harness. The suspension has been upgraded as well with the addition of Bilstein shocks and struts along with Ireland Engineering front and rear sway bars and strut tower brace, BBS style wheels with Kumho 215 45 ZR16 tires. The interior is in great shape with Porsche Recaro seats with netted headrests and a McIntosh head unit with 4×6 Infinity speakers all being driven by a JL Audio amp and 10" sub woofer. The exterior of the car shows and shines well in black with nice striping and no noticeable dents or dings. This car runs and drives great. All this work has been completed within the last year and less than 1,000 miles on it, no expense spared. Please contact me with any questions: 214-906-2424, John.

I have 17k in receipts from metric mechanic for the motor, trans and rear end NOT including new weber carbs, intake, ignition system, cooling and exhaust system, wiring, stereo and suspension. you can not build a car of this quality for this price! This car was built to drive not to turn a profit, the owners interest has changed so his his loss is your gain.
My tastes quite obviously lean towards the 80s, but holy moly this car just makes me want to grow a mustache, listen to Pink Floyd and bask in the false light of refined coca leaves. It's perfect, and apparently a whim sell rather than an act of profitability. Bummer for him but lucky for the buyer. Seeing any one of the pictures should make you want to buy it, from the epic exterior to the restrained-but-insane interior to what is perhaps the most impressive facet, the undercarriage. The fact that this all exists on one fantastic 2002 makes it worth the cost in my book.
-NR