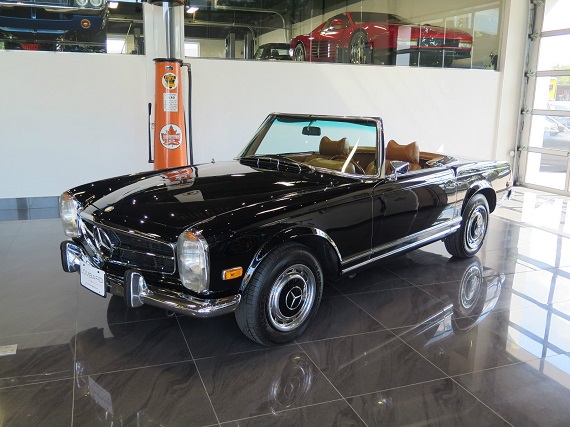 While I may not write about them very often I actually love a vintage Mercedes. Many of the designs possess those timeless characteristics that make so many vintage automobiles desirable and perhaps none more so than the Pagoda. The SL has long showcased the sort of sleek lines and elegant styling that make people want to put the top down and be seen. Andrew has featured a few of these of late, but I hope our readers can allow for another (and I promise I haven't just featured this one because there's a 911 GT3 RS in the background). The one we see here, a Black 1971 Mercedes-Benz 280SL with Cognac interior, comes from the final year of their production and looks invitingly ready to be enjoyed.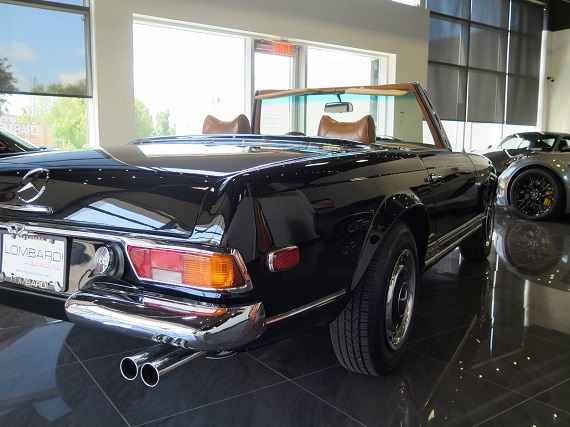 Year: 1971
Model: 280SL
Engine: 2.8 liter inline-6
Transmission: 4-speed automatic
Mileage: 74,444 mi
Price: $69,900 Buy it Now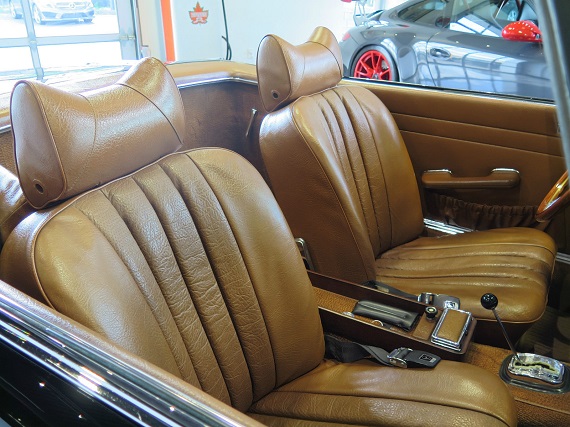 The Mercedes Benz W113 SL was developed under the auspices of Mercedes Benz Technical Director Fritz Nallinger, Chief Engineer Rudolf Uhlenhaut and Head of Styling, Friedrich Geiger. The lead designers were Paul Bracq and Béla Barényi who created its distinctive, patented, slightly concave hardtop which inspired the 'Pagoda' nickname.

Boasted with an in-line straight six engine with multi-port fuel injection. The larger capacity 280 2.8 litres represents the most desirable of all the SL range. This Mercedes-Benz has recently received a complete professional new paint,refinished in black and presents its self so beautifully with the shinny chrome trimmings resulting in a particularly distinctive and rich color scheme. This Pagoda was been meticulously well cared for she runs and drives extremely well. Engine is mated to a automatic gearbox making this a delight to drive. The complete original cognac tan leather interior and dark cognac soft top along with its black hardtop are all in extremely good order .This 1971 Mercedes-Benz 280SL roadster is also equipped with rare factory Frigiking air-conditioning and Becker am fm radio. Optioned with power steering and European configuration one-piece headlamp covers. These are very attractive options for these very collectable Pagoda's

The original tool kit is with the car, as well as the original owner's manual, service booklet and M-B data plate, two hard top removal tools, and 3 keys.

This beautiful 1971 Pagoda 280 SL roadster is documented with its rare M-B Data PLate to have been originally retailed new to a Montreal Quebec Canada owner in the early 1970s, the car was purchased and it remained in his family's possession for more than 30 years.

This 1971 280 SL roadster would be an exciting acquisition for any Mercedes Benz enthusiast and collector

Videos of this 1971 Mercedes Benz can be viewed on links below

Everything we do is focused on providing absolute clarity so that you can make an informed decision and buy with confidence. Compare our vehicles and reputation to others and see for yourself how we take the worry out of buying a vehicle.

Contact Internet Sales for more information

Phone 1 514 830 2500

Roberto D'Ambrosio: rdambrosio@lombardisignature.com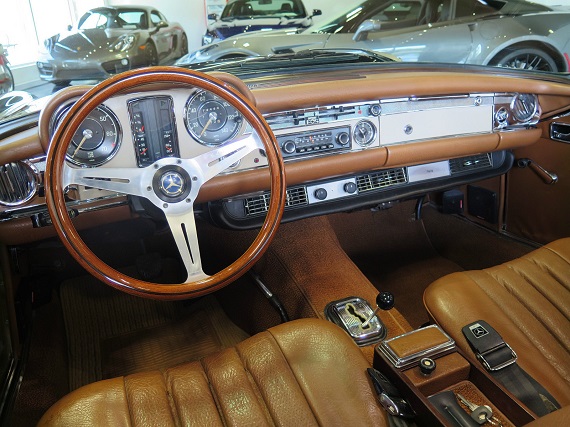 This 280SL has been up for sale for a little while and the price has continued to fall to where it sits now at a pretty reasonable $69,900. Granted there may be some reason lurking in its history for why the price keeps falling, but the seller appears motivated so inquiries may certainly be worthwhile and perhaps a nice value can be found. Strictly on appearance it looks good. The Black exterior looks in nice shape and while black is not one of the more interesting colors we see on the 280SL, its pairing here with a wonderful Cognac interior gives it that classic black and tan combination. The seats look in good condition as well with the sort of patina that is just begging you to sit in them and spend your time in rapt joy. Seeing the tops of those Cognac seats peeking out from the exterior brings everything together nicely. We've experienced some amazing weather of late in my area and I'd be hard pressed to imagine a better afternoon than some top down cruising in one of these, enjoying the colors and smells of Autumn.
-Rob