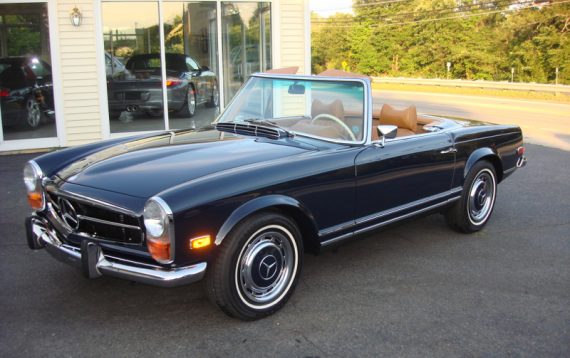 I've been featuring a lot of Pagodas of late so I planned on laying off them for awhile, but I ran across one that deserves an immediate look. Usually these things are winners in totally stock form and any kind of aftermarket modification detracts greatly from it's appeal and not to mention its value. But what we have today is something I didn't even think was possible. So let's check out what's so special about this Pagoda for sale at the authority for W113s outside of Boston.
Year: 1971
Model: 280SL
Engine: 3.2 liter straight 6
Transmission: 4-speed automatic
Mileage:
3,164
Price:
 Not listed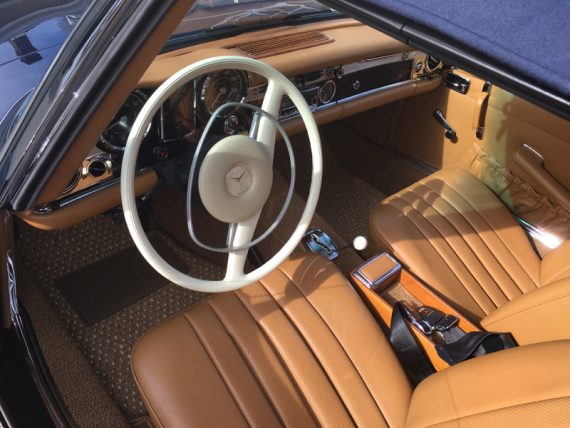 1971 280SL Roadster in original DB 904 midnight blue. "The Best of Both Worlds!" This is a 45 year old classic design with a modern E320 drivetrain. 3,000 miles are on this total ground up restoration done by a well known Mercedes Benz specialist at a cost of $235,000. Shortly after completion, the owner decided to have the drive train upgraded to a more exciting, better performing, and reliable E320 DOHC 24 valve engine and matching transmission, giving it the best of both worlds! This was accomplished by a well known Mercedes Shop without any major cutting or changing of the original chassis or body, making a change back to its original mechanical configuration an easy project down the road as these cars continue to escalate in value. Included with the car is the original numbers matching engine completely rebuilt by metrics motors in California. The Engine comes with all its ancillary parts, either new or rebuilt. Such as: – Fuel Injection Pump – Power Steering Pump – Starter – Alternator – Water Pump – A/C Compressor – Distributor – Etc… As well as a factory rebuilt transmission and torque converter. This is all show detailed and installed on its own dolly for display and ease of movement. Although silent and smooth at idle, as the RPM's rise the exhaust note becomes a rich but not obnoxious burble. After forty plus years of specializing in 113 SL's, owning 146 of them, and working on hundreds more for our customers, I can truly say this SL is the most enjoyable and fun to drive of any I have driven! No sales pitch or pictures do it justice. You need to get behind the wheel to really appreciate it! offered far below the cost to replicate it. Please Call for additional info or to schedule a test drive!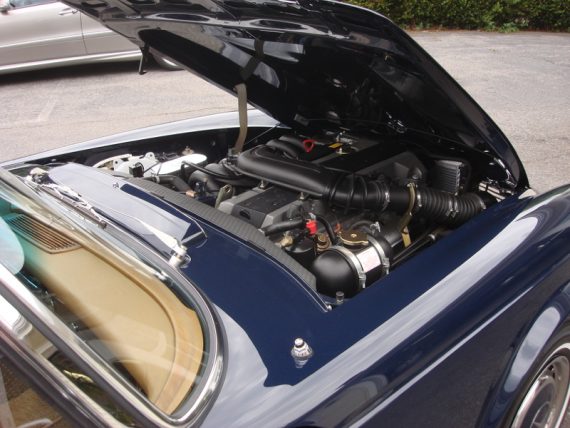 This wonderful 280SL would be a prime example on it's own without any surprises waiting. With a hair over 3,000 miles, the car is nearly spotless. It's one of those cars that lacks any dirt on the underside of the car. But what we came here for is what's under the hood. Pry it back and find the wonderfully smooth M104 inline-6 shoehorned in with no space wasted. The amazing part is that by the looks of it, you'd never know this wasn't a factory setup. All the parts look OEM with everything is in a tidy order just like Mercedes would of built it. The 3.2 liter making 220 hp and 229 ft-lbs in a car that weighs 2,800 pounds should equate to a fun ride while keeping everything civil.
As if the swap wasn't enough, the seller is throwing in the almost perfect original M130 engine and gearbox on it's own custom standard. In my opinion, throwing a piece of glass over this setup would make a great display piece inside your home if your spouse doesn't totally kill idea before it gets started. But otherwise it's good to know that this engine and transmission are still in wonderful shape if it ever needs to be reinstalled back into the car for whatever reason.
The seller of this machine is no stranger to W113s. Hatch & Sons outside of Boston are the go-to source for anything Pagoda as they've owned over 100 of them and probably serviced many many more. As far as cost goes, they mentioned the number $235,000 as what it took to make this thing a reality. So you can probably use that as a base and go up from there if you wanted to know what kind of price it would take for someone to take this awesome conversion home.
– Andrew