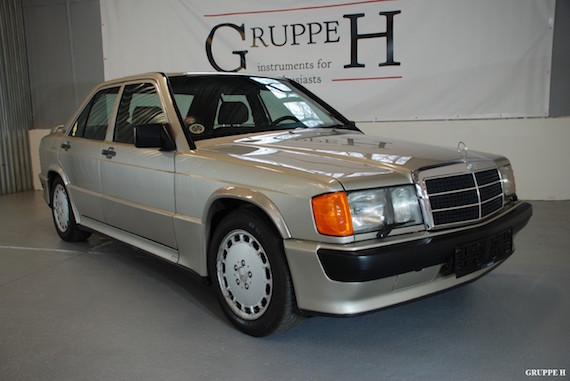 Last Saturday, I went to the local Cars & Coffee with fellow GCFSBer Craig. While there, we met a gentlemen who showed up in a Smoke Silver 190E 2.3-16. Being the Mercedes enthusiasts we are, we had a lengthy conversation about Mercedes we've owned and the car amongst us. But revisiting this vehicle in the flesh made me realize what a departure it was from Mercedes of the era. When this Cosworth engined W201 appeared, we were all getting used to the idea of a smaller Mercedes at the time, but were just emerging from the era of the W123 but were still in an age when you could pop on down to your local Mercedes forecourt and buy an R107 SL, a classic design that had been with us for over a decade at that point. So here comes a tuned version of the baby Benz along, designed originally for homologation purposes the rally circuit but wound up competing in the German Touring Car Championship (DTM) instead.
These cars competed viciously against the BMW E30 M3 on the track and while the Mercedes wasn't an outright speed demon in a straight line, they had respectable balance and poise that led them to be a success both on and off the track. These days, they are a downright bargain as compared to what we see E30 M3s pulling in the marketplace. This 190E 2.5-16 for sale by Gruppe H in the Czech Republic is a variant that we did not see in the US market. This engined offered a slight horsepower bump and double-row timing chains to fix issues surrounding the single chains on the 190E 2.3-16 model.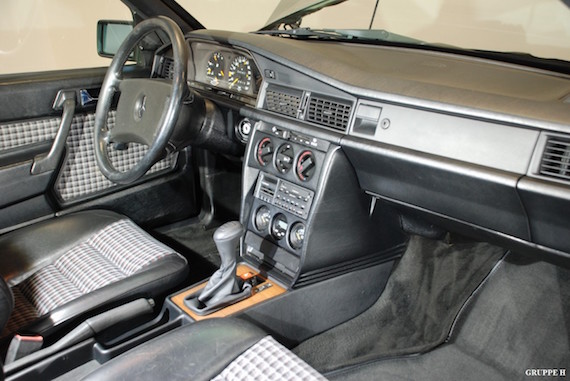 Year: 1989
Model: 190E 2.5-16
Engine: 2.5 liter inline-4
Transmission: 5-speed manual
Mileage: 151,000 mi
Price: $25,200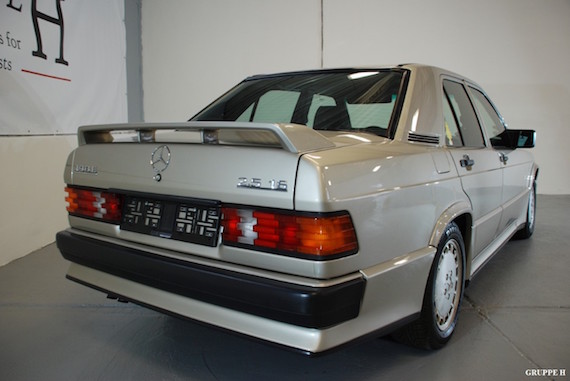 Both on road and in races BMW M3 E30 had only two competitors – Ford Sierra RS Cosworth and Mercedes-Bend 190E 2.3-16, later 2.5-16. From the technical point of view, approach of BMW and Mercedes was similar; both models had high-revving naturally aspirated four cylinder with sixteen valve head. Rear axle contained limited slip differential and manual 5-speed Getrag box was even identical for both models. Version 2.5-16 came in year 1988. The engine offered 143 kW at 6750 RPM and 235 Nm.

The offered car is a European specification and was purchased in Austria when new. It is in a very preserved state considering the age and mileage. No rust on the body, only minor paint blemishes. Well preserved is the interior too with classic Karo-teilleder trim. Service history was thoroughly maintained based on information from the service book. For the time being, the car is serviced with fresh engine and differential oils, spark plugs, new rear dampers incl. functioning niveau regulation, refurbished oil cooler and other details on the chassis. Headlight wipers are new as well. The car has never been modified, which is something to be valued especially by classic car market. No evidence of accident or technical weariness.

This Mercedes is being offered by company Gruppe H with all original books and documents. To be highlighted, only 5743 of the version 2.5-16 was made. This car took part in Prague's classic car show and for such occasion, it was decorated by stickers to commemorate the very car Niki Lauda drove in the race of stars at Nurburgring GP-Strecke in May 1984.

It is a real opportunity to find a sport version of 190E in a preserved state and with manual gearbox. Quality objects, such as this one, are quickly gaining in value. Compared to BMW M3, Mercedes is still more affordable even though it represents a full-fledged option both on road and on race track.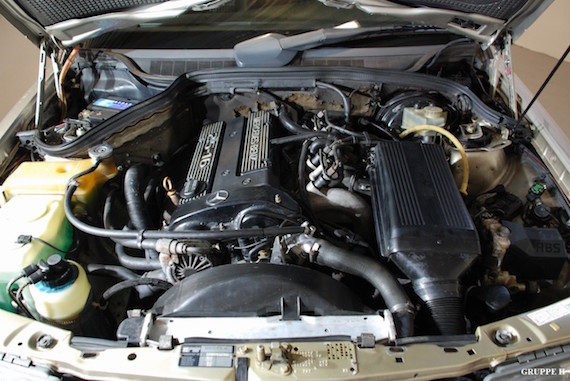 As the years pass, more and more iron wearing the Three Pointed Star becomes eligible. While the Evo I & Evo II are attainable only to the well-heeled, these 2.5-16s are still within the reach of mere mortals. I'm not going to get into a discussion about which car is better, the BMW M3 or the 190E 2.5-16, but the fact is these two cars are contemporaries and take different paths towards solving the same solution. Making a track day monster out of an ordinary sedan. The asking price here might seem high if you consider 190E 2.3-16s in similar condition, but prices are rising on those cars, too. When you compare this to where M3 prices are, it seems like a downright bargain. And would be a lot more exclusive than the Bimmer on these shores.
-Paul