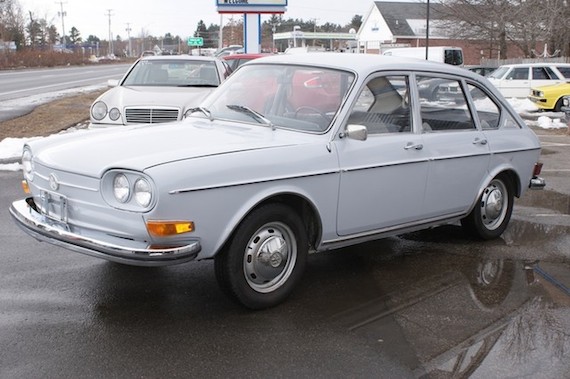 It seemed that Volkswagen was undergoing a bit of an identity crisis in the late 1960s and early 1970s. With the perennial Beetle getting a bit long in the tooth, VW was seeking a way to go from strength to strength in the sales race with a new model. How to go about that, however, was anything but clear. The Type 4, or 411 as it was known, was VW's largest passenger car so far, available in a two or four door form with a fastback style or as a 3-door Variant. Just over 100,000 of these 411s were sold in a four year span in the US. That's far from a sales flop but pales in comparison to the almighty Beetle. By 1974, the Passat, or Dasher as it was known in the US, would arrive on the scene and thus would begin the slow march towards the end of air-cooled engine production.
It's rare to spot a 411 on the roads these days in any kind of condition, but this one for sale in New Hampshire has escaped the ravages of New England winters and Father Time. Rarely do you see one this good come up for sale.
Year: 1971
Model: 411
Engine: 1.7 liter flat-4
Transmission: 3-speed automatic
Mileage: 69,702 mi
Price: $8,995 Buy It Now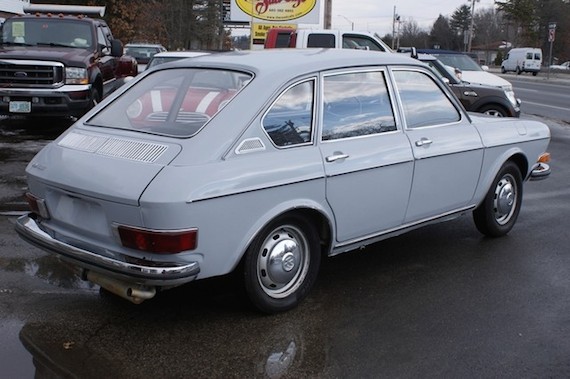 1971 VW 411 Type 4

Those ware produced for very short time, 411 from 68–72 and then 412 from 72-74
VW / NSU takeover changed VW plans and 411/412 was soon replaced with K70.
1.7l air cooled is sheared with Porsche 914.

Car we are selling is coming from Idaho, it is rust free, and other than few little nicks it is in EXCELLENT shape. Automatic transmission shifts smooth. Engine has been recently overhauled and it has more modern fuel injection ( digifant ? )

Anyway, rare car, really nice shape, could be daily driver, factory Webasto aux heating system.

Looking for a good home!!!!!!!!!!!!!!!!

!!!!!!!!!!!!! If needed we can help with shipping to any point on the planet at buyer expense !!!!!!!!!!!

Don't be afraid to pick up the phone if you have any questions.
603-608-2498 Jason

***LEGAL***

-Winning bidder must contact us within 24 hours after close of auction. A $500.00 dollar deposit is due in hand within 24 hours of auctions end and full and final payment must be received within 7 days of auctions end. If no contact is made you will forfeit the deposit. Deposit is non refundable. Please be careful of what you wish for,,,, you may get it..
-We have great sources for shipping cars and pass the savings directly to the buyer.. Shipping to the seaports in New York and New Jersey is also very easy and reasonable. Shipping to and from Florida is simple and quick since it is such a busy route.
-We reserve the right to cancel bids for excessive negative feedback or wacky offers .
-Please take the time to look over the many pictures and read all of the details..
-The new EBay terms need to include our return policy. It is as follows. We do not take cars back after purchase and that is why we ask that you are sure you want it before you buy it. There will be no returns on any purchases whatsoever. Please look before you leap. Use your brain and do not depend on somebody coming along to bail you out.

-We are a Bonded and Licensed New Hampshire used car dealer. We do our best to describe and photograph the vehicles as accurately as possible. If any question comes up, please pick up the telephone and call me at 603-608-2498 for the answer. Assume nothing. Just call and we will have the answer or be able to get the answer for you.

Thanks, Jason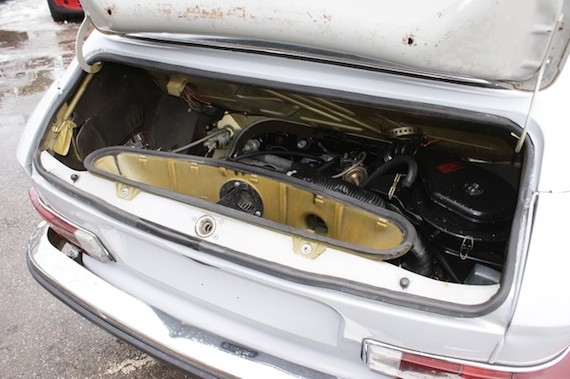 Two years ago, we saw a 412 pull $5,600 at auction. At first, the ask here might seem steep for a rather obscure Volkswagen, but try finding another one in rather unmolested condition such as this. Purists might like to keep such a car in stock form, but for me, the temptation to do a little bit of modification and make this 411 even a bit more unique is very strong.
-Paul