Warning!
This post is in our archives. Links in this post may have been updated to point to similar cars available to bid on eBay.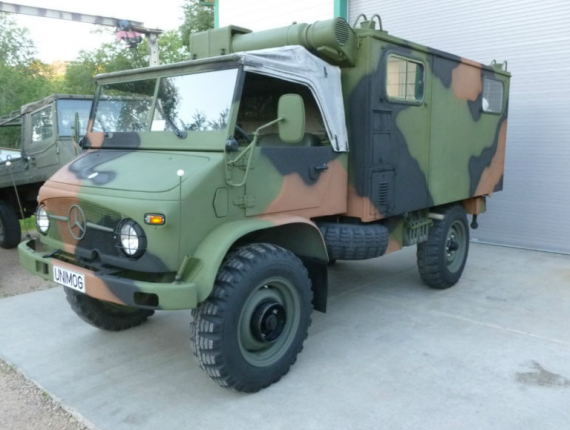 Most megatrucks these days have a bit too much bling, so when I think about crushing commuter cars I'm all about the Unimog. The same friend's dad that introduced me to the M3 also bought a Unimog of similar vintage to today's example but did not have the whole military-radio set up in the back. I'm not sure what one would do with that setup these days other than have an awesome period military piece, but the great thing about Unimogs is their versatile modularity. Old Mogs will require some love but have a low cost of entry, so you could have plenty left over to make it whatever kind of monstertruck you want!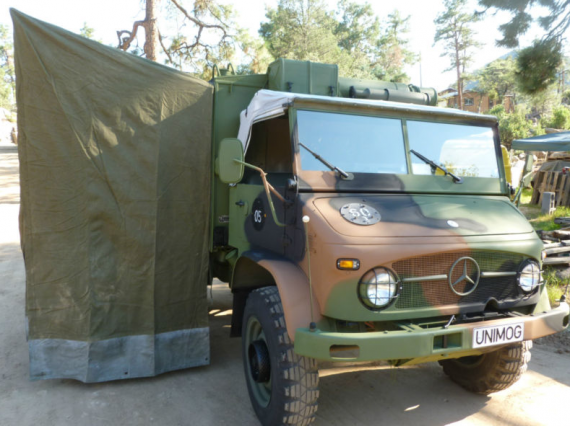 Year: 1962
Model: Unimog 404 Radio Truck
Engine: 2.2L inline-6
Transmission: 6-speed manual
Mileage: 50,656 km (~ 31,660 mi)
Price: $8,795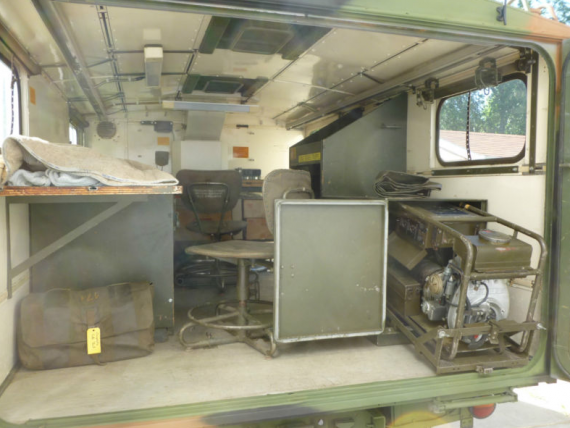 1962 Mercedes Benz Unimog 404 S German Army Radio Truck
50656 Km, 31660 mls
Very complete, German Army Radio truck in decent condition
With clear AZ title. Well equipped with several rare additional
Options.
2 Bridge number plates
3 Original gas cans
1 Original flexible filler spout
Rifle rack above dash board
1 Flag for flag holder on left front
1 Complete side door tent entry
1 Original Tool Set with tire pressure gauge
1 Original Jack Set
1 Camo set for glass, covers for windshield and headlights in bag
1 Complete Generator unit in rear cabinet
Gas Heater for Radio Box with pre heat tube for cooling system,
not tested but looks great, Engine Pre heating system installed
Original Army Padlocks for tool boxes, one new
Locking drivers door compartment with key
Original keys for locks on radio box
Radio Interior in rear with cabinets and chairs
2 Flourescent original lights in rear
Exterior window covers for radio box, set of 6
Interior window shades for all windows in radio box
New Batteries
The vehicle is equipped with good canvas windows for the front doors and the engine runs very good.
The radio box is a 1974 and the entire vehicle was refurbished
At the German Army December of 1987.
PLEASE READ THE IMPORTANT INFORMATION BELOW!
This truck is 51 years old, running, driving and very
presentable but will be SOLD AS IS without any warranty.
It could use attention to the following items:
The tires are old and have cracks
The front canvas is also dry and some stitching is coming loose
Very minor oil moisture here and there
Front seat upholstery could use refreshment
One of the two gas tanks is disconnected because it needs to flushed before adding fresh gasoline.
The transmission has a vibration at speeds over 65 Km/h, but shifts
fine in all gears. It could probably use a bearing or a transmission
replacement. I can include a good used, tested transmission for
$ 1250. Installation available at an extra $ 3500,- ($ 4750,-)
Any Unimog 404 S which has not been used on a regular basis, should be towed instead of driving long distance on highways so please do not ask if this can be driven across the country right out of my yard.
The following items will NOT be included in the sale unless
my full asking price is paid:
Auxiliary Generator in back
Side Entry Tent
3 gas cans
Filler Spout
Tool Pouch with tire pressure gauge
Camo Set for glass with pouch
Front Flag
One new Army Padlock
These items alone are valued at close to $ 1300,-
Other accessory items for Unimog Radio Trucks are available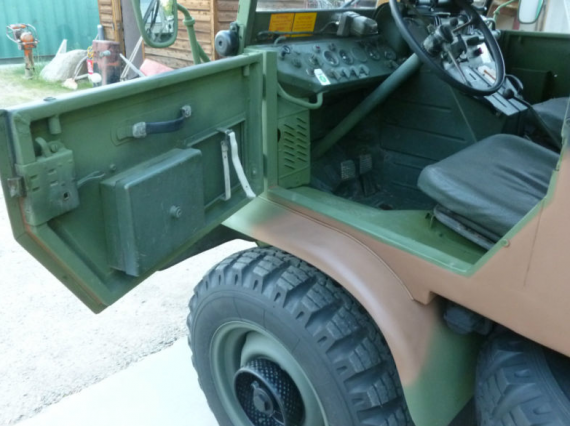 The 404 S is the most-produced Unimog, with over 64,000 made over 35 years. The Unimog I rode in didn't really go over 40mph, so I'm not sure how much the transmission vibration would actually bother you. Either way it sounds like the seller is a great source for all things Unimog and thus a pretty good person to know if you're trying to have the toughest truck out there.
-NR