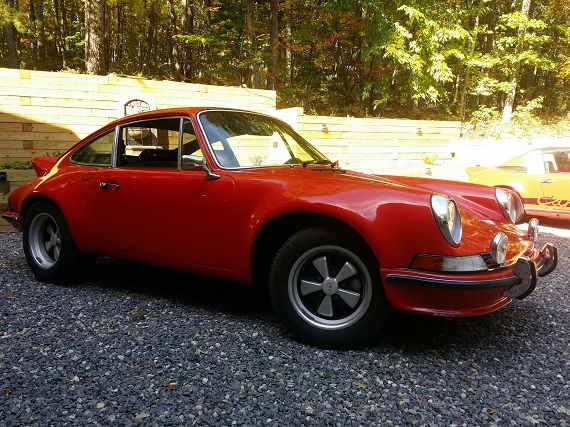 The 911 S/T is one of those cars you could spend your life trying to find and never come across a real one. Produced in very limited numbers from 1970 to 1971, we might think of the S/T as a track-oriented 911S or as a precursor to the much heralded Carrera RS. Either way these were lightened and more powerful versions of the 911 intended for endurance and rally racing. I've come across various figures for total production numbers, but it seems like that number is fewer than 40. How many survive today? I'm not sure. As a track car we can assume it is very, very few. That means they are a popular car to try and recreate and we find them in a wide variety of performance and aesthetic combinations. The one constant: once complete they are fantastic cars to look at and I can only assume even better to drive. The recreation we see here began life as a Sepia Brown 1972 911E and then at some point it was converted into what we see here. The seller makes clear that this is a barn find, so specific details on the build are not available and he has not put a ton of work into getting the car into pristine shape. He tuned it and got it running, but all in all it really doesn't look in bad shape.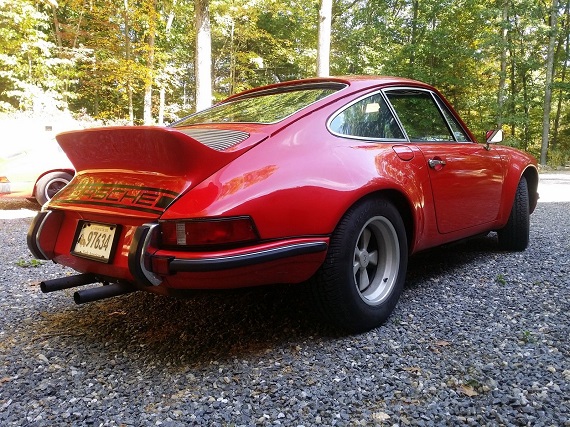 Year: 1972
Model: 911E
Engine: 2.4 liter flat-6
Transmission: 5-speed manual
Mileage: N/A
Price: Reserve Auction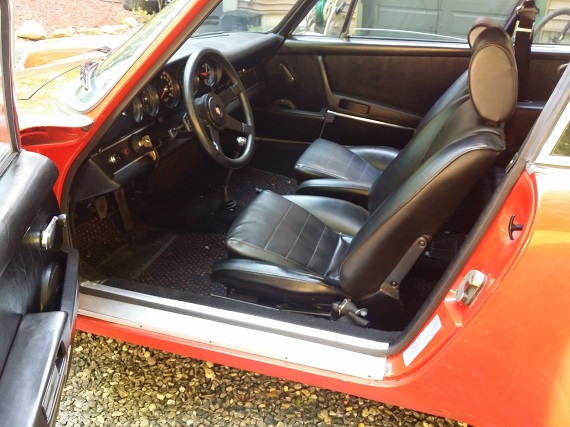 1972 Porsche 911E -ST

Very Interesting Vintage Porsche HotRod
Oil flapper
Complete NH Barn find
Ex-Porsche Race car Driver James Locke Titled/Owned
Matching Engine Number COA
Lots of period vintage Hot rod parts
This is a Great interesting collector piece

Vin # 9112200021
Engine # 6220029 911/52
Transmission 915 5 speed # (cannot read numbers)
Paint code # 415-9-2 Sepia Brown

BODY
This 72E-ST has original vintage metal ST flares front and rear.
the bumpers are metal welded ST flared as well with the correct factory trim
These trim pieces are extremely rare and i've only seen them on a few early RSR
Front bumper is factory Fiberglass ST bumper with RSR metal factory trim
This car just has a awesome Vintage look.. so period.

Very rust free chassis all panels appear original and rust free.

Originally the car was Sepia brown and at some point on the 80's it was painted guards red.
The paint is poor and has cracking and flaking also bubbling throughout
I personally love it ,,It is very very vintage looking and still is bright and gorgeous
Vintage Marchel H4 headlights and Marchel IOD Fog lights excellent shape and bright

Wheels..
It has Factory RSR 9×15 Rear FUCHS wheels
7×15 FUCHS in front
they are in original condition with nicks and wear

Engine..
The Engine is the Matching COA numbers with MFI system
It seems highly modified compared to all other early 911 i have owned
this engine really likes full throttle and 80+ mph.. hates slow traffic driving
seems much much faster than a 72S i owned ..
SO ..unknown history
it does leak oil in a few places.. but always starts right up and
always been reliable with basic tune up stuff
ok driver or full restore is in order

Interior ..
The Interior is great vintage condition
Factory Sport Seats with Tilt bases ..they are very worn in
and the most comfortable Porsche seats i have sat in .. .
They do have spilts and scuffs and probably need to be fully restored
Carpet is nice but is old and
Dash is nice shape can be a old style cover
RSR 10K tachometer and RSR 180 mph Speedo
Radio delete plate are some nice old parts on it
Had Factory Air condition which is removed now

History /Backstory
I found this 72E-ST in a barn in New Hampshire.
it was not driven or started in 9yrs when i found it
it was a Race track accountant that purchased from Jim Locke one day at the track
Research found that Jim Locke and Bob Bailey team owned it
They received this 72E-ST from a trade from a race team in Texas..
more research shows this could possibly be
The Northlake GA "Ultimate 911" featured in 1972 Road and Track Magazine
but have no way of researching this matter for sure. its a mystery in a few ways ?.

Conclusion ..
Car is a barn find that i just tuned up and got running for weekend cruises ice cream runs
Everywhere it goes people love it and always want to buy it .
cool piece of 911 history .. keep as is or fully restore for the lawns
Great car .. will make any Porsche Collector Happy..

I do have a lot more pictures for those interested and

please ask any questions before bidding

International bidders Welcome

Thanks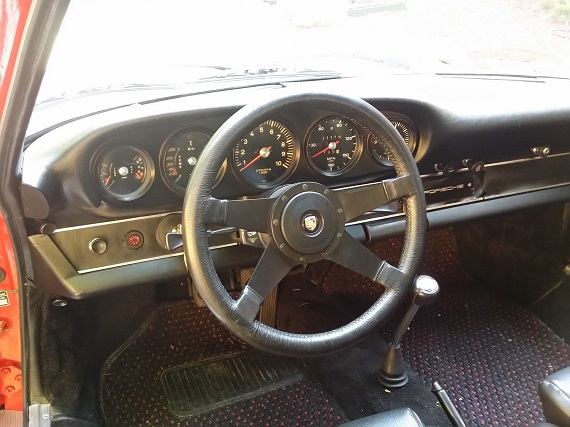 With any car like this value is largely in the eye of the beholder and much depends on the particular state of the build and what sort of performance the builder has attempted to achieve. Obviously in the case here we lack quite a bit of that information and because a significant portion of the value is likely tied to its performance then the auction may be held back some. That said, current bidding sits at $78,100, a not insignificant sum for a car with an almost unknown history. Ultimately a car like this is about the total package: the melding of vintage racer style with a nice performance boost. If everything checks out mechanically and the only concerns are cosmetic – possibly a long shot – then this could make for a wonderful car that hearkens back to one of the rarest performance 911s of all time.
-Rob