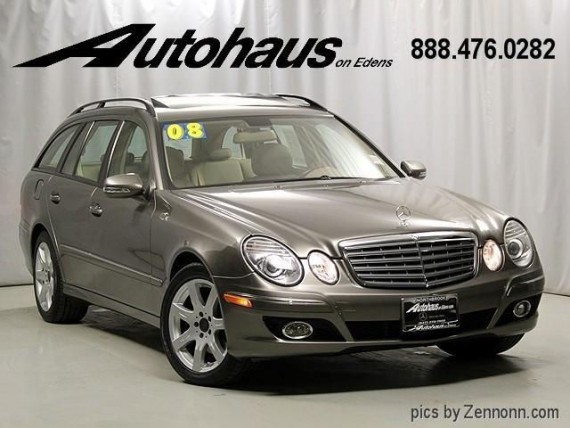 I am officially dubbing this week "Mercedes Week" for myself. The majority of my recent posts have been BMW's as that is mostly what I am in the market for but since the universe sadly does not revolve around me, I figured I best mix it up. What spurred this line of thought was a friend who suddenly found himself in the market for a new vehicle and asked for my help finding one. He wanted a wagon, preferably one with AWD as he lives up a particularly nasty dirt road in Vermont and his budget was about $10k. As with most folks in my native state, his first choice was a Subaru Outback and he found a couple solid examples right away. However given that he wasn't completely married to the idea of having a Subie, he asked me what else he could get in the same price range with similar functionality. A4 wagon prices have stayed strong, particularly on the manual ones but the E-Class wagons, well those have depreciated significantly despite being a rather reliable rig. I found a few of these in his price range and a few that were decidedly not, clearly this one is the later.
At first glance I didn't much care for this particular example, I'm not a big fan of tan interiors or light woodgrain accents. I much prefer a nice alcantara or perforated leather wheel, subtle dark wood trim if wood at all. However the more I scrolled through the pictures the more I began to appreciate the vibe this car is putting out.  It conjures up images of trucking kids to private school and neighbors in a freshly minted subdivision waving to each other in acknowledgement of their mutual success. While that might not sound all that great I think it perfectly captures why this car is a solid option for the enthusiast with a family, ultra sleeper status. Nobody expects they grey wagon with a beige interior to be a fun drive anymore than they expect the Inquisition. A set of sticky tires, upgraded sway bars, bushings, and CAI would make for an entertaining and very incognito daily driver indeed.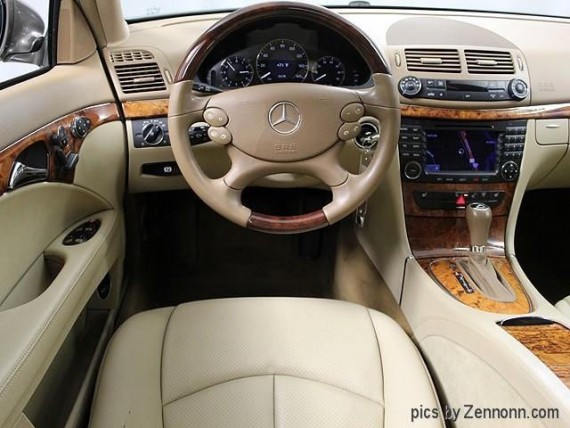 Year: 2008
Model: E350 4Matic Estate
Engine: 3.5 liter V6
Transmission: 5-speed automatic
Mileage: 57,975 mi
Price: $19,937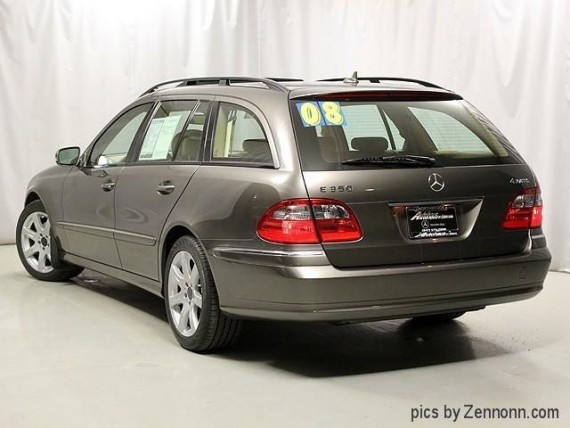 Thank you for your interest in one of Autohaus On Edens Mercedes's online offerings. Please continue for more information regarding this 2008 Mercedes-Benz E-Class 3.5L with 57,974 miles. This Mercedes-Benz includes: PREMIUM PKG 1 Navigation System Heated Front Seat(s) CD Player Satellite Radio Bluetooth Connection WOOD & LEATHER STEERING WHEEL Leather Steering Wheel IPOD INTEGRATION KIT *Note – For third party subscriptions or services, please contact the dealer for more information.* Rest assured when you purchase a vehicle with the CARFAX Buyback Guarantee, you're getting what you paid for. Indulge yourself with one of the most highly crafted, most luxurious automobiles available today. All-wheel drive means peace of mind all the time. This Indium Grey Metallic AWD Mercedes-Benz enjoys a host offeatures, including exceptional acceleration and superior stability so you can drive with confidence. The E-Class 3.5L has been lightly driven and there is little to no wear and tear on this vehicle. The care taken on this gently used vehicle is reflective of the 57,974 miles put on this Mercedes-Benz. Time is money, and thanks to the navigation system on this Mercedes-Benz E-Class, you'll be spending a whole lot less time getting to your destination. This gently driven vehicle has been well-kept and still has the showroom shine. Engineered with the latest in technology and features, this vehicle is an automobile lover's dream. More information about the 2008 Mercedes-Benz E-Class: The E-Class range of luxury sedans and wagons can fit a wide range of needs, from the fast, showy, and exclusive E63 AMG to the more practical E350 and the economical, green-friendly E320 Bluetec diesel. Across the line, the E-Class has a very roomy interior and nice ride, both which make it well-suited for long trips. With 4MATIC all-wheel drive available on E350 and E550 models, the E-Class also makes a good all-weather bet for those who live in the Snow Belt, too. Strengths of this m Contact our friendly customer service reps.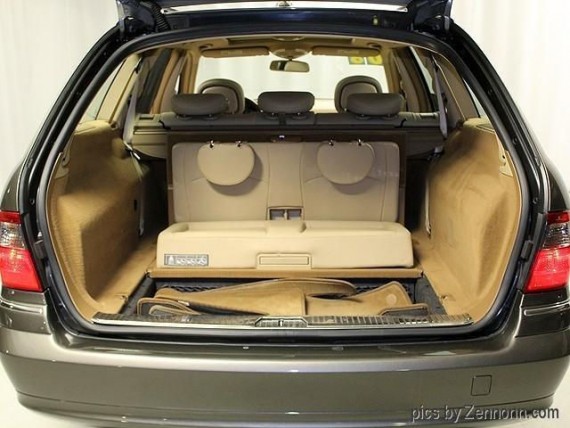 As I said before the E350 is rather reliable but that doesn't mean it isn't without its quirks, this is after all a W211 Mercedes. The M272 V6 is prone to balance shaft failures and the interiors are a crapshoot in terms of rattles/creaks, at least in my experience. Mercedes did give the W211 a facelift in 2006 to address issues from earlier models but time has shown that minor issues continued, the majority of them being electronic. Still, I think there's enough style per dollar here to justify the asking price or rather close to it. The interior on this example does appear to be in very good condition as does the exterior, no major blemishes or reason to think it has been neglected. The 268hp, 3.5 liter V6 will return solid fuel economy, even when mated to the 4Matic AWD system so long driver is mindful of how much pressure they're applying to that skinny pedal on the right. Additionally this example is outfitted with Bluetooth, I-Pod Integration ( though which generation is not specified), satellite radio and archaic COMAND navigation system. Of course you get all the usual Mercedes safety feature one would expect to find on an E-Class as well. With only 57,975 on it, this wagon is just getting started on what will hopefully be a long life of service and my guess is it will find a good home with a stylish family that knows better than to get an SUV or Minivan. On the other hand, perhaps it will find itself in the hands of a single young person, ready to give it a bit of customization and an interesting life.
Cheers,
-Andrew