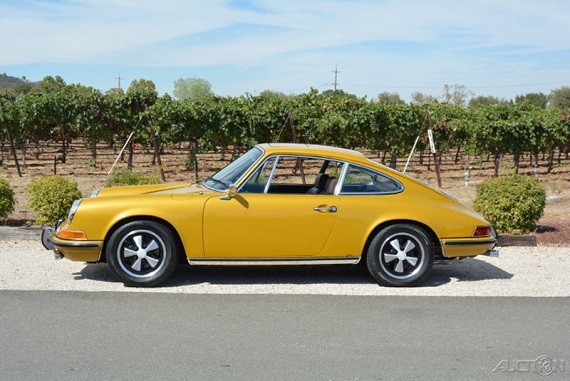 I have been reading over the past months how the market for long-hood Porsche 911s has begun to stagnate as buyers shift away from these early examples in favor of, predominantly, various iterations of the 911 Turbo. Those statements correlate well with where I've seen various auctions as bidding and asking prices appear to have reached a plateau with only the most exceptional and rare examples commanding any significant premium. While none of these early cars can be classified as inexpensive there at least now is an opportunity to exercise patience without concern that your patience might result in paying a much higher price down the road. Another possible advantage may reside with exactly a car like the one we see here, the 911E. As the mid-tier model of the 911 the E provided meaningful upgrades to interior comforts and engine performance over the entry-level 911T, including the use of mechanical fuel injection similar to that of the top-tier 911S, but without the significant increase in value we see with 911S. This particular example also comes in a very unique, and period-correct, color combination: a Gold Metallic 1972 Porsche 911E with Brown leatherette interior. Of the various years of long-hood production, many consider the 1972 to be the best given its unique use of an external oil filler. The purpose was to provide the car with better balance, but after one year it was moved back to its original location after confusion arose distinguishing it from the gas tank. We can hope current owners will suffer no such disorientation and then will be left with one of the more unique 911 models.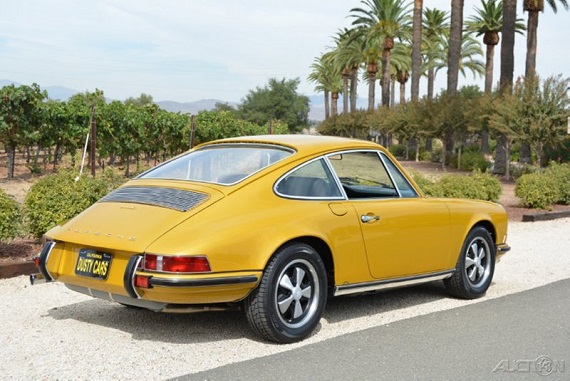 Year: 1972
Model: 911E
Engine: 2.4 liter flat-6
Transmission: 5-speed manual
Mileage: 88,639 mi
Price: Reserve Auction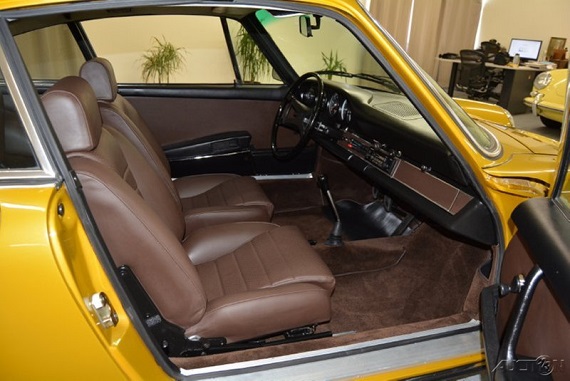 1972 Porsche 911E Sunroof Coupe with factory sport seats and rare color combination. Garaged California car with numbers-matching engine solid factory floor pans, fully restored. Nice body gaps, new leather interior done to factory specifications, original "cookie-cutter" wheels and installed fuchs included. Car was recently taken to dismantled (engine and windows out, door off) and taken to metal for repainting: all metal was hand-dollied and body was hand-blocked prior to painting; base clear paint in the original color, wet-sanded and polished, reassembled with all-new rubbers and seals. Undercarriage was sealed with epoxy primer for 30 years rust protection. Too many mechanical details to list. An excellent example of a rare and desirable Porsche model.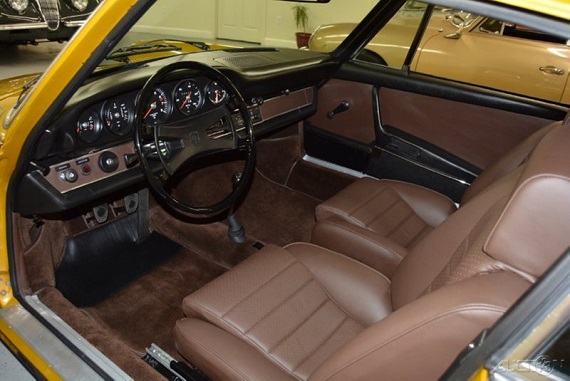 The Gold Metallic exterior and Brown interior provide for an excellent contrast and the overall restoration work here looks to be of a pretty high quality. This is the first 911 of this color I can recall coming across. I've seen similar variants on the 911SC, but there is a brightness to this gold that is incredibly striking and certainly eye catching. It also seems to work particularly well on an early 911. The sport seats are an excellent touch, but given that they do not appear on the CoA I am assuming they were added on at a later time. That may only be of concern to the most staunch originalists, but given current prices it should be a consideration. Speaking of which, bidding on this auction hasn't moved a ton in the last few days and sits currently at $100,100 with the reserve unmet. Overall that's not a bad price for a '72 911E, but the seller surely will be hoping to extract quite a bit more. We'll have to see whether the auction can reach this reserve.
-Rob