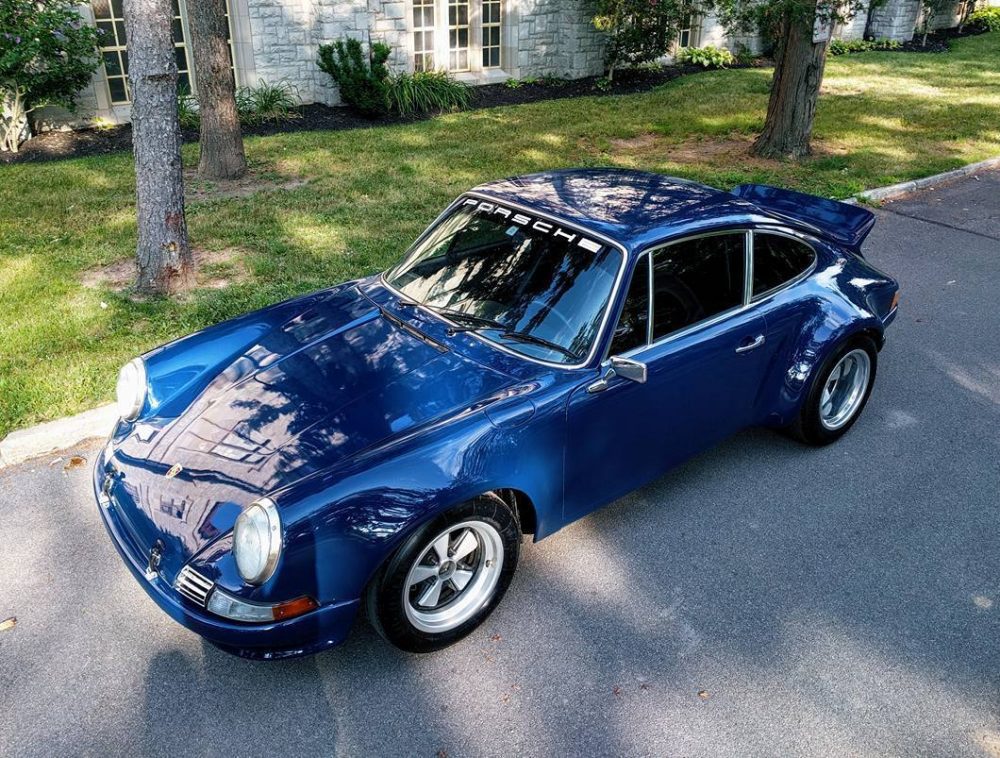 Well this is interesting. Typically when I see a 911 like this one I assume it's some variant of a backdated 911SC or 3.2 Carrera. The value of most long-hood 911s is such that modifying an original car would be as useful as setting money on fire and much less efficient. But this is a bona fide 1972 Porsche 911S. So not only are we looking at a modified early 911, but it's an S. Add to that the uniqueness of the '72 911 with its one-year-only external oil filler and this is a pretty rare find.
From what the current owner has been able to gather it sounds like the conversion of this 911 happened long enough ago that investment potential wasn't really of much concern. So modifications could be carried out with fewer worries. On the flipside it also means we don't really know a lot about how this 911S arrived at the state in which it currently sits. That's a little bit of a problem, but from the owner's comments while we may not know how it got here we do know it drives very well. It also looks pretty great!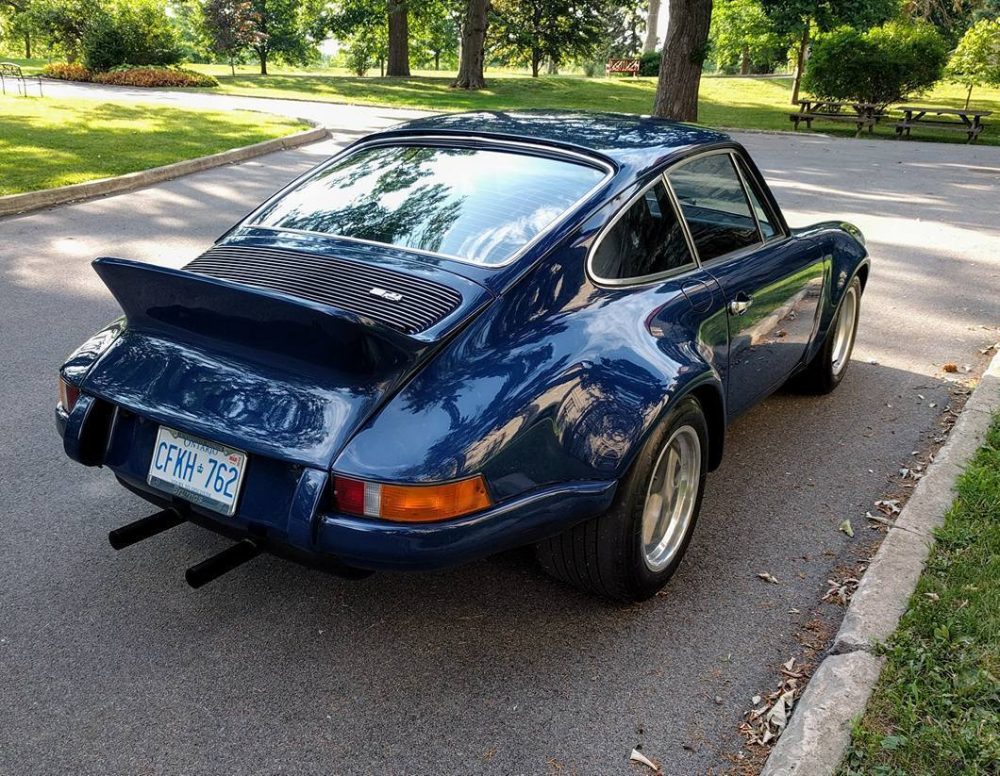 Year: 1972
Model: 911S
VIN: 9112301652
Engine: 2.4 liter flat-6
Transmission: 5-speed manual
Mileage: 57,000 mi
Price: Reserve Auction ($154,000 Buy It Now)
I have decided to put my 1972 911S up for sale. There is a thread on early S documenting the find
and the mild work done to bring it to this stage. I spoke to Mr Barth about the car and he relayed the following.

On Aug 4, 2018 10:59 AM, Jürgen Barth wrote:
Dear John
sorry i am late but been on the road
yes i can test your 74 RSR in Monterrey no problem

Here is the info on the 72S

911 230 1652
911 S Coupe 2,4 L (190 PS) Modell 1972
Prod Nr 102 7355
Engine Nr 632 2405
sold in USA on the 28 July 1972

Best regards
Jürgen

Transmission (Not recorded) 915/02 11 7329904 LSD model.
Car was original sold in Florida

Speaking to the 2nd owner he confirmed the low mileage and estimated the mileage at 45k miles when he sold the car. He said the intakes stacks are from a 69 and where bored to 44mm
by Andial ,at the same time sent the pump out for rebuild. Andial also supplied a 10k Tach along with other small work. Carrera tensioners etc. The car is in excellent condition and truly is a time capsule
with most original parts, S brakes ,suspension ,oil cooler, sway bars etc.

The car currently sits as a 3 owner car with 57k miles. I have managed to only put on 500 miles, the car runs excellent and is a joy to drive. Condition is impeccable no rust no issues!
Specs are as follows:

Engine # 632 2405
915/02 11 7329904
Original MFI with modifications to 69S stacks 44 mm bore.
15×8 15×11 Fuchs (11's are weld ups)
TB-5 Michelin tires (New)
Scheel bucket seats (a few tears but great patina)
Omp belts
Momo Protipio wheel
Vintage rally stop watches
Andial 10k tach.
Upgraded torsion bars 21/28
Koni suspension
Rear roll bar
RS carpet kit
Fiberglass hood
Duck tail
Flat deck lid included
H4 headlights
Fiberglass S bumpers ST flare
ST/RSR flares glass
Wevo Blue engine and trans mounts

Car is located in Lewiston NY (Niagara Falls area)
If you have any questions please let me know.
John@jollyjumper.com
416-419-3672

Cheers
John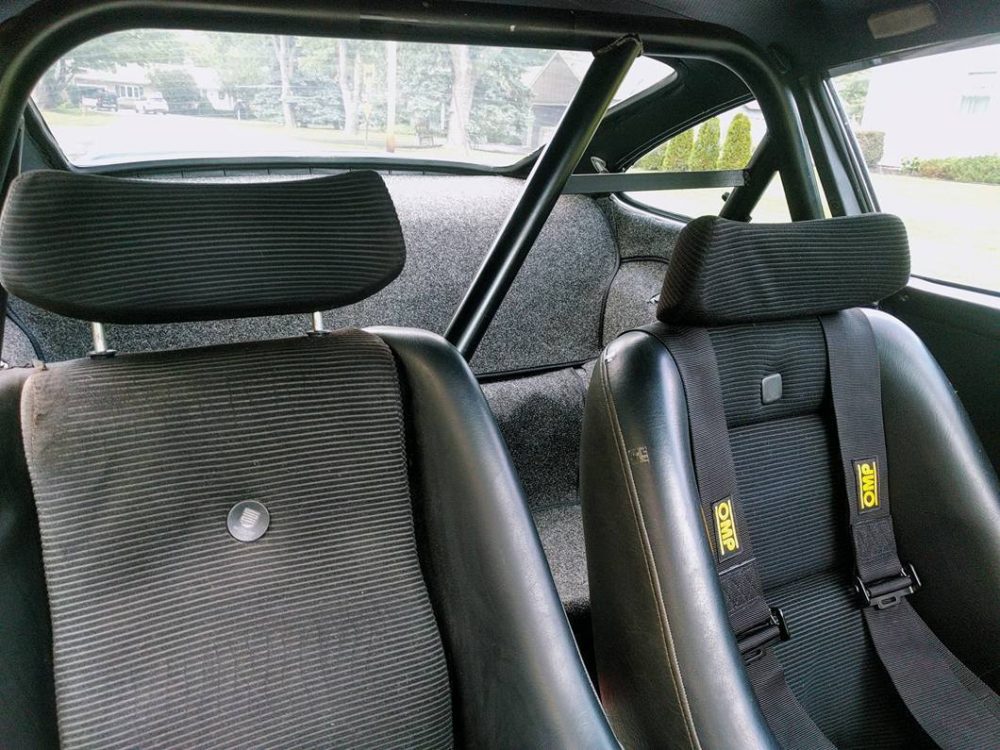 I don't know that it was intentional at the time, but this 911 is built in the guise of the outlaw builds we see from time to time. There is a certain desirability surrounding those builds and the fact that this one is based off a 911S should enhance that level of desire. I guess the question is how that desire will relate to the sort of attention it'd garner if it were original. I suspect the current owner had similar thoughts running through his mind. If you read through the thread on the Early 911S Registry it sounds like his initial impulse was to return this S to its original appearance. Quite a few forum members chimed in with an attempt to dissuade him and judging by its current appearance they were successful!
It's a neat looking 911. The rear fenders seem almost impossibly wide and in Albert Blue the entire thing has a wonderful sportiness about it. Obviously, there are a lot of questions, but when the owner purchased this car it doesn't seem like he knew much beyond how it looked. So he has set out to fill in the gaps and should be able to provide as much insight as is available. Ultimately, unless some details emerge to show this 911 has some historical significance beyond what is known now, I don't think it has much chance of selling for $150K. It is definitely unique and likely great fun to drive, but with such uncertainty I'm not sure it's the sort of 911 to achieve that kind of price. Who knows? Maybe someone will love it enough to take the plunge or maybe it really will have some significance. It does seem to have some relation to Andial, we just don't know what. Regardless, this looks like a car about which you could tell some very interesting stories.
-Rob