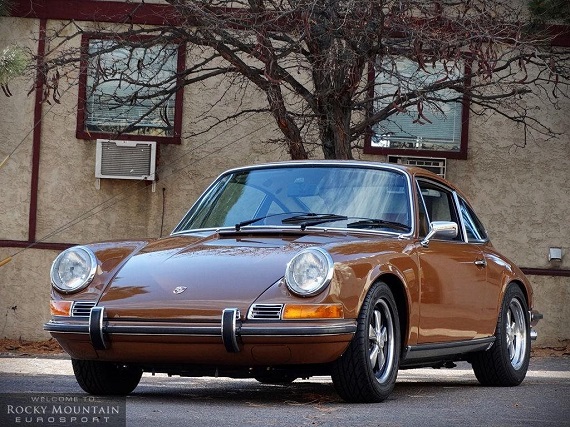 There is something strangely alluring about a brown 911. Maybe it's the way the color looks on the early cars or maybe it's the relative rarity of the color on modern cars. Either way I always find myself drawn into these ads spending far too much time going through detailed pictures of the car and wondering why they went out of style. Brown definitely is a period color most popular in the '70s and early '80s and while Porsche offers a few shades on their modern cars they are exceedingly rare and I cannot recall ever coming across one on the road. Today's example comes from the 911's original long-hood design, which tends to showcase their brown color exceptionally well: a restored Sepia Brown 1972 Porsche 911T, located in Denver, with Beige interior and 61,480 miles. The 1972 911 has the distinction of being the only year the 911 came fitted with an external oil filler and while I haven't really seen much to suggest the market cares about that detail it is nonetheless an interesting piece of trivia and an additional talking point on these early examples.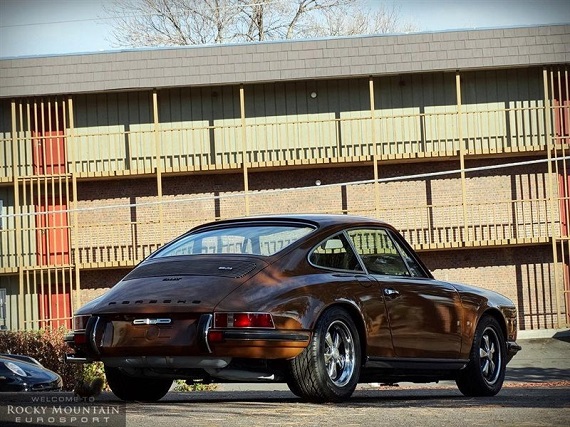 Year: 1972
Model: 911T
Engine: 2.4 liter flat-6
Transmission: 5-speed manual
Mileage: 61,480 mi
Price: $105,000 Buy It Now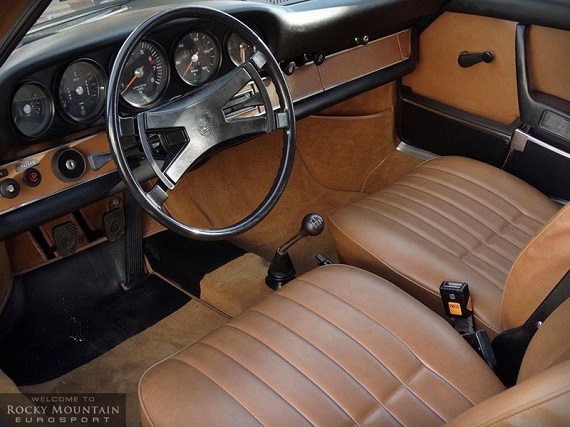 HERE IS A UNIQUE OPPORTUNITY FOR YOU TO OWN ONE OF THE NICEST, RAREST AND MOST DESIRABLE 911T'S AVAILABLE! RECENTLY GONE THROUGH COMPLETE RESTORATION (APPROX. 130 MILES SINCE THAT) WITH A PORSCHE CERTIFICATE OF AUTHENTICITY, ALL MATCHING NUMBERS AND ALL RECEIPTS AND PAPERWORK FOR THE RESTORATION AS WELL AS LOT'S OF PICTURES OF THE RESTORATION ITSELF. THIS CAR IS FINISHED SEPIA (74) BROWN EXTERIOR PAINT WITH BEIGE/TAN LEATHERETTE (31) INTERIOR. 61,480 ORIGINAL MILES BUT LESS THEN 150 MILES SINCE FULL RESTORATION! THERE WERE ONLY 1,821 OF 911T'S MADE FOR US MARKET AND THIS ONE HERE IS ONE OF THE BEST CONDITION AROUND! IT'S EQUIPPED WITH ORIGINAL, REBUILT 2.4 L ENGINE PRODUCING 140HP. THIS CAR ALSO COMES WITH ORIGINAL FACTORY FUCHS RIMS. PLEASE CALL US WITH ANY QUESTIONS AND FOR MORE INFORMATION REGARDING THIS BEAUTIFUL, HARD TO FIND APPRECIATING AUTOMOBILE. PLEASE CALL AND ASK FOR LEON AT (303)742-2222. DO NOT MISS THIS OPPORTUNITY TO OWN A PIECE OF PORSCHE HISTORY AND A CAR THAT HAS AND WILL MOST LIKELY BE STILL GOING UP IN VALUE A LOT MORE.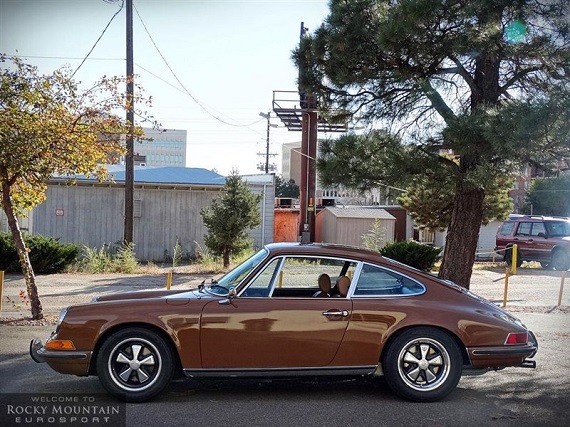 While I really enjoy the exterior look of this car, the interior comes across as slightly bland. It may be that it lacks enough contrast with the exterior color, thus failing to stand out, or perhaps it is simply the interior itself because I've seen quite a few brown 911s with some shade of brown/beige interior and they have looked fantastic inside and out. That isn't to suggest the restoration work here looks poor, but merely a comment on the monochromatic effect these contrasts convey. The asking price is definitely on the high end for any 911T so I'd suspect for this to sell it's going to need to come down a bit. All in all, this remains an interesting 911 from one of the best periods they were produced and in a color that we rarely see anymore.
-Rob