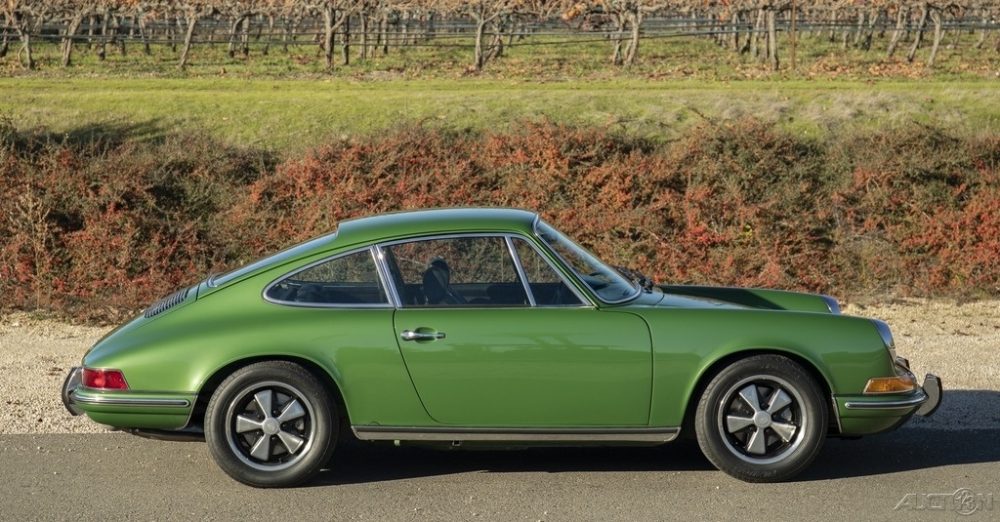 I find myself very captivated by this color. This is a Metallic Green 1971 Porsche 911T Coupe, located in California, with Black leatherette interior and 55,592 miles on it. It is said to have been freshly restored and certainly looks it.
But back to this color that has so drawn my attention. Metallic Green is both pretty descriptive though also, relative to many other Porsche colors, completely generic. I usually am somewhat ambivalent to metallic greens in general. They're fine colors, but they don't tend to wow me the way some of Porsche's non-metallic greens are capable of doing. Dark metallic greens – along with dark metallic blues – especially fit that profile. I like them and I understand their appeal, but usually am left thinking, "That's nice." This is very different and I suspect there is some effect of the lighting and photography at play. Perhaps this is as dead gorgeous as this color can get and given that it's outdoors you may never replicate the look. But I love it.
This particular color only was available from 1970-1971. There may be other similar greens in the Porsche catalog. It reminds me quite a bit of Kermit, the 1979 911SC that was painted Scirocco Viper Green. Perhaps this was the precursor to that color. As I see it here this Metallic Green possesses just the right balance. It finds a sweet spot between light and dark with the metallic sparkle amplifying everything and holding it together. I'm sure I've come across it previously, but if I did it didn't look this good.
Comments closed