My grandfathers on both sides had 2002s back in the day, and I can definitely see myself bombing around in one of these little monsters. Though well-known amongst enthusiasts, you don't see too many on the road so it doesn't take much to stick out. Today's 2002 will stick out like a 20-year old Sophia Loren in an old folks' home. Or maybe Pam Anderson, because this 2002 has certainly had some augmentative work done. Looking gorgeous in Imola Red with 2002 Turbo flares, old Bimmers just don't get much better than this. Everything – the interior, the trunk, the engine bay – is as immaculate as the parts visible to the world. It's an excellent time machine; if only Sophia Loren could be reborn like this.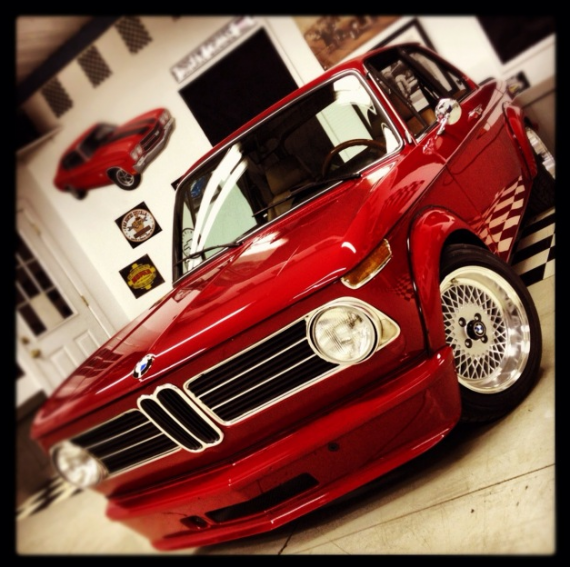 VIN 2586316

You are bidding on an eye-catching example of the classic BMW 2002. This is the last year of the sought after round taillight version, southern car, very solid. While these lil' cars are certainly unique in their factory appearance, this one has been transformed into a gorgeous, one-of-a-kind head turner, finished in the best red ever created: BMW's Imolarot. Description as follows:

Mechanical:
* Weber 32/36 carb upgrade
* New exhaust system with center exit chrome tip
* Lowering springs with Bilstein shocks
* 15 x 8 Enkei classic wheels with Dunlop Direzza DZ101s
* Fresh tune up and fluids
* Upgraded ignition and coil, new thermostat and water pump with coolant flush
* Factory original drivetrain with 4 speed trans
* Trunk mounted battery with rear strut brace
* Recent valve adjustment, new Guibo, new alternator, master cylinder and exhaust manifold
*Odometer non-operational, actual mileage unknown

Interior:
* Complete Dynamat sound deadening on floors and doors
* Fresh custom interior with Recaro buckets
* Rare vintage Momo Indy wood steering wheel, as well as a wood shift knob
* Brushed aluminum racing style pedals
* Custom console with VDO gauge cluster in console, no stereo, will leave that up to the buyer
* All new weatherstrip throughout

Exterior:
* nicely done in BMW factory color: Imola Red
* Fresh engine-bay decals including custom made "Imolarot II" color tag
* full OEM turbo trim package, fascia, flares, spoiler
* Euro style rear bumper
* Flush Euro style front side markers
* Custom finished trunk area
* Nicely detailed engine compartment
As the seller notes, this is a desirable and beautifully finished 2002. Sure, I'd want a real Turbo or an M2, but that wishy non-gripe is all I've got against this car. Plus, I'm sure the raspy little 4 is entertaining as is. I'm heading to the Rose Bowl on New Year's Day and would love to drive this. Both sides would approve of the color! I'm not a 2002 specialist and the extra work makes it hard to judge, but bidding has been busy and pushed it over $15k. Something right around $20k seems reasonable.
-NR