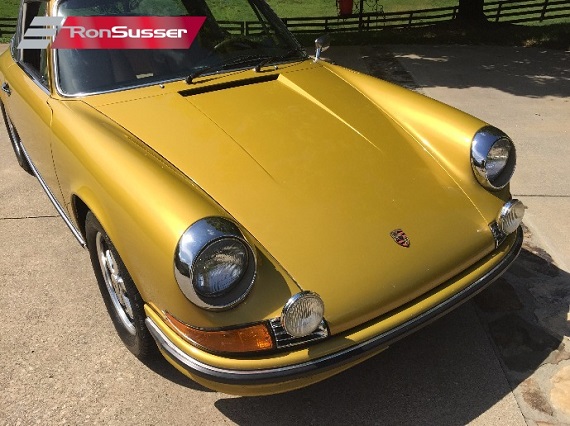 I have a strange fascination with the Sportomatic and find myself drawn to them as I keep coming across them in interesting colors and options. Not that I don't see the same with the much more standard manual-transmission equipped 911s of the day, but the Sportomatic almost strikes me as a rare option that I should give attention to and I find myself featuring them. I suppose what confounds me is that I'd likely never consider purchasing one unless I was in a position of having a thorough collection and wanted one for its engineering and place in Porsche's history. The transmission itself seems like the answer to a question no one was asking at the time, yet was quite prescient in its desirability. It was just way before its time. They are rare. They are also interesting. But are they desirable? Well, they're definitely less expensive than comparable manual 911s and that probably shouldn't surprise us. The one we see here, a Gold Metallic 1973 Porsche 911E Targa located in Atlanta, makes for an interesting case as it presents with quite a few cosmetic flaws, but comes in a unique period-correct color and has that aforementioned marvel the Sportomatic.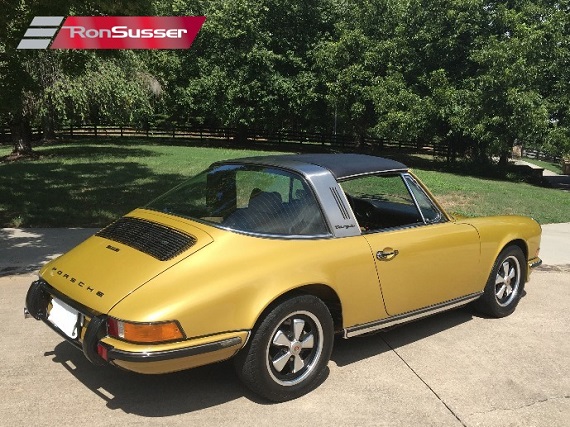 Year: 1973
Model: 911E Targa
Engine: 2.4 liter flat-6
Transmission: 4-speed automatic
Mileage: 81,200 mi
Price: Reserve Auction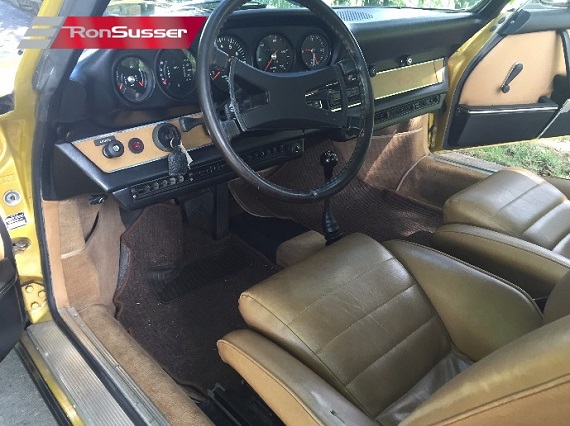 I am pleased to offer this 1973 Porsche 911E Targa Sportomatic. According to my research (cannot confirm), it appears that 319 '73 911E's had the sportomatic option. Mileage on the odometer shows 81,2XX miles. VIN # is 9113210055.

Original options (see certificate of authenticity in the picture section):

– US emission

– Option group G03

– Forged alloy wheels

– Stabilizer bars – front and rear

– Sport seats – left and right

– Raised steering wheel hub

– Comfort equipment

– White fog lights

– Dunlop tires

– Gold metallic exterior

– Tan/beige leatherette interior

Recent work done:

– New brakes

– Calipers rebuilt

– New hoses

– New pads

– Rotors machined

– New Shocks

– Shifter bushings replaced

– New injection pump belt

– New style alternator

Body:

– Not original paint but has great shine

– Chips along door edges body/door

– Chips around gas filler door

– Dent behind LH headlamp on fender

– Rock chips on hood, front spoiler

Important options:

– Tilt sport seats

– AC – Sportomatic

– Fog lights

– Air horns

– Targa top

These early 70's Sportomatic 911 are quite rare and would be a great addition to any Porsche collection. The owner notes that this car is a blast to drive. It is definitely in "driver" condition cosmetically and is not being represented as anything else. A blast to drive nonetheless.

History of the Porsche Sportomatic:
Curiously, Porsche described Sportomatic as an "automatic" transmission, even though it had no fully automatic setting. A modified four-speed 911 gearbox, Sportomatic was essentially a manual with a vacuum-operated single-disc dry clutch. A torque converter replaced the flywheel and existed both to smooth the transmission's electro-mechanical shifts and to allow the car to remain stationary with the clutch engaged. When a driver grabbed the shift lever, the clutch would disengage, re-engaging as soon as one's hand was removed from the stick. To change gears, the driver needed only to move the lever to the desired gate and let go of the knob. Porsche Sportomatic detailed cutaway

The "gears" were labeled L, D, D3, and D4, and although Porsche suggested using L only for steep grades, it was, essentially, first gear. (We found in a 1971 test that using L helped acceleration.) Gears D, D3, and D4 were really the transmission's second, third, and fourth speeds, and there was even an automatic-like "park" setting enabled by a pawl that both engaged and locked a countershaft gear.

Sportomatic-equipped 911s were, as you might expect, somewhat quirky: As on other early 911s, there was a secondary hand throttle between the front seats to adjust the engine's idle speed to prevent random stalls, and we found in our contemporary test that you could easily overrev the engine by accidentally touching the shift lever or not lifting from the throttle during an intentional shift event. An innovative yet flawed first step, Sportomatic's last gasp wasn't heard until 1980. The technology received only one update along the way, in 1975, when Porsche stripped it of one forward gear due to the torquier nature of the 911's more-flexible 2.7-liter flat-six.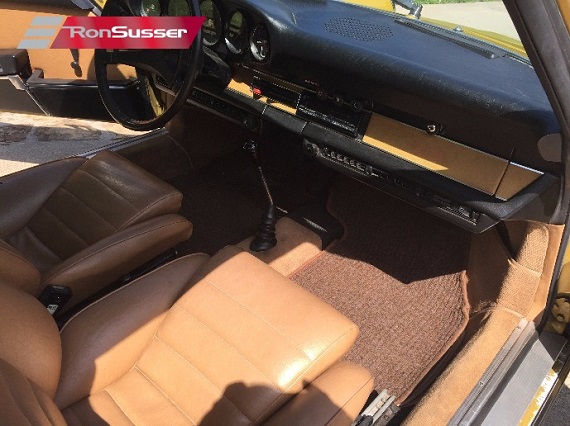 A vintage 911 like this always is difficult to evaluate without having a chance to spend a good deal of time with it and review its history. Of course, the presence (or lack thereof) of said history is itself of great significance. It definitely looks in need of some paint and the seats show a few wear spots that may need to be addressed. Beyond some recent service we don't have much to help us here. It's said to drive great. As I said, I think prospective buyers will want to spend some time with this one in person to confirm how it drives and get a better sense of its cosmetic state. Bidding currently isn't what we would consider terribly high at the moment, especially given that this is a 911E, so perhaps the various flaws along with the Sportomatic will keep this in much more attainable range. There's certainly work to be done here, but if the flaws are limited to the cosmetic variety then it could make for a fun vintage 911 that can also be a great talking point for those interested in Porsche's engineering history.
-Rob