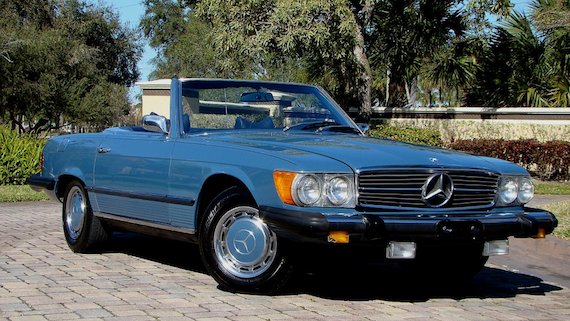 The problem with classic cars at times is they aren't that agreeable to live with on a regular basis. Whether its adjusting carburetors, leaky convertible tops or dealing with less than adequate braking capabilities, there's always going to be a bit of compromise. Of all the classics, however, older Mercedes-Benzes are some of the best that can blend in with modern motoring. Timeless looks with safety and performance to keep up with modern times makes cars like this 450SL from the mid 1970s an attractive piece. This one for sale in Florida has just under 60,000 miles and wears it's original paint over a restored interior.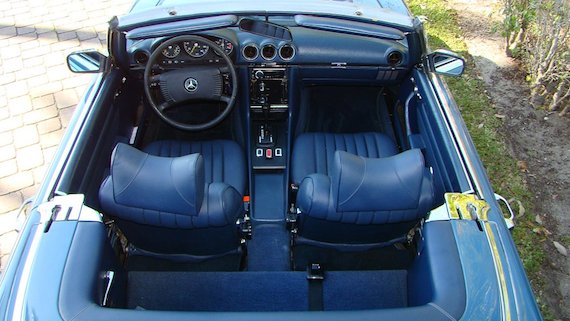 Year: 1976
Model: 450SL
Engine: 4.5 liter V8
Transmission: 3-speed automatic
Mileage: 59,755 mi
Price: No reserve auction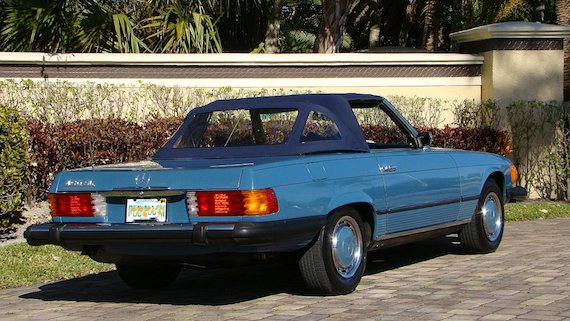 1976 Mercedes-Benz 450SL, blue code roadster, both hard and soft tops. The blue code cars were 904 code and painted in blue. The interiors were done in blue and the convertible tops were blue with color coded factory hub caps. The headliners of the hard tops were off white and the same for the soft tops. The dashboards were in blue. The only interior part not blue were the top of the consoles and A/C face plates which were black. You will see in the picture gallery that this car is in exceptional condition and believe it or not, the paint is original and still in great condition with plenty of shine.

The soft top has been replaced and the interior was restored to factory original. Good set of matching tires. Air conditioning works as it should with good cold A/C. The power windows work. Has an aftermarket radio with built in CD. The power antenna works. Trunk and engine compartments are super clean. The best part is when you drive it. Drives as good as any SL out there regardless of year. This 107 body is completely rust free. Hard to find one in this condition. You will not be disappointed with this one. Could not ask for a nicer one. Very collectible and has antique status for insurance and license plates. Selling with a very favorable reserve for this car so this car so if you bid please be serious. This is a serious eBay auction and you should be a serious bidder. Buy and own this great car. For a more in-depth description or buy it now, call Dave at 954 684 6643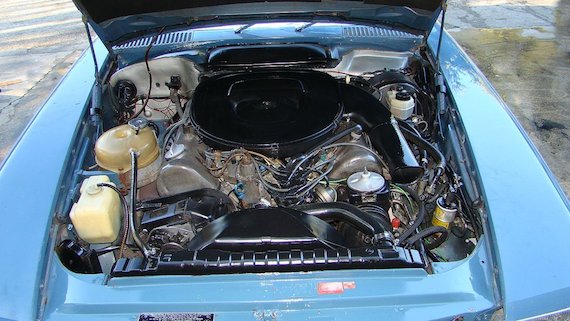 For some, this 450SL might be a bit of an overload on the blue theme, but I kind of like it. It reminds me a bit of some of those triple black Porsche 911s of yesteryear. Compared to the later 560SL, which has been creeping up in price lately, the 450SL is still rather accessible. Bidding has been fairly brisk on this particular SL. With this kind of mileage and originality, I'd suspect somewhere between $14,000 to $17,000 would be a good estimate as to where the final price will settle.
-Paul