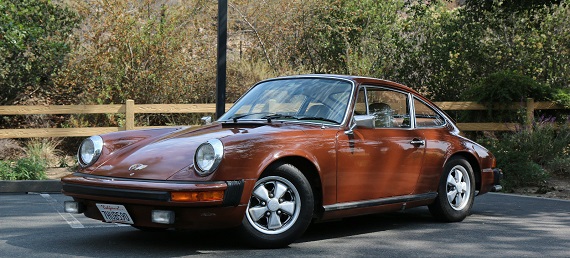 I'm fairly certain that the very first Porsche 912 I featured here at GCFSB was one of the single-year 912E. In the three years since then, I've never featured it again. That is in part because the long-hood models are simply much better looking, but also they've tended to make more sense when their values are compared with those of their long-hood 911 brethren. Because mid-year 911s haven't shown nearly the same high values the 912E doesn't attract our notice quite as much. However, the long-hood 912 has begun to rise enough that they no longer seem like the wonderful values they once did. Perhaps the 912E can begin to make a little more sense. In that regard, I'm curious to have a look at where one might sell. We come across them pretty rarely, and frankly most of them are in pretty bad shape. But the one we see here, a Sepia Brown 1976 Porsche 912E with Tan interior, looks in pretty good shape. It needs work, as the seller readily admits, but the overall condition appears quite sound and perhaps the value it shows will begin to bring these into greater favor.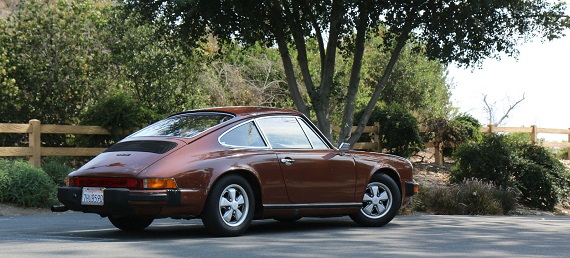 Year: 1976
Model: 912E
Engine: 2.0 liter flat-4
Transmission: 5-speed manual
Mileage: 133,600 mi
Price: Reserve Auction ($34,500 Buy It Now)
This is a very rare 1976 Porsche 912E for several reasons:

Sold only in the USA, Porsche produced only 2099 of these cars
Of those 2099, only 500 were produced with a sunroof. This car has a working sunroof.
Very few had installed air-conditioning (this model is the only I have come across with AC — and the AC works great!)
This is a California car, so none of the rust issues cars from other regions deal with.
Include several additional items with purchase: High-end car-cover, removable front rock-guard ("bra"), removable custom-designed cup-holder, after-market iPhone compatible car stereo.
Why is the 912E so rare and unique?

The Porsche 912E (E for Einspritzung—fuel injection) is a one-year-only (1976) model, based on the 911S of that year, with a 4 cylinder Type IV Porsche/VW engine. Sold only in the USA, Porsche produced only 2099 of these cars, before it was replaced by their newest try at an entry-level model, the front-engine 924.

The fittings were slightly simpler in this model "although in terms of materials, trim and finishing the 912E is of high Porsche quality", decided American Road & Track magazine. Their test driver notched a 9.7 second 0-60 time, calling the "E" the prototypical road car: "comfortable where the (Turbo) Carrera is harsh, rational where the Carrera is excessive."

The year was 1975. Porsche's mid-engine 914, the "people's Porsche" developed with Volkswagen to replace the original 912, had failed to make much headway in the popluar-price sports-car market since its 1970 debut. A substitute was coming, the radical 924. But it wasn't quite ready yet, so the 912 was brought back to anchor the bottom of the '76 line while the last 914s quietly exited showrooms.

"The 912E will obviously find favor with those who prefer a slightly more practical and tractable Porsche," predicted Road & Track. "It's a car with almost all the sporting virtues of the more expensive 911S, yet its simpler pushrod 4-cyl. engine should make for better fuel economy and less expensive maintenance than the 911's six" (though the injection tended to misbehave in cold weather). SAE net horsepower was just 86 at 4900 rpm, torque a more useful 98 pounds/feet at 4000. Curb weight was 2395 pounds, which meant the 912 had somehow picked up 400 extra pounds since '69. Still, R&T's11.3-second 0-60 mph time and 115-mph top speed looked good against the observed 23.0-mpg economy.

As a stopgap, the 912E was the single instance of "planned obselence" in Porsche history. Only 2092 were built, but this plus year-only status and the desirable qualities have since made the 912E one of the more collectible four-cylinder Porsches.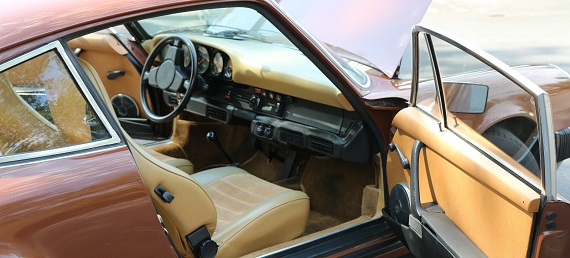 I'm not sure I'm quite as sold on the 912E's collectibility as the seller appears to be. Being a one-year model they are rare, but I still think buyers looking for a collectible 912 are going to focus on the earlier models. As stated above, my interest here is in part related to the very fact that I don't think there will be much clamor surrounding this model as that will help keep prices down, something that isn't always easy to find in a Porsche, even with the 912. This particular 912E comes in a very period-correct brown over tan color combination and while it isn't pristine it appears to be in good working order. Bidding remains pretty reasonable and pretty far from the BIN price. While it's been a while since I've paid much notice to these I feel pretty confident that this BIN price is too high, but I'm still interested to see where bidding ultimately ends. You get 911 style, but without the 911 price.
-Rob