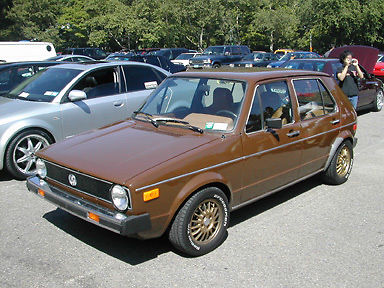 A few weeks ago, I wrote up a low-mile 1977 Rabbit that, while it was very pretty, lacked some originality because of a motor swap to a diesel unit. Today, we have another survivor Rabbit with lower miles. This one is still on it's original paint, too – though not as striking as the green from the 1977, this one year earlier 70s appropriate brown still looks pretty impressive. This past weekend a few of us from GCFSB headed over to a Volkswagen show, and I have to say I feel like I've lost touch with the VW crowd completely. Air bags, ridiculously large wheels and matte paint were all the rage – and there we were with a clean modified A1, my Audi GT, a BMW 325is returned to OEM specs. We were fish out of water, but had a good time looking over each other's cars again, marveling at new scene and where we lost touch. But this VW is right up our alley; with some tasteful modifications, a neat Callaway Turbo swap and original paint, this is the type of car I'd walk towards at a show:
Year: 1976
Model: Rabbit
Engine: 1.7 liter turbocharged inline-4
Transmission: 5-speed manual
Mileage: ~45,000 mi
Price: $ Buy It Now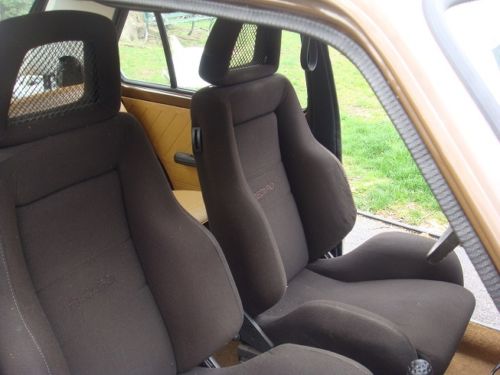 Up for auction is a 1976 VW Rabbit (Swallow Tail) – Very Rare. 4-doors. Original body and paint in excellent condition for its age. This is a rare classic car because very few were made with that special indentation in the rear. It's even harder to find in such excellent condition and with so many extras. The car starts and runs; it only needs a battery now. It has been garaged for over 8 years. Every few months a year I start the car and let it run for 15 – 20 minutes. The interior needs to be adjusted (the heater must be mounted properly). Dashboard and knee bar can be then mounted properly. The cabin, doors, and floor have been covered with Dynamat material.

The body had just over 43K miles when I bought it. 1.6 engine with single carburator and automatic transmission. 100% stock. "Elderly-driven" car was kept garaged for 10 after owner passed away and nobody else drove it. Found the car online in 2003 as the perfect "oldschool – sleeper" project car. 1.7 turbo engine was swapped and all the performance parts added, thousands invested. Engine has around 90K on the clock but still pulls strong! When the engine was mounted, we had some holes in the firewall covered (for a cleaner look, since the wires were re-routed). The base for the front engine mount was also reinforced, since the turbo engine had broken two engine mounts in the donor car (can you say "torque"?)
Body of the car is in original shape. You won't believe how smooth the paint feels to the touch.
Entire car is 99.9% rust free – There are some areas around the bottom of the windshield where you can see the paint starting to bubble up and also around the rear badges. The bottom of the wheel arches show a little more advanced damage (but no holes in the metal anywhere in the car).

It's missing the plastic cover of the rear pass-side fender. – Rear hatch has a ding on the edge above the key-hole.

The original carburated engine was swapped and a 1.7 fuel injected engine installed with CALLAWAY TURBO. Original auto tranny was swapped for 5-speed transmission with adjustable short-shift kit. Rewired with fuse box updated. SACHS 210 upgraded street clutch. Custom extra oil cooler.

Full 2.25″ Stainless Steel exhaust system BORLA muffler and performance Catalytic converter.

Polyurethane bushings throughout suspension and engine mounts.

Koni adjustable shocks and HoR sport springs. Ronal rims, size 13″ with BF GOODRICH 205/50 tires.

Rear drums converted to disc brakes.

Sway bars + strut bars.

Many many more high performance parts. Interior has full custom RECARO deep bucket seats (see pictures).

This is an excellent project car that's almost finished. Many more extras, too many performance parts to mention! You'll get EVERYTHING!

Look up in FACEBOOK – in the page of Old Skool VulcanWerks and Vw mk1 USED&NEW Parts for video of the car running.

ONLY SERIOUS BUYERS PLEASE!!! NO TRADES ACCEPTED!!!
I have to say, I'm a big fan of Ronal R8s and this car is no exception. They're perfect in 13″ size with oversized tires and gold paint – well done there! The Recaros too look so inviting inside, and having owned a rusty Rabbit it's nice see how clean overall this car is. There are needs as one would expect with any Volkswagen of this generation, and some finishing is required – but the mods and the look are just perfect and the Callaway Turbo is a cool piece of kit. Button up the dash, get a period steering wheel and perhaps recover those Recaros with the gradient Recaro fabric in brown and this is one pretty Volkswagen project for a reasonable amount.
-Carter