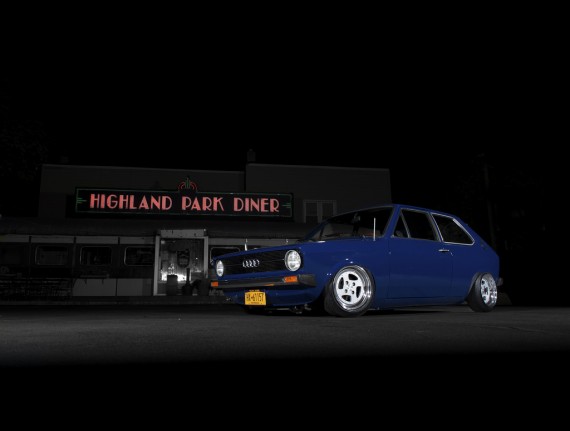 Every now and then you come across a car that commands your attention. For most it's a Ferrari 458 or a Bentley. For VW/Audi enthusiasts, it's a rare and clean Audi like this 1977 Audi 50 for sale on Long Island, NY.
The Audi 50 was Audi's ultra economy car offered as a three door hatchback with a 1.3l inline 4 that produced 59 bhp. Not exactly a hot hatch, but then again that was not the intention of this car. Rarely seen stateside, the Audi 50 was popular in Europe, both because its bang for the buck. In typical VW fashion, the VW version (Polo) and Audi badged 50 models were sold side by side for 3 years until 1978. As is typical for the economy class of cars, the less expensive VW Polo outsold the Audi 50, ultimately resulting in the 50's demise. After the death of the 50 Audi changed their focus to the higher market car that they are known for today.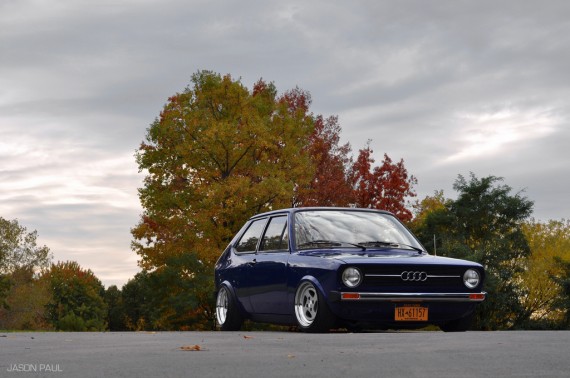 Year: 1977
Model: 50 GLS
Engine: 1.3L inline-4
Transmission: 4-speed manual
Mileage: 111,000 km (70K miles)
Price: $15,000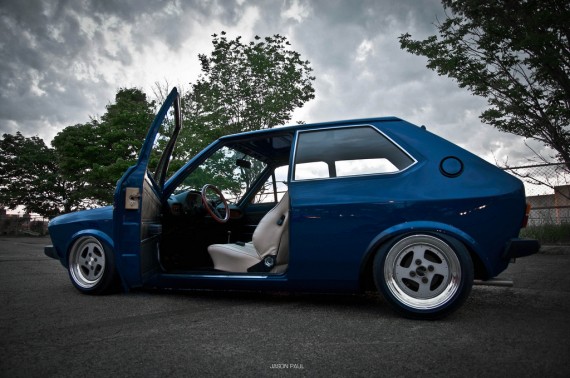 I have the ONLY Audi 50 in North America (predecessor to the mk1 vw polo) and there are few survivors across the pond, I did a ground up resto on it… entire shell in, out and bay was taken to bare metal and resprayed porsche albertblau, seats taken down to the skeleton and rebuilt, 1.3L single carb OG motor refurbished and tuned (odometer stopped at 111,000 kilometers (around 70K OG miles) but I can assure you it cant be much more, 4 speed manual shifts mint, new glass, carpet, nardi wheel that matched OG dash grain, fully fabbed suspension, airlift v2 air ride system, all metal trim and bumpers hand polished and the list goes on. Sitting on custom 3 piece forged rotiform 4 spoke TMB's (only set ever made) in 14×7 all around with staggered lips (2″ + 3″)

Inside, outside, underneath, this car is newwwww, doorcards and dash are like new etc.

I have an insane amount of original parts at well as the original wheels, filters, brake parts and tune up kit for when they need to be replaced etc.

I'm asking $15,000 (I have roughly $25,000 into the car + 100's of man hours + its rarity = yes I'm firm at 15)

I may consider a partial trade + cash on your end depending on what you have BUT YOU CAN PM ME THOSE OFFERS… PLZ DON'T GO POSTING PICS IN THIS THREAD.

Here's a video my friend just shot of the car… http://vimeo.com/68075319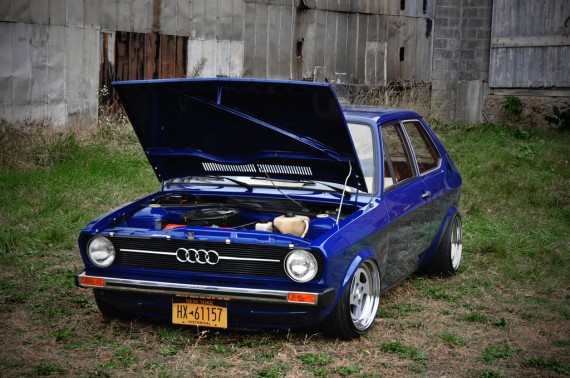 The direction the seller took with this car is definitely cool. The air suspension and one-off wheels just add more uniqueness to this already rare car.  The seller claims that this car is the only  Audi 50 in the states, however, that really shouldn't be a selling point unless that claim can be substantiated.  As we all know, there are all sorts of crazy hoarders out there with their own stashes of rare cars that never see the light of day.  That being said, you'll be hard pressed to find one of these, especially one this cool.
With a pricetag of $15,000 this car will certainly need the right buyer, there's no doubt that the seller has that (and more) in this car, however, the audience is extermely narrow of this car. In looking at the car, and the mods, I'd be inclined to do a bit of negotiating. If this could be had for about $13,000, I'd say it's a deal for the guy or gal that has to have what noone else has.
-Brian