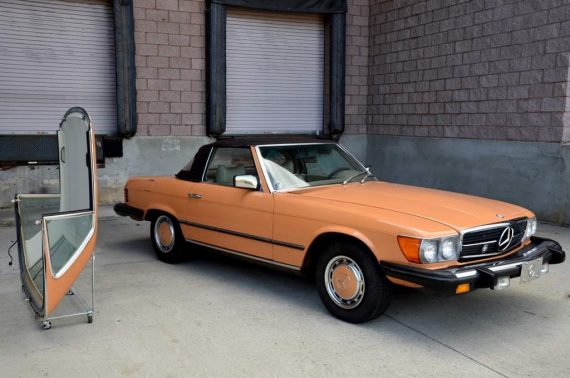 Probably one of the most clichéd cars ever, the R107 was everywhere in the 1970s and 1980s. Probably it is because it lived a long enough life that a child could be conceived in it, then sent off to college and Mercedes-Benz were still selling them on their showroom floors. From Magnum, P.I., to Dallas, to Knight Rider – even Wonder Woman drove one of these. I'm still trying to piece together how she afforded a $32,000 car (over $140,000 in today's dollars) on a government salary. What that left us with today is a market full of used R107s that are harder to get rid of than free kittens. Go jump on Craiglist and search 'Mercedes SL' and you'll find listing after listing of these parked in front of nice but clearly dated homes with phrases like "time to let her go" and "I have the original hardtop too!!" I usually don't even bother looking at R107 ads anymore but this one caught my eye. The rare color of Cayenne Orange and a sparse 6,600 miles had me curious. So if you aren't tired enough of seeing R107s for sale, let's check this 1977 450SL out in North Carolina.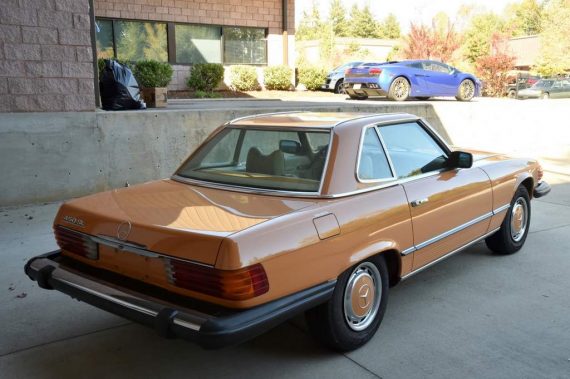 Year: 1977
Model: 450SL
Engine: 4.5 liter V8
Transmission: 3-speed automatic
Mileage: 6,615
Price: Not listed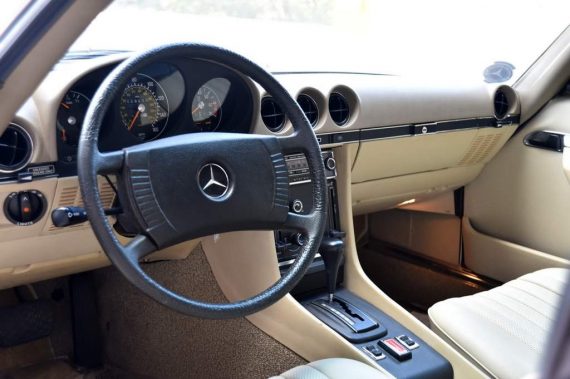 The most amazing Mercedes SL that I've ever seen. Only 6k miles, completely original paint and interior, regularly serviced, a plethora of paperwork, etc etc. STUNNING COLOR COMBO TOO!

AND IF YOU'RE WONDERING WHAT "PLETHORA OF PAPERWORK" MEANS – How about every service receipt dating all the way back to April 1977!

Original books.

Two keys.

Data card.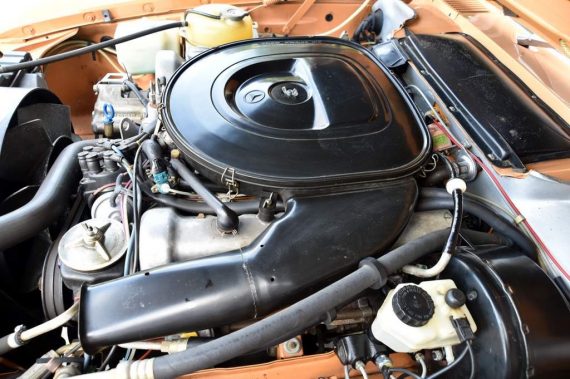 Even with the under bite bumpers and four eyes headlights, this extremely low-mileage 450SL is a looker. I don't see as many Cayenne Orange R107s as much as I do on W123s, but Paul did actually feature a 1975 a few years for sale in Florida. Everything seems to add up as far as condition goes for a 6,600 mile car and the service records since year one are a great thing to have as well.
As far as pricing goes, this one is unlisted but I'm willing to bet this is probably one of the highest, if not the highest, R107s for sale out there. This dealer in North Carolina deals regularly with cars that go by names such as 959, F40, and 300SL so this isn't exactly their lottery ticket. But this is probably territory when it comes to high demand colors and ultra low-mileage. While this thing is cool and a really nice example, don't flush out your 401K thinking this is going to be an investment that will skyrocket in value like Pagodas are. Remember, they made over 300,000 of these — just slightly more than the number of free kittens.
-Andrew