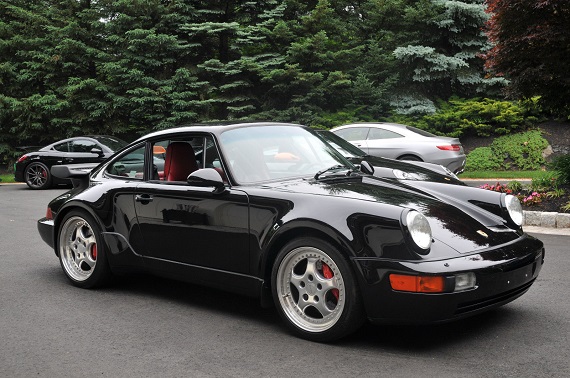 It's been a while so let's check back in on a perennial favorite of ours here at GCFSB: the 1994 Porsche 911 Turbo 3.6. This model was a long time coming for Porsche as the 3.6 liter powerplant that debuted with the 964 wasn't ready for a turbocharged application. Thus the 3.3 liter that had served so faithfully in the 930 continued in the 964. That changed in 1993. There would be two models produced for the 964 Turbo's sendoff: the Turbo 3.6 and the ultra-limited Turbo S. Both utilized a 3.6 liter flat-six and delivered all of their power to the rear wheels only. For subsequent 911 models Porsche upped the technological ante by introducing all-wheel drive and twin-turbocharging to help harness their ever-increasing power. As such, the Turbo 3.6 and Turbo S were the last of the fully caffeinated Turbos. Loads of power, rear engine, rear drive: inattentive drivers need be very wary.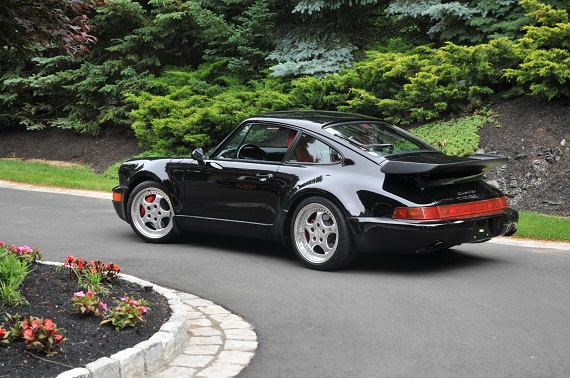 Year: 1994
Model: 911 Turbo 3.6
Engine: 3.6 liter turbocharged flat-6
Transmission: 5-speed manual
Mileage: 17,700 mi
Price: $300,000 Buy It Now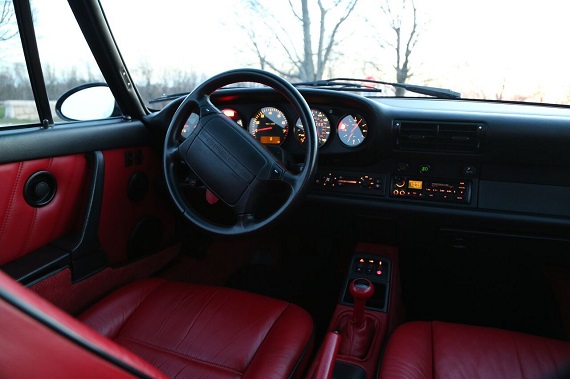 For Porsche enthusiasts, this car needs no introduction. The high collectability and ever increasing value of the 1994 911 3.6 Turbo has made it one of the hottest Porsche's in the world. Produced less than 1,500 examples and only for model year 1994. Only 325 were made for the US market. Featuring many new additions that were very well received by the Porsche community. A new 3.6L engine, boasting more horsepower and torque (360hp/384lb.ft) than previous Turbo models. It was also the first year for the "big reds". Porsche's new bigger, better brakes that provided much more stopping power and bright red powder coated calipers. Another change was the 18″ Speedline 3-piece wheels. This Turbo was optioned with heated seats left and right, sport seats left and right, 18″ Speedline wheels, sunroof, and a CD changer.

This car has been fully checked and serviced on annual bases. Clean vehicle history. As you can see in our photo gallery, this car is in absolute mint condition inside and out and has original books and both sets of keys. We urge you to come and inspect this car and we know you will be impressed. We know that cars always appear to look better in pictures, but this one is truly as gorgeous in person as it is in the pictures. For those of you who follow the investment trends of the air cooled Porsche cars, this one is a great value that surely will continue to appreciate.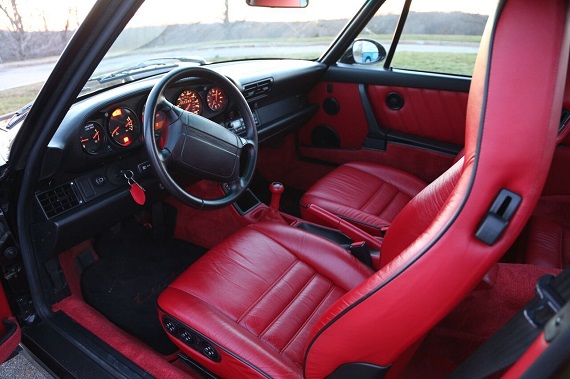 Of course, given their relative rarity and as the last rear-drive air-cooled Turbo (outside of the super-rare 993 GT2, which is another beast entirely) the Turbo 3.6 is highly prized and very expensive. The Turbo S takes things to an even higher level of insanity, but we won't deal with that here. It's always hard to know just where values for such rare models truly lie. Hagerty shows values hitting a plateau around a year ago, but some of this may come down simply to the peculiarities of specific cars coming up for sale and where those are setting benchmarks. I've mentioned previously that a lot of the examples we see come in very similar colors. The one we see here features the fairly standard Black exterior, but features a much more uncommon Red interior. Black and Red has long been a winning color combination melding brightness and darkness and here it looks as good as ever. But is all of that enough to meet a $300K asking price?
-Rob