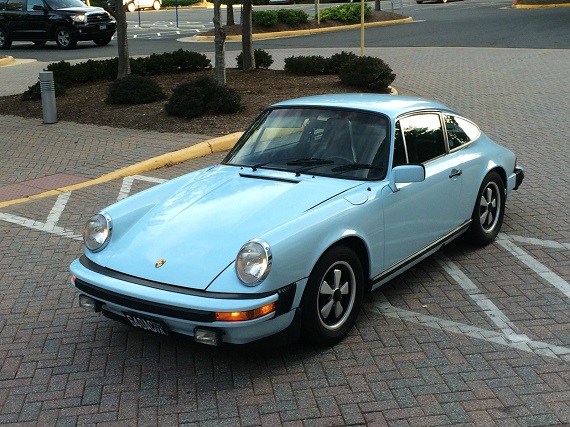 This past weekend I was watching the Monterey auction and early on Saturday, prior to the plethora of six- and seven-figure cars we'd see cross the block, a Red 1977 Porsche 911S Targa came up for auction and sold for $52,000. I was shocked. The car looked in good shape, but with more than 50K miles it wasn't an exceptionally low-mileage example. These have long been a neglected member of the 911 family, and perhaps there is more to that particular 911S than I am aware, but it made clear to me that I should start paying more attention to the market for these cars. Lo and behold almost immediately I came across this Polar Blue (more on that color below) 1977 Porsche 911S Coupe, located in Virginia, with 96,625 miles on it. These 911s have never been considered performance icons as their emissions equipment tended to suffocate the engine, but with relatively low weight they still can be spirited performers and provide plenty of thrills on a twisty road. While I wouldn't expect this one to achieve the $52,000 benchmark of the 911S Targa from over the weekend, it should still garner a good deal of attention due to that very attractive color and from 911 buyers interested in finding some of the few values that remain.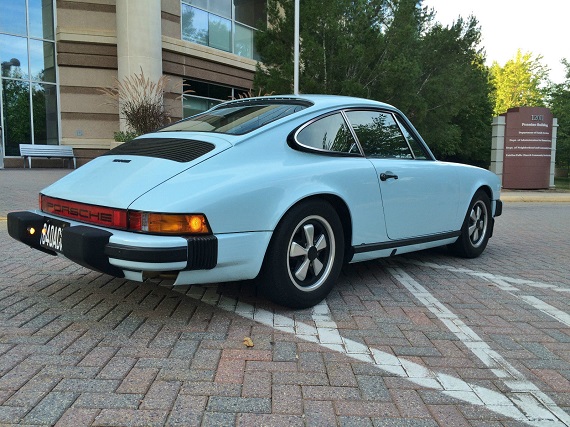 Year: 1977
Model: 911S
Engine: 2.7 liter flat-6
Transmission: 5-speed manual
Mileage: 96,625 mi
Price: Reserve Auction (reserve met)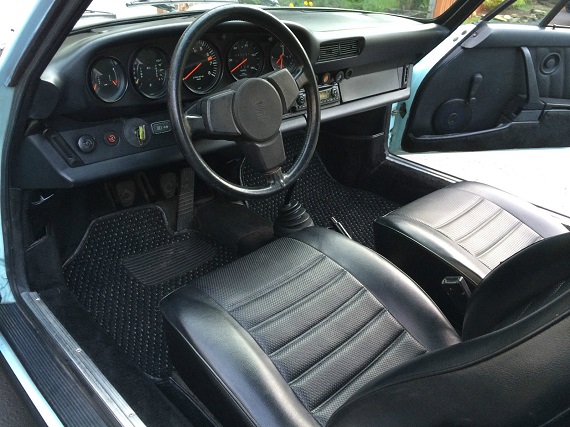 1977 Porsche 911S, 2.7 liter, 173 hp, 96,000 original miles

Garage kept by same owner last 20 years in Northern Virginia.

Driven regularly… never in rain or snow… ready to drive anywhere now…

Engine mechanical rebuild completed 10 years (6.000 miles) ago including:

Bottom and top end machining, new dilavar head studs, euro-spec pistons, stainless steel heat exchangers and exhaust, oil fed cam chain tensioners, etc. (receipts for complete list available upon request)

At the same time the mechanical work was performed, the car was stripped of all fittings and glass and repainted in its beautiful original Polar Blue color. New windshield and window gaskets were fitted at that time. Please note rare rear opening quarter windows no longer available from SC production on.

The seats were also professionally recovered in correct pattern vinyl seat covers. NO cracks in the dash.

Upgrades made at the time; H-4 Euro-style headlamps, Euro-style taillights (amber sides).

New Bilstein sport shocks, turbo tie rod ends and nearly new Dunlop tires, Blaupunt Sand Diego AM/FM Cd player.

Regular professional maintenance is current now (oil and brake fluid changed annually).

One nickel sized ding with scratch on driver's side, dime sized ding in passenger door. Very easy inexpensive paintless dent removal will solve. Original AC car (R12). Compressor removed, not functional.

This is a magnificent example of the quickly appreciating air cooled 911 family of cars. Values of all variants are skyrocketing with few pockets still following. This is an opportunity to acquire a well preserved and maintained version exhibiting all of the characteristic qualities which make these cars so special before prices skyrocket further.

No expressed or implied warranties. Shipping arrangements and cost responsibility of buyer. Car available for viewing upon appointment.

$500 non refundable deposit required of winning bidder with 10 day period allowed to pay balance. Car will not be release without funds completely cleared seller's account.

Happy bidding!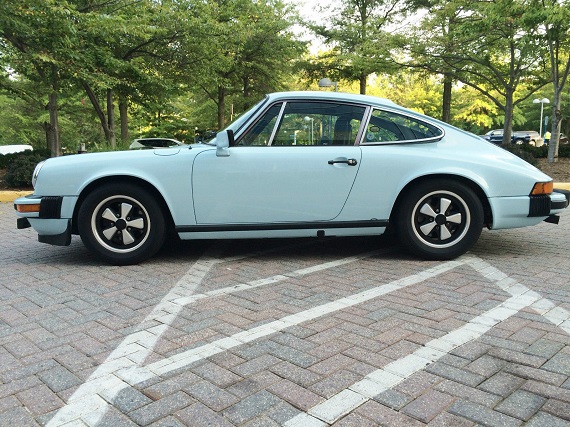 The color is important here as it's certainly quite rare, but I'm completely unfamiliar with Polar Blue as an offering during this time so I'm not sure if that's the color we're seeing here. It sort of looks like a lighter version of the very popular Gulf Blue, which could make this color Coppa Florio Blue, a special order color offered in the mid-70s. The paint code would be very useful here, but it isn't provided. Still, it is a really nice color and the condition looks excellent all around. We see a similar level of care in the condition of the interior. If everything checks out then I'd imagine this should command pretty good money down the road and could be a nice value now. Bidding currently sits at $35,000 and that has been enough to meet the seller's reserve so it looks like we'll see a sale here. I'll be curious to see how much more bidding might rise prior to auction's end for what looks to be a very interesting 911S.
-Rob