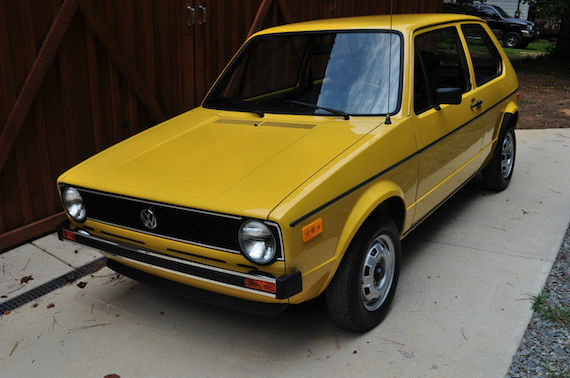 Looking at what the Volkswagen Golf has become today, it's rather remarkable when you look back at the Giugiaro-penned two box design of which it originated from. This 1977 Rabbit represents the earlier years of the Mk1. It's a very simple car, with few options or adornments. However, you can find beauty in its simplicity, from the pressed steel wheels to the slimmer Euro bumpers. For sale in Georgia, this original VW was purchased new in Pennsylvania and is up to date on its servicing. For the vintage VW collector, they rarely come nicer than this.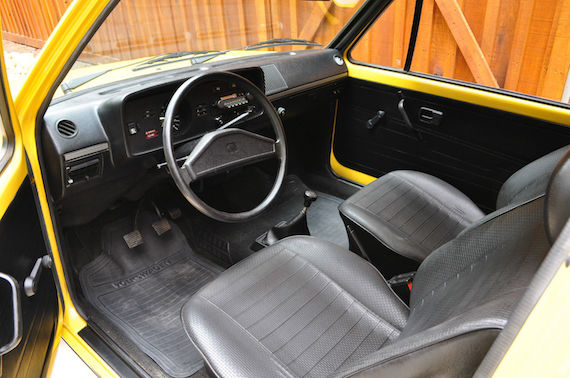 Year: 1977
Model: Rabbit
Engine: 1.6 liter inline-4
Transmission: 4-speed manual
Mileage: 35,000 mi
Price: No reserve auction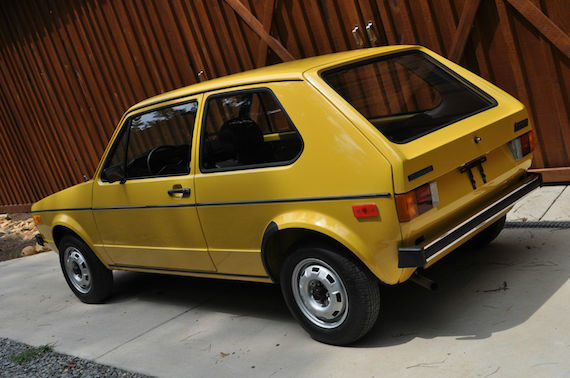 Up for sale is an amazing example of a 1977 VW Rabbit. This rabbit comes with its original bill of sale, purchase order, and a clean and clear title in my name. Don't miss out, this is a NO RESERVE auction!!

This car was purchased at Concord Volkswagen Inc. (Concordville, PA) In July 1977 by the original owner. Shortly After, the owners moved to Aiken, SC which is where this car spent all of its life until just a few years ago.

It is very obvious that this car has been garage kept and very well taken care of. I will break the explanation of this car down into sections for better understanding.

BODY: The Body of the car is as straight and true as it looks. The paint is 100% original and has a deep glossy shine. All body panels line up correctly. The glass is in exceptional shape and appears new. The undercarriage is clean and without rust. On first glance this car appears to have been restored. It is impressive.

INTERIOR: The interior of the car is all original as well and features the "leatherette" upholstery. The dash, door panels, headliner, and carpet are all in very good condition- just as you would expect from a car of this caliber.

ENGINE / DRIVETRAIN: The car cranks and runs just as it should. Honestly, It runs and drives as good as it looks. It gets excellent fuel economy and I wouldn't hesitate to drive it anywhere. There has been an extensive amount of service work done in the recent past including the following: New radiator, hoses & clamps. New fuel tank, fuel accumulator, fuel filter, injector seats and O-rings. Valve adjustment, full tune up – plugs , points, wires, distributor cap, ignition rotor. New brakes all the way around.

SUSPENSION: New Bilstein struts, freshly powder coated wheels, new radial tires.

I could go on and on about the condition of this rabbit.. Its not just an impressive looking car, its one you can hop in and drive where you need to go!! Please take a few minutes to watch this short youtube video.

I am only selling this car so that I can gain garage space and focus on other projects. I have done my best to explain the car to the best of my ability. Just as any other classic vehicle, this one isn't perfect either. I am more than willing to show the car to any interested parties before the auction ends. Your bid IS a contract. A $500 deposit is required within 24 hours after auction ends. FULL payment is required within 7 days and the vehicle is to be picked up within 14 days. Paypal is not accepted for full payment.

This car is for sale Worldwide. If you have less than 5+ feedback contact me before bidding or your bid will be cancelled.

What is not included with the car?? The "1977" liscense plate is not included. Also, the AM/FM cassette radio will be replaced with the original AM as noted on the original bill of sale. The rubber mats are also not included.

As always, if you have any questions, please ask. Thanks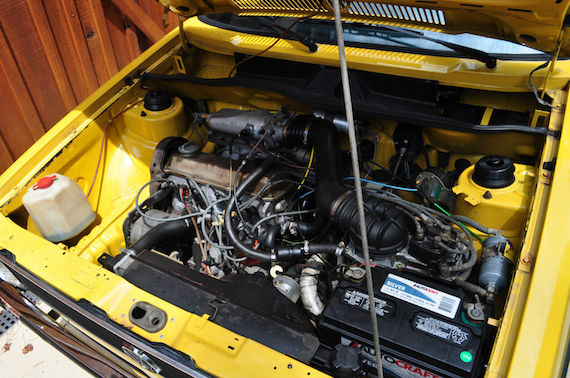 We've seen a few mint Rabbits over the past few years here at GCFSB. We saw a 1978 Rabbit similar to this car sell for $5,800 earlier this year. At the end of 2013, we also witnessed a 1975 Rabbit Swallowtail with 40,000 miles sell for just over $7,000. I'd expect this one will probably pull somewhere in the $6,000 to $7,500 territory. Any more than that and we'd be moving into GTi territory.
-Paul