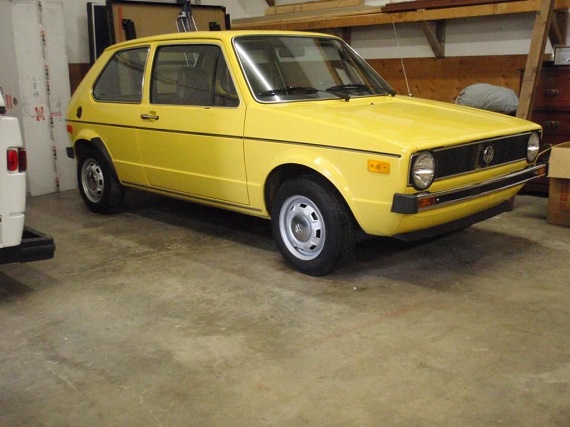 Volkswagen Rabbits have recently entered the mainstream collector car world, and the result is great if you're a Mk.1 fan. That's because the increase in value has finally resulted in examples where restoration can be justified from not only a love of the car standpoint, but from an economic standpoint as well. Previously, restored examples seldom came to market because most people had put some much time and money into the car that selling it would result in them being ridiculously upside down when the transaction was completed. However with good examples of the GTi fetching towards $20,000 in some cases and nearly $10,000 Rabbits, some nicely presented and well built cars are coming to market: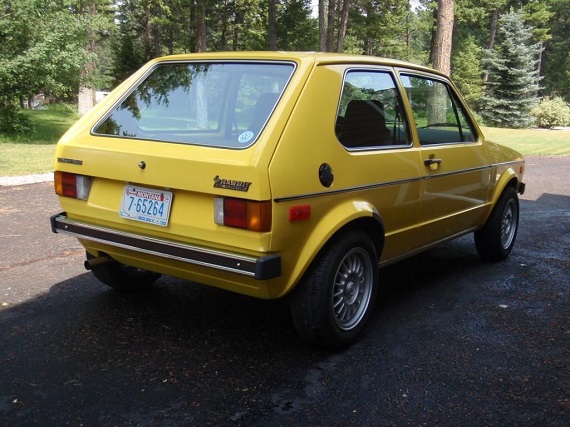 Year: 1978
Model: Rabbit
Engine: 1.6 liter inline-4
Transmission: 4-speed manual
Mileage: Not Listed
Price: Reserve Auction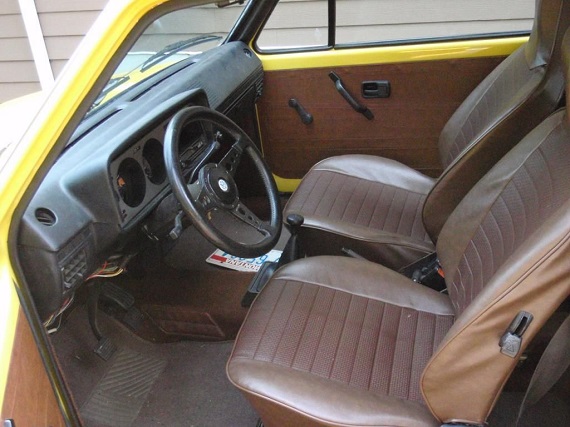 Selling a restored 1978 Rabbit 2 door with sunroof.

This is a CA car that was restored a couple years ago.

Body fully stripped and painted with new seals and trim.

Engine rebuilt.

Trans rebuilt.

New suspension.

Interior re-done.

Refinished wheels with new tires.

A few deviations were made from stock.

Chrome Euro Bumpers in place of the big US bumpers.

The engine while appearing stock and displacing 1.6 liters isn't a US motor. It is the Euro Heron Head GTI engine.
This 110 hp screamer was never offered in the US, this is a very tough piece to find. Mated to a rebuilt 4 speed trans (with new clutch), this power train provides an authentic early GTI experience. A Techtonics exhaust with Borla muffler provides a nice sound. Engine uses a electric pusher fan instead of the heavy OEM fan/shroud. There is a Braille battery as well to reduce weight on the front end.

Tokico Illuminas with Neuspeed Sport springs. These didn't lower the car at all but did firm up the ride and handling.
The pictured Ronal R8's are freshly powdercoated and have new tires.
I also have a set of repainted stock 13×5.5 steel wheels with hubcaps as an option to the Ronals.

Here is a link to details on the restoration:

http://forums.vwvortex.com/showthread.php?5158408-78-Heron-Build

Link to 90 + pics of the car:

http://s1282.photobucket.com/user/rabbit-type-17/library/#/user/rabbit-type-17/library/78%20Rabbit?sort=3&page=1&_suid=142073557982103254522284273757

When I got the car I finished up a few details.

Put in a new headliner.
Got the original radio working with a new dash speaker and antenna.
Added the Scirocco Cluster with Tach.
Recovered the front seats with TMI covers. Perfect match to the int.
Reinstalled the heating system.

[
As with any old car there are a few things that aren't so good.

Dash – cracked all over – covered with a hard cap which looks OK.
Sunroof – has a new seal and cables. It opens and closes properly. The new seals are apparently a bit "puffier" than the originals and take some time
to break in. This makes the open/close action a bit stiff and the seal sits a little funny.
Cold Start – The cold start equipment was not installed. It was a So Cal car and the PO didn't feel it was necessary. I only drive it in the summer and
the car started fine. It is a bit cold blooded though for a minute or 2 until it warms up. The hard parts (CSV, AAR, etc) will be included if
someone wants to re-install it.
Chips – a few paint chips from use.

The car runs and drive great. I drove it all over the place the summer and it performed flawlessly and is very fun to drive.
I've got a new project in the shop and plans for another one after that. So, it's time to let someone else enjoy this car.

Located in Whitefish, MT 59937

Car is in my heated shop out of the elements.

I can't ship the car for you but will work with your shipper.

Car is sold as-is with no warranty.

On Jan-10-15 at 06:36:47 PST, seller added the following information:

Had a couple questions.

Which steering wheel comes with the car? The photos show two different steering wheels and I didn't address that in the original listing.
The car will come with the stock VW two spoke steering wheel. If the winning bidder is interested in the Motolita it will be available separately.

Had several inquiries about wheels on the car. It is shown on 3 sets, the stock steel wheels with hubcaps, the restored Ronals and a set of '84 GTI alloys.
When writing the original listing I intended for the sale to include the stock steel wheels with hubcaps and the Ronals. It appears that the Ronals aren't to
everyones taste. Some prefer the stock steel wheels only and would like a reduced price, and some prefer the '84 GTI alloys.

I am going to keep the Ronals and lower the reserve to reflect them not being included in the sale.
The car will come on EITHER the stock steel wheels with hubcaps OR THE '84 GTI alloys. The winning bidder can choose between those two set of wheels.

To reiterate – the Ronal wheels and Motolita steering wheel, both seen in some of the pictures are not included in this auction.

Please contact me with any further questions.
I've certainly presented some of my issues with the Volkswagen crowd before; unvacuumed interiors, lack of detail and stance shots along with "feelers" seem to be too often the norm. However, one other thing that the VW scene loves to do is present the car for sale with a bunch of items that inexplicably aren't included. In this car's case, the photographed Ronal R8 wheels and steering wheel aren't included in the sale despite appearing in most of the photographs and half the listing. That's really too bad, because in all honesty at this price I think they should be included. Perhaps if the seller was asking a $1,000 I'd understand, but $600-$700 worth of aftermarket goodies should probably be included when your reserve is in excess of $6,000. They're just not that special that I understand the seller holding onto them. Outside of that, there's a lot to like here; the early Rabbit with the better looking nose and tail with fresh paint looks awesome. It would have been pretty easy to select a more desirable color when going through a respray, but keeping the car in the original hue is respectable. There are some alterations which help the driving experience – the upgraded suspension helps, but the big story is the European-market 1.6 GTi "Heron" motor that really helps motivation. On the original steel wheels, this car channels the original 1970s GTi in all but color and is a super-sleeper. However, as with others we've seen, not being 100% correct and original means that this car is likely not the most valuable out there and more for a Mk.1 fan than a true collector market. It's still very appealing though and it will be interesting to see if it hits what seems to be the $7,000-$8,000 ceiling we've seen on these type of cars.
Thanks to our reader Albert for sending this one in!
-Carter