Yeah. Another Scirocco. If you can be fascinated by the proliferation of the mega-Beetle 911, though, you can bear with me. Volkswagen's replacement for the Karmann Ghia, what would become the Porsche 924, proved to be perhaps a step too far for the company. What it created instead, once that was abandoned, was a bit of a legend in its own right. Based upon the pedestrian underpinnings of the Golf but actually developed in tandem and released prior to the more famous hatchback, Giugiaro's penning of a slinkier two-door coupe variant of the platform was simply beautiful. As the Ghia had before it, it married serious Italian styling credentials with the practicality of an economy family hatchback.
Volkswagen's new EA827 was the power of choice. Here displacing 1588 ccs and generating 71 horsepower, it was adequate motivation to top 100 mph – just. Amazing at it may seem, the nearly 1.6 liter unit in this 1977 was an upgrade over the 1.5 from the model's 1974 launch in the U.S., though it only gained one net horsepower. They were diminutive cars; a 94.5 inch wheel base and only 155.7 inches overall, the first generation Scirocco is an amazing 10 inches shorter than the model I looked at yesterday. Even though it had little horsepower, road tests revealed that the Scirocco could out-accelerate a Mustang II Mach 1 (its contemporary) in the quarter mile. How dreary must that shoot-out have looked to our modern eyes? Suspension in front was a strut with coil-over spring setup; the rear was technically independent with a trailing arm configuration. Wheels were 13″ by 5″, or about the same size as modern brake discs on high performance cars.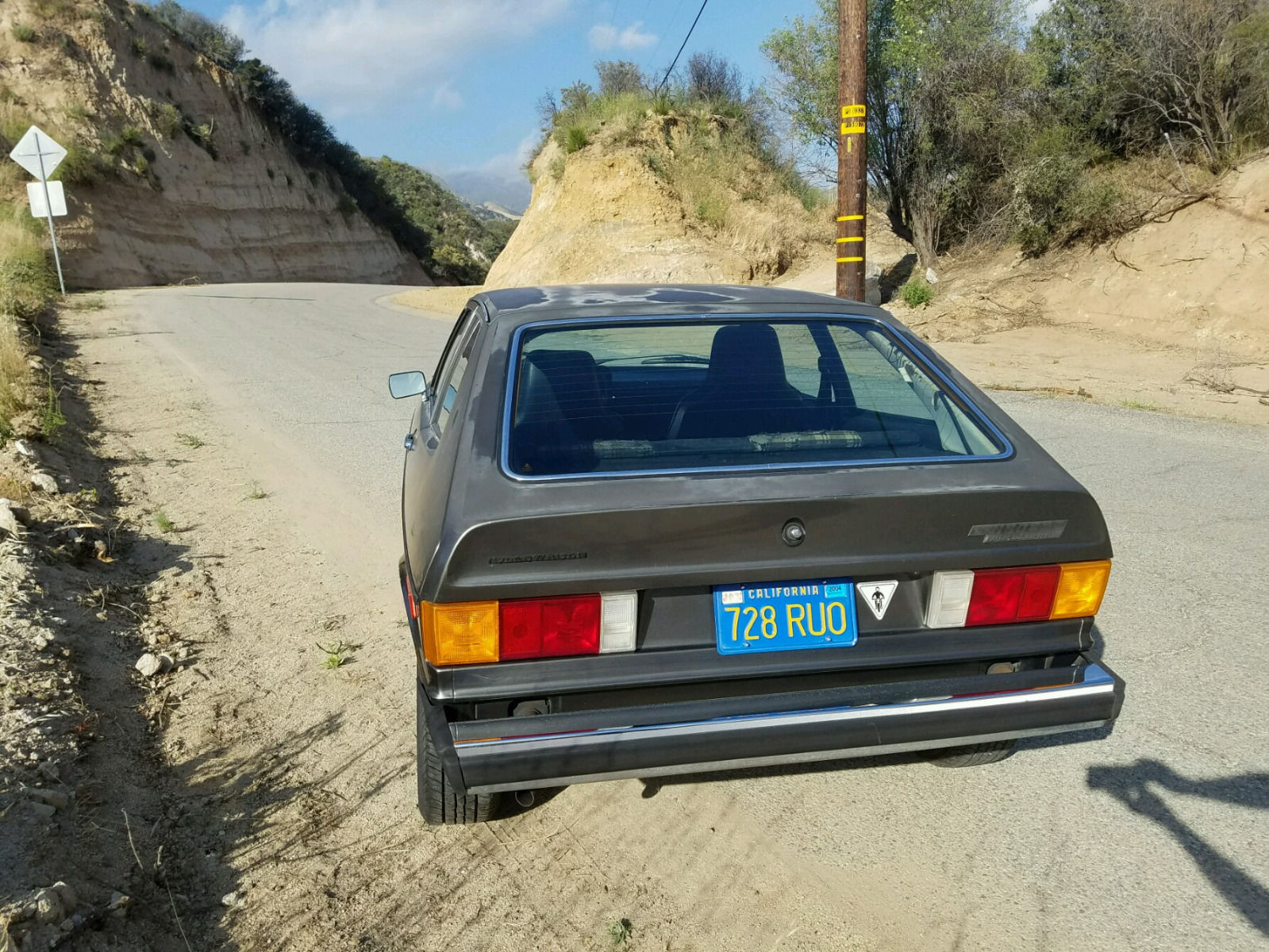 Year: 1977
Model: Scirocco
Engine: 1.6 liter inline-4
Transmission: 4-speed manual
Mileage: 155,999 mi
Price: No Reserve Auction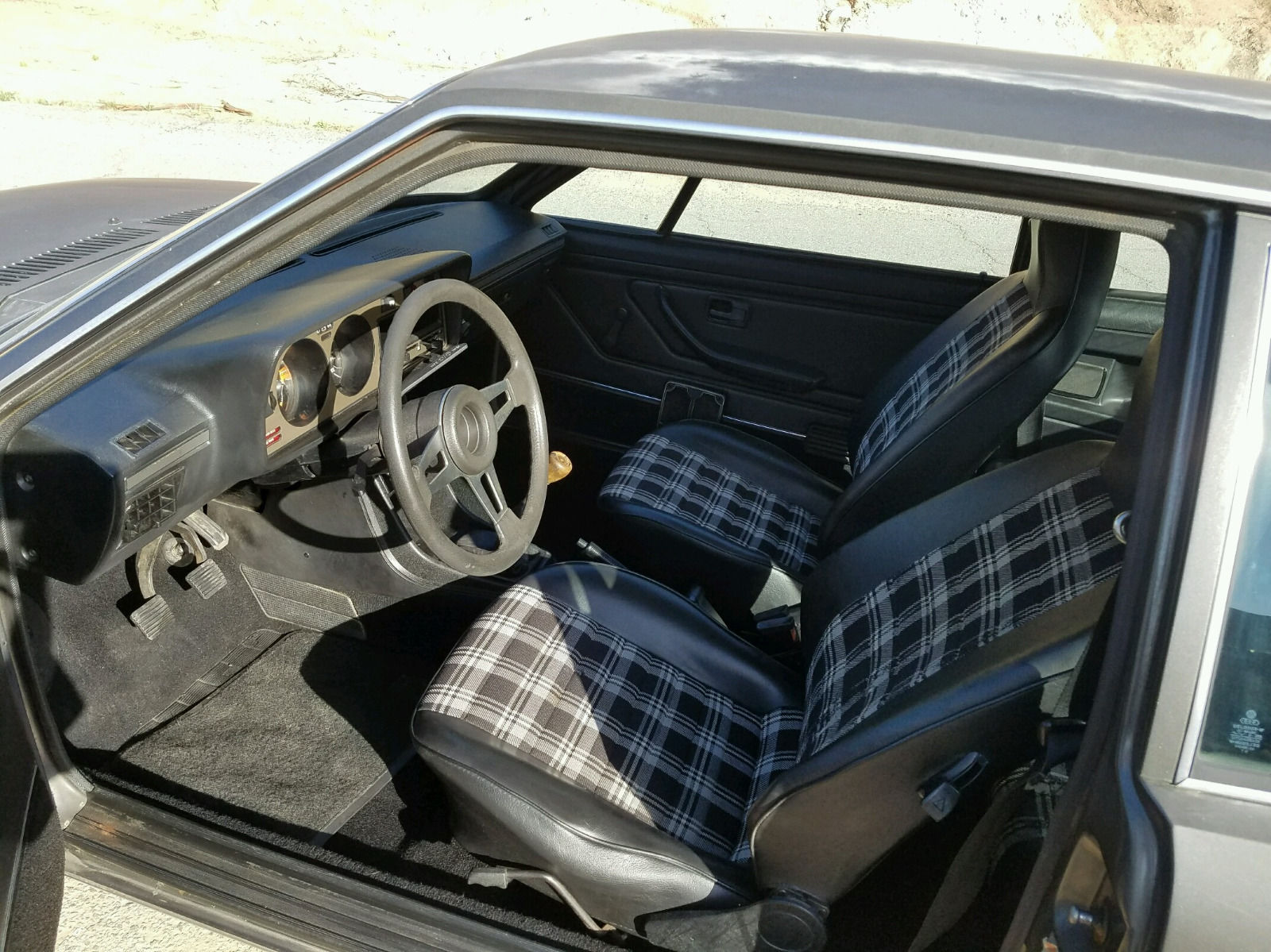 One owner 1977 Volkswagen Scirocco. This car still has its original California pink slip, first registered January 11, 1977 so this is one of the first 1977 Sciroccos sold in the US. I think the color is jade green, it and the interior are original. Original is the best word to describe this little girl. She is rust free, accident free, frighteningly complete and unmolested. The single owner took great care of this car, it was a daily driver for the first 20 years or so, it currently has 155,xxx miles on it. I have all of the original paperwork and documentation, including the original owners manual, service manual, warranty manual and I have the original "pink slip" title and window sticker… yes the original 40 year old window sticker. The owner is a retired Japanese Engineer, he documented and cared for the car as you would expect. I have a stack of 25+ index cards filled with notes about the care and service of the car. The factory service manual has notes and highlighted areas all over it. The car also includes thousands of dollars in spares that he amassed over the years, the list is below. It was parked about 10 years ago inside a garage, last registered in 2004. I got her in the Fall and I have driven her about 200 miles. I have a buddy who has owned about 20 MK1 VWs, he helped me wake the car up after being parked for so many years. The list of what has been replaced is also below. She drives very well, shifts gears smoothly and doesn't make any bad noises. Look at the pictures carefully to see how well preserved she is. Body panels are great except for the clear coat and the scratches. The bumpers are great and not a single corner has scuff. Interior is great, nice dash, great panels decent seats and nice carpet. All of the glass is original except the windshield, all of the window rubber is great. All of the door seals and such are great, minimal wind noise.

I have found a few minor problems and I bet she has a few I didn't find. The fuel gauge stay at a 1/4 full, the shifter has slop, the seats rock a bit, the dome light doesn't work nor does the lighter. All of the chassis rubber feels soft (engine mounts, shock mounts, etc) but the car comes with spares of those! The owner wrapped the front coils in heater hose making the front ride about an inch high. The motor has a few oil weeps but doesn't spot the floor. The driver side sun visor isn't mounted and the windshield wiper washer motor doesn't work.

This is a time warp car, so cool and not messed with. A appreciating classic, when was the last time you saw one this nice?

Call me for more information 828-773-2289

Spare parts included

2 Sets of rear drums
1 Set of rear shoes
1 Set of rear brake lines
1 Set of front brake lines
1 Rear Drum Misc spring set
1 Set of Metalmaster front pads
1 Set of Jurid brake pads
2 ATE Front brake rotors
1 Aftermarket Front brake rotor
1 OEM ATE master cylinder
1 Full engine gasket set, including valve cover gasket (3 months old)
5 Air filters
1 AmsOil re-usable air filter
6 Oil filters
4 Fuel filters
3 Low beam head lights
2 High beam head lights
2 Bosch Starters
1 Radiator fan
2 Sets trailing arm bushing mount
1 Full set of engine mounts
2 Ball joints
6 Strut stops, 4/2
1 Radiator
1 Throttle cable
3 Inside CV boots
2 Outside CV boots
3 Bearing seals
1 Warm up regulator
2 Emissions part Bosch 0 438 170 007
1 Exhaust, non-cat
1 Catalytic converter
1 Bosch Alternator
1 Heater core

Work done

Drained tank
Replaced fuel pump
Replaced fuel pump relay
Fuel injector inserts and O-rings
Rear fuel lines
Fuel filter
Front braided fuel lines
Oil and filter Castrol 20/50
Replaced air filter
Replaced timing belt and tensioner
Replaced Alt/water pump belt
Replaced water pump
Replaced Spark plugs, plug wires, cap, rotor and points
Bleed brakes, inspect lines, pads and rotors
Alignment, tire re-mount and balance
Replaced wheel bearings
Replaced coolant temp sensor
Replaced fan control/temp sensor(in radiator)
Replaced cold start/thermo switch
Replaced windshield wiper
Replaced battery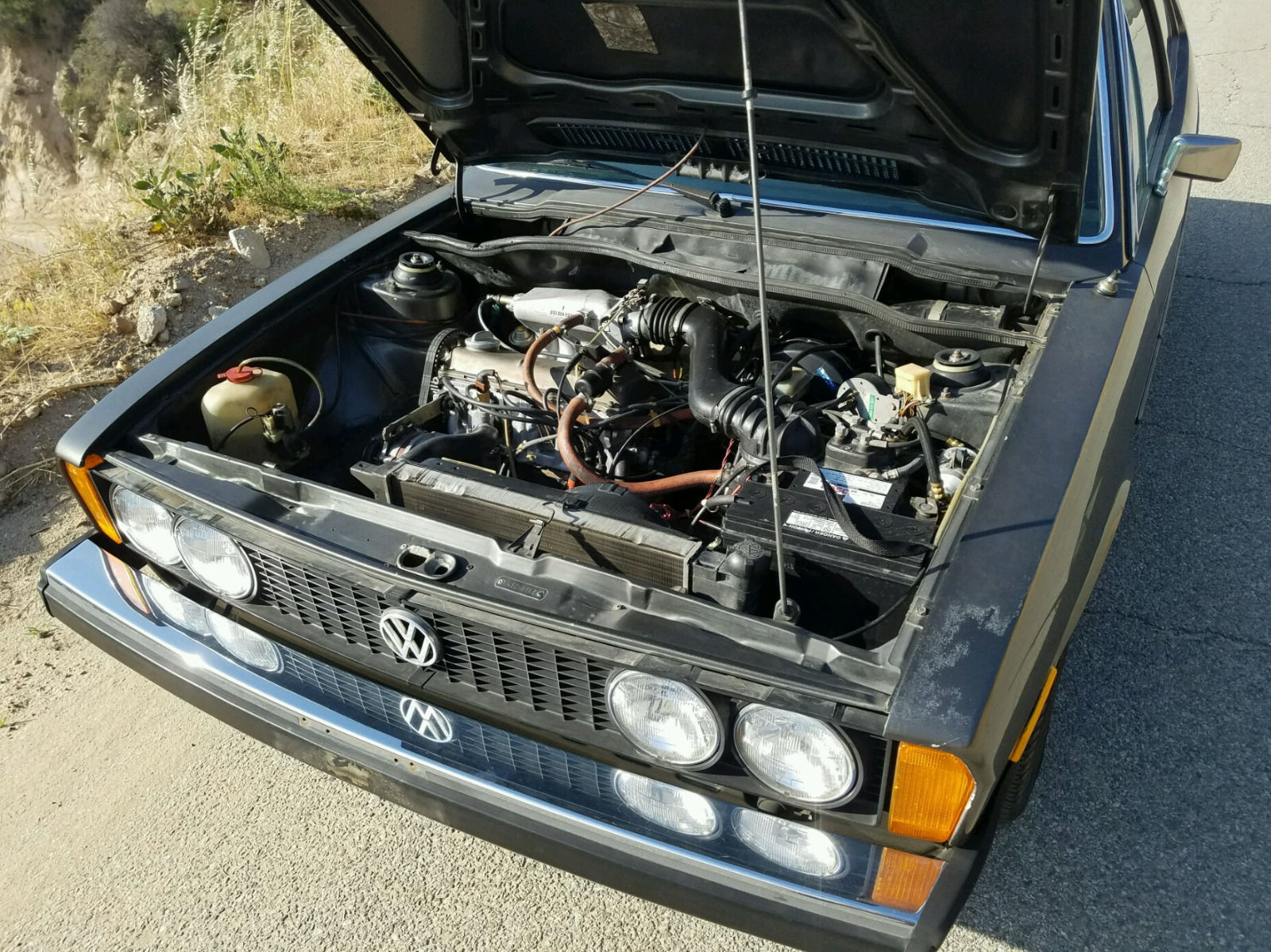 A few things about the seller's description are a little off; Jade Green wasn't a color available on the 1977 Scirocco. The black plaid cloth was married with Diamond Silver that year. However, if the exterior is original, it's much darker than that shade. To me the exterior color looks closer to the Platinum Metallic that was available in 1977 on the Champagne Edition Scirocco; however, those cars had red plaid interior and red stripes, as well as a rear wiper – all absent here. It's not the first time I've seen an out-of-catalogue color on a Volkswagen from this period, and it always makes for a headscratcher. Coupled with some oddly-placed over spray on the hood catch, a missing "unleaded fuel only" sticker over the gas cap, it makes me wonder if this car had a full repaint in the 1980s. If the build sticker could be found it might give us the color code and confirm if it was original paint and which color it was painted. The original alloy wheels have been replaced by Rabbit steel units, too. Does it matter? Not really a whole lot with the mileage on this chassis. The Champagne Edition, if it were one, might take it to the next level, but just finding a clean and original chassis is much more important to a potential collector.
Otherwise, the seller (who is most probably the second owner, if I'm reading the ad copy properly) has done a mechanical overhaul necessary to make this car a driver, yet has left the exterior patina in place. Unlike yesterday's pristine original example, this car carries its weight in aged beauty, and reminds us that there's another popular trend in the marketplace – old-looking old cars. Will it achieve the $17,100 we've previously seen on one of these? That seems unlikely. While it's very nice to have a solid and mostly original car, this one isn't as polished or low mileage as that 1981 I looked at last summer. Yet desirable a clean early Scirocco still is, and as such bidding has been pretty active with over $7,000 already pledged and two days to go. Where will it end? I'd guess this car should be pretty close to the equal of the '82 from yesterday at right around $10,000.
-Carter