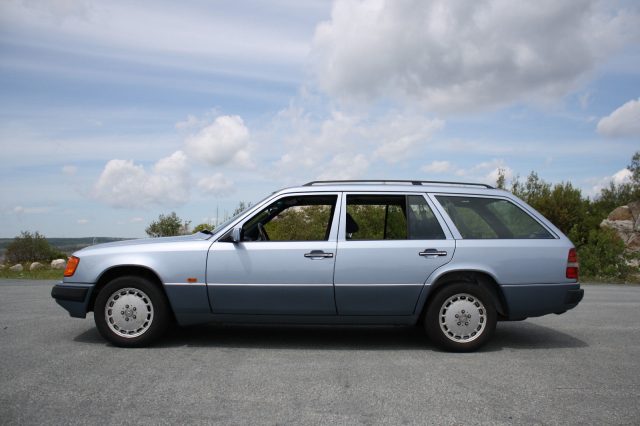 A little over a month ago Craig looked at a nice 1991 Mercedes-Benz 300TE 4Matic. Today's vehicle is another 1991 300TE 4Matic, although this one has a little different backstory. This Ice Blue Metallic W124 estate for sale in Central Pennsylvania is actually a Japanese market car that made its way to Canada before heading to Pennsylvania. This means it has some cool options and a slightly different look than what you are used to seeing. Now before you get too excited, there are some things about this specific 300TE that I'm not too crazy about. Let me explain.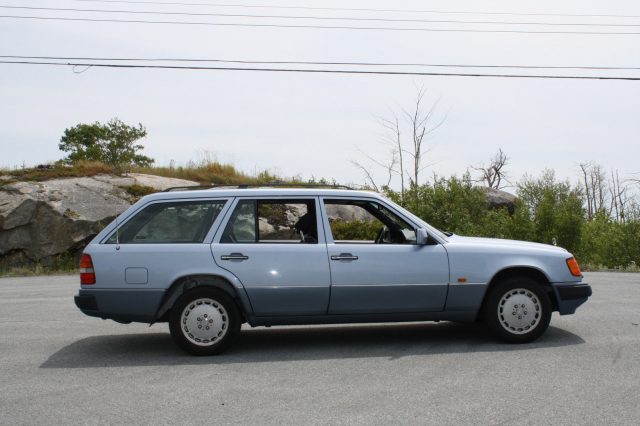 Model: 300TE 4Matic
Engine: 3.0 liter inline-6
Transmission: 4-speed automatic
Mileage: (186,000 km) 117,000 mi
Price: $4,299 Buy It Now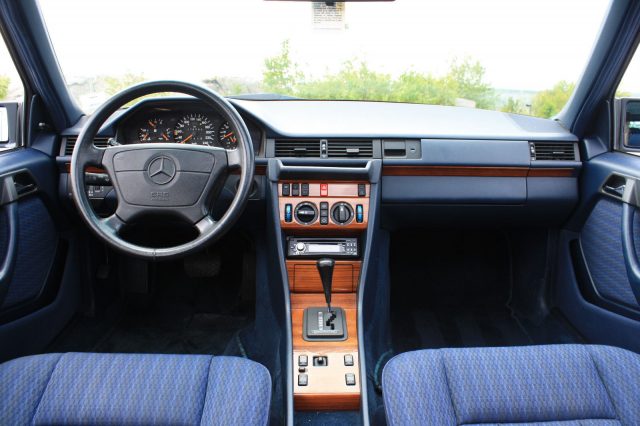 This beautiful Mercedes 300TE 4Matic has been a daily driver in Nova Scotia and Pennsylvania since 2014. It is a super rare Mercedes. They are just a great car and is still the car I drive to and from work. I have also driven it long distances without issue. This car's import VIN is WDB1242901F202795.

It is in very good condition on both the inside and outside and has never been in a wreck of any sort. There are 3 noticeable spots from rusting and they are ALL shown in the pictures: Under front driver's side headlight and again behind the taillight on same side, and a small rust spot on back door. Overall, the body shows little wear for a 1991. The paint is in very good condition. A new clear coat was done in 2013. There are no dents in the car and there are few, if any, noticeable dings. The interior needs a good, professional cleaning and we will do that before delivery. This interior is so far superior to the leather they used to put into these cars. It just holds up. Blue in color, there are no rips, tears or major stains and the wear on the seats is minimal.

There is no cracking in the dash! And the veneer wood detailing is in pretty good shape and all there.

This is our 10th used Mercedes and I must say, the W124 models are the most durable and well-engineered Mercedes we have ever had. This particular model is often considered the series (following the W123) that began the Mercedes engineering revolution. Anti-lock brakes, 4Matic AWD (very hard to find), the steel cage, etc., all reflect the W124's uniqueness. That is why they are SUPER hard to find — especially in the 4Matic. I am not super fond of the anti-locks, as they are GREAT, but a little "rumbly".

I have turned off the 4Matic (under the hood/easy to do) during the non-winter months as the rear-to-front balance of the car doesn't really need it. I also replaced the tires in Fall 2016. I would say they have a good 85% tread wear left. I do drive this car a lot and will add miles until sold.

The car is metric, so it measures everything in kilometers. The car currently has 117,000 original miles, or 186,000 kilometers. Some people replace the dash to reflect mph but, IMO, keeping this car in as close to original condition is is important for resale. The only element that is not original is the stereo.

The car has a VERY slow hydraulic leak. The leak is coming from a spot just below the reservoir through one of the hoses and is too hard for me to reach, so I have just topped it off every few weeks.

I have replaced only with Mercedes or Mercedes OEM parts/fluids. It comes with the ORIGINAL manual and fuse tester/diagnostic meter that I use to calibrate the car every couple months.

As you can see, it has the rear-facing seat in the back. Works properly. Also, windows, sun roof, seat and other electronics work. The antennae is a little bent and therefore I disengaged the "raise/lower" function to avoid any breakage. Nonetheless, it still works.

This vehicle is a dream in snow. No issues at all plowing through a foot of snow with total control.

The V6 engine runs great. It does require a minute of warmup in the winter. Also, I have added fuel injector cleaner to every other fill-up of premium unleaded gas. The car gets almost 20 mpg. Not great, not bad. It is a tank, so where that has some advantages, it does operate a little less fuel efficiently. It has great highway passing ability and can easily hit 100mph if that is important to you.

We are the third owners and simply need a larger second car. Only reason for selling. We get so many comments on this car. It really is a great car.

Please look carefully at the pictures and ask any questions. I can help coordinate pick-up once fully paid. If your transporter wants to pay when they arrive, they will need to wait for me to ensure the form of payment will clear.

The pictures were taken before I switched the car to a PA registration in order to sell in the states. Thus the NS plates.

I have priced this car VERY reasonably. The starting price reflects the car we put into her. Please ask me anything you like about this car. Nothing to hide. When we brought it back from Nova Scotia, the car never touched the ground. Hauled with a full carrier, not a two-wheeler. It has been well cared for, never abused, never driven in big cities with lousy roads and lousier drivers, off road or on the beach, or without a cover or garage to sleep in.

I am listing the car locally as well and may sell.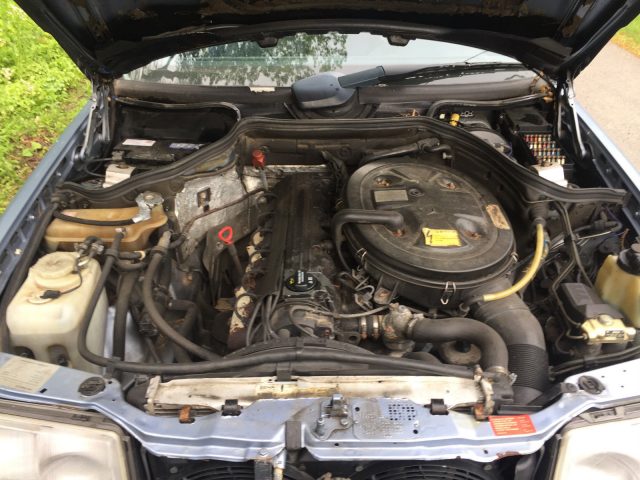 The really cool part about this car is the interior. Blue cloth is present where you'd normally find MB-Tex or leather and the pattern is really nice. It has a distinct 90s look that is really appreciated when done right. It does need a really good cleaning but nothing that a days work can't fix. This car also has the highly sought after W124 euro lights as well as the manual climate control system.
Now the bad news is, this car has some issues. The seller says it requires being warmed up in the winter which could mean anything. Secondly, there is a hydraulic fluid leak from the SLS system somewhere that isn't an easy fix due to the location of the leak. There are also some other little things like a bent up antennae and some foil tape used to cover up something on top of the coolant overflow tank. But this big thing here is the rust. The driver's side front fender has reached the point where metal is totally missing and a hole has formed. That's not too big an issue and could be fixed with a new fender but the real concerning spot is under the taillight. Sooner rather than later that entire piece of little metal will be rusted away. Ideally you need to cut that entire piece out to stop it fully, but it's delicate and time-consuming work.
This $4,299 price tag is fairly reasonable if the 4Matic is functional like the seller says it is. At least the ad is honest and upfront about all the work you are probably going to need to do immediately if you plan on keeping the 300TE for any good length of time. I'm really tempted by this on myself, but that rust is probably a deal breaker.
– Andrew