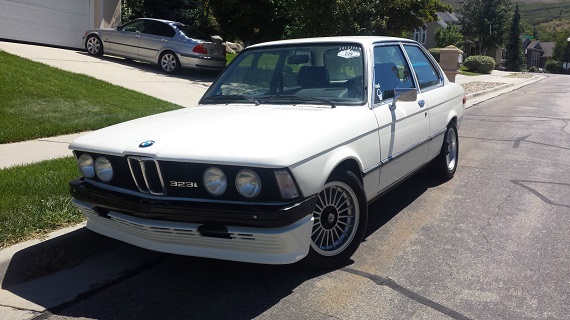 BMW's recent advertisement campaign for the 3-series has notably featured the E21; interesting, since it's the first time that I can remember BMW actually acknowledging the first 3. It's not that the E21 didn't have the right recipe; Paul Bracq's design was lovely and of course coupled to the traditional front-engined, rear-drive platform with a manual gearbox, but I think that a large part of the E21's problem was the perceived lack of sport for the 320 model that came here. If you were in the rest of the world, you could get a hotter and better looking option than what Americans would enjoy – the 323i. With the fuel injected M20 motor under the hood, the 323i enjoyed a healthy 20 horsepower bump over the standard 320i, and since it was a Euro car it had better looking….well, it goes without saying. The slimmed down and beefed up 323i made it here through the grey market, with this particular example having the added interesting bit of history of having been imported by notable BMW specialists Hardy and Beck: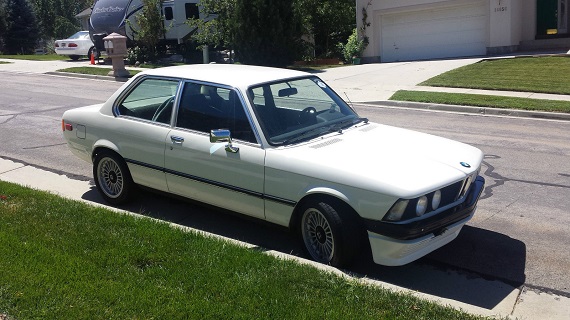 Year: 1979
Model: 323i
Engine: 2.3 liter inline-6
Transmission: 5-speed manual
Mileage: 134,871 mi
Price: $8,900 Buy It Now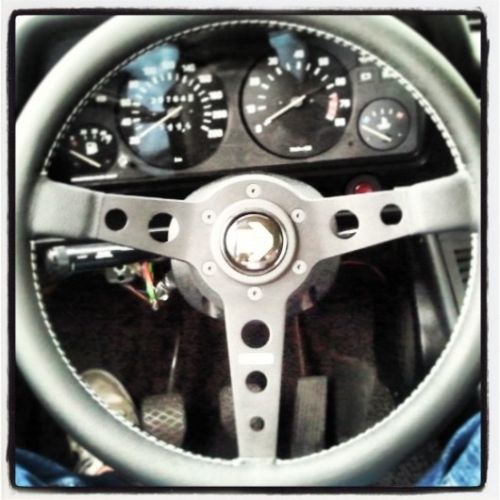 1979 E21 323i German import grey market car, numbers matching and a paper trail of service records going back to the date of import into Northern California to Hardy and Beck from Germany all the way to the thousands of $$$ in work I've had done at Utah Imports, literally over a hundred pages in records. Recently had motor serviced. Car has 2 minor rust spots on body but chassis is very clean, hood recently painted, have black painted, originally chrome euro bumpers all around, upgraded rear sway, battery moved to trunk, auxiliary fuel tank also in trunk, MOMO Prototipo steering wheel, strut braces front and rear, MSD ignition. Alpina wheels pictured not included as I sold them, currently has base e30 wheels on it. Chassis is currently a roller as I have 2 motors, the orginal M20B25 with Getrag 4spd (120k miles on motor and chassis) as well as an S52 motor package with 5spd ZF (70k miles) both currently out of the car. The S52 comes with UUC lightweight flywheel, Sachs stage 3 clutch and pressure plate, m50 intake manifold and head cover, e34 oil pan and front sump. No harness or DME unfortunately with the S52, but those are easy to find.

I will not separate the original car and motor, those must stay together. I apologize for the low quality pictures of the S52 and ZF tranny package, I did not take them! I can take and send specifically requested pictures to serious inquirers.

Asking price is for 2 motors and transmissions as well as the car, the s52 package can be had separately for 2700 OBO. Would love to keep the original M20 with the e21 chassis. Price includes shipping of car, and 2 motors packages.

I have many other parts and little upgrades not specifically mentioned. Very clean for it's year and very unique, everything is in German and metric, super cool. Happy to show it to anybody or send more pictures of specific requests.

Payment via PayPal, reserve price does not include shipping charges for chassis and both motors.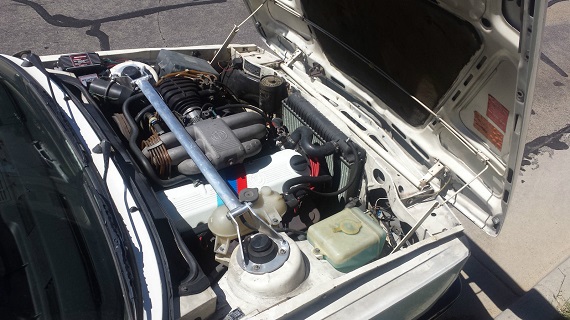 There's a lot to like with this listing; clean E21s are somewhat hard to come by because of the relative lack of popularity compared to the bookend E10 and E30 models. This one appears to be overall very clean outside, with nice brightwork and in a pretty white color. The VIN check confirms it's an original 323i, but little else – we don't find out about the options, such as if it has the desirable limited slip. But there's much to be desired with the listing, too – the rear bumper isn't mounted and the car has been somewhat modded from it's original specification. It doesn't look all bad, but we don't see what the interior really looks like, there are no rear or underneath shots, and the awesomely fitting Alpina wheels aren't including. Worryingly, as a bit of a purist, is also the mention of the S52 available with the car as an additional package. While I can recognize that the M20 isn't much for motivation compared to the S52, it seems this car teeters on the brink of going down a path that will remove one more clean and rare original 3 from the history books. It certainly wouldn't be the end of the world, don't get me wrong, but personally I'd love to see this car in original spec rather than modded up with a modern drivetrain. Without more detailed information about the rust, running and interior conditions, it's hard to conceptualize spending nearly $9,000 on this example as it sits, but it sure would be great to return this car to its former glory as the top-of-the-range 3.
-Carter