I've posted a couple of these unique wagons in the past both of them were 1977 450SEL versions. You can see them here and here. This one that has popped up is a similar W116, but based on the 300SD instead.
Year: 1979
Model: 300SD Crayford Estate
Engine: 3.0 liter turbo inline five
Transmission: 4-speed automatic
Mileage: 62,000 mi
Price: $54,000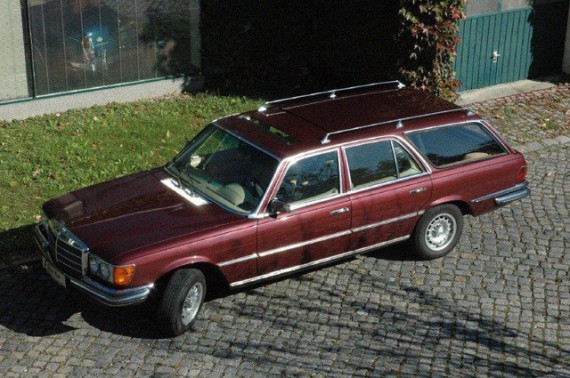 I find it interesting that all three of the Crayford cars we've posted all share the same paint color. They all have had slightly different outside appearances though with one showing Euro lights and U.S. bumpers, one with U.S. lights and U.S. bumpers and this one with U.S. lights and Euro bumpers.
As any custom coachwork car would be, Crayford cars are scarce and they appeal to those fanatical Benz estate fans so they don't come cheap. With Benz not offering the W116 as a wagon it does seem logical for someone to make an attempt at doing so as future success of Benz factory wagons have indicated.
With the indestructable 3 liter turbo five diesel under the hood this car was made for long haul travels for family vacations. For the economical minded this car would be better suited than the V8 cars listed above. I've seen in person one W116 estate conversion that was done on the mighty 450SEL 6.9, but it wasn't a Crayford conversion, but rather one done by a firm called Brinkman.
This car is located in Austria it has covered a solid 62,000 miles, enough to no its been enjoyed, but that is nothing for a 300SD. The ask price is $54,000. That is a lot of money so a new owner would be buying this for the rarity not the functionality. The car has been restored and the interior is super clean for a station wagon. The seller says the car is highly optioned and it is notable that it has ABS.  It would provide the owner with quite a nice niche in Mercedes history. What is baffling with this dealer listing is that they didn't bother to include a photo of the customized rear boot as the Crayford conversions could be had with the rear modified to the customer's liking.
~Evan