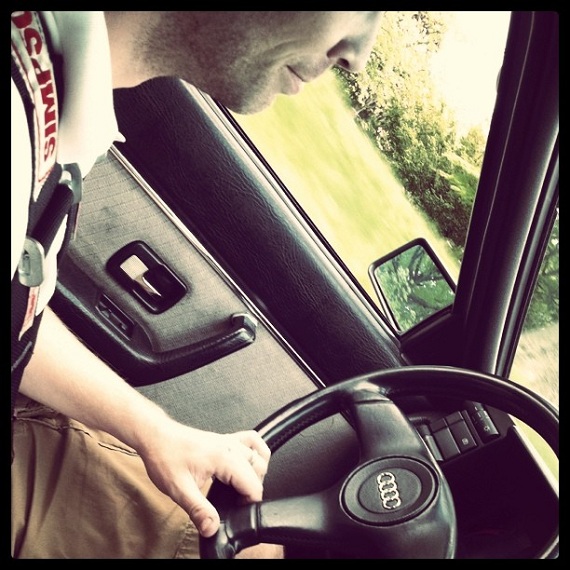 Nate's M5 ownership experience that he wrote up got me thinking; it's been now just over 16 years since I bought my 1986 Audi Coupe GT, and I've never really summed my ownership. It's been a heck of a ride, to the point where my wife refers to the Audi as a "family member" that I'll never get rid of. In many ways, she's right – I've put a lot of heart, soul and sweat into that car and I'll never get what I've put in back out of it monetarily, but the smiles that car has provided me could last a lifetime by themselves. It's undergone many changes in my stay – from relatively stock to a highly modified track car, through 4 suspensions, 4 engines, 5 exhausts, 3 paint jobs and a few thousand miles on the race track, it's been as much a friend as a possession.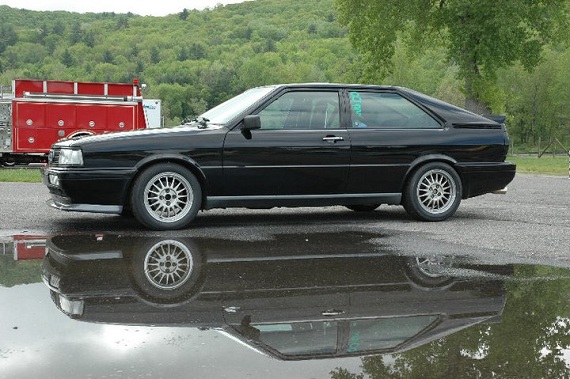 How did I get here? It started innocently enough. The 1986 Audi Coupe GT wasn't my first Audi. In fact, it wasn't my second, or even my third. I actually had a very nice 86 GT automatic that was Tornado Red; it looked great, made great noises and was fun to drive. But I really wanted to head to the track and for that I wanted a 5-speed, so when the opportunity came along I bought a crashed 5-speed parts car to transfer everything over. Long story short, it turns out in typical German fashion the engineers at Audi decided the entire floorpan in the automatic needed to be different than the 5-speed. The hunt was on – I liquidated everything I had between the automatic and the parts car and began the hunt for a GT. What I ended up doing violated basically every "law" of buying a car that we swear by. I found a high mileage, dubiously maintained, probably crashed at some point GT. The paint was peeling off, all 4 tires were mismatched, and the owner had removed the fairly substantial audio system he had installed. To top it off the car had an aftermarket alarm which sometimes worked – generally while you were driving the car. But these were the days before the internet really took off and if Audi GTs are hard to find today, they weren't much easier to come by in 1998. So, for the ripe sum of $1,300, the 190,000 mile Oceanic Blue Metallic GT was mine.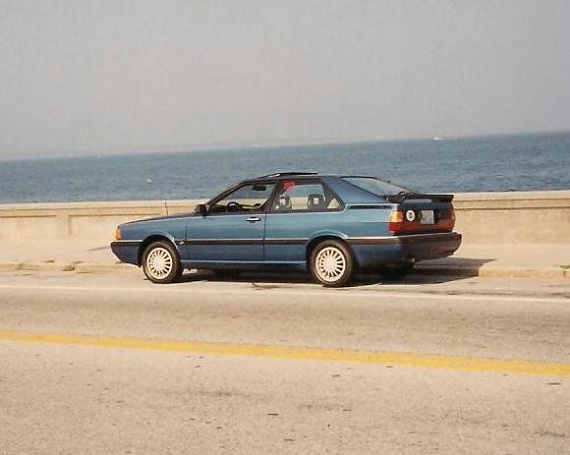 My friends openly acted like I was insane. My co-workers openly laughed when I pulled up to work in my new prized automobile. Why did they laugh? "Well", I said, "I've got plans – I'm going to make this into a track car." And indeed, a few short months later when I turned up at the track for a BMWCCA High Performance Driving School, a fair amount of the BMW owners laughed too, including right in my face. There were the typical "It's an Audi so the moment you turn the key it will explode" comments. At tech they threatened not to pass the car because the hydraulic motor mounts allowed the motor to move a seemingly alarming amount. But cooler heads prevailed and my track career in the GT began.
On the surface, it's easy to understand why everyone laughed. The car didn't look like a wreck, but it certainly wasn't clean and it was a very unusual sight at a track event. Indeed, on paper the GT makes a very unlikely track car – front wheel drive with an open differential, relatively long gearing for improved fuel economy, a cast iron block hanging straight off the front of the axle line; in many ways, it's a backwards 911. Though the five cylinder is legendary in turbocharged form, in normally aspirated form the promise of "power of a 6, fuel economy of a 4" was really the other way around. But a friend I hadn't yet been introduced to had shown me the potential of the GT at the previous year's Audi event at Lime Rock park. I was 18 and fully bought Audi's everything must be quattro sales pitch with my 4000CS Quattro, but this lone red 1987 Coupe GT managed to outpace all of the quattros – including the legendary Ur-Quattros – on track. Inspired, I began modifying my car, grabbing the quite limited resources I could find: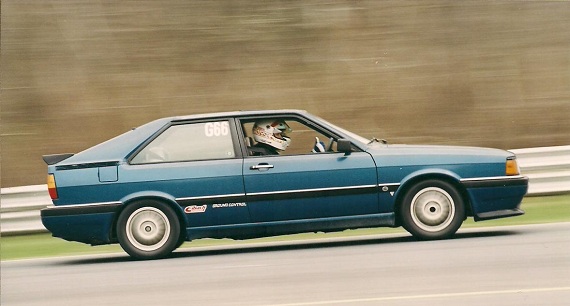 I found some used Abt springs – my first purchase. The springs just didn't sit right to my liking, so I contacted Ground Control and built some coil-over shocks in the rear, then the front. Later I had Elgin grind a cam in California to my specs – 270 degrees, to be exact. I tracked down a very rare Abt header, then a drunk driver totaled one of the then-nicest built GTs around – resulting in a custom exhaust and sway bars for my car. I progressed rapidly through the tiers at the BMWCCA schools I attended. Each was a struggle for a young college student to make it to, but I loved heading to the track and went in with a big chip on my shoulder each time. In turned out, for all of their laughing, that most of those BMWs weren't any faster around a track than my lowly front drive Audi.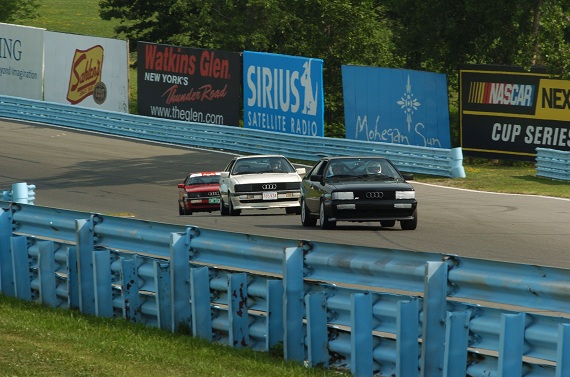 After a few years of tracking the car, I decided I really wanted it make the car which was now pretty quick a lot prettier. Paint had been coming off in sheets every time I washed the car and it was just something I couldn't stand. But, I was broke – and paint jobs don't come cheap. So, I paid a friend of a friend a sizeable (to me) chunk of money to repaint the car. It went away for a bit, and then the calls stopped being answered, and I had a track event to head to…long story short, the money was gone, and the car wasn't painted. The side moldings had been removed and filled as promised, but now the sides were rattle-can grey primed and the top was still blue. Worse, the fender had been smashed in while it was in process. I was pretty heartbroken. The lowly Audi garnished even more laughs when I pulled up to the BMW event. It was my sign-off event to be an instructor. I pushed myself even harder to pass every car I could put my sights on, and later that day after some coaching I was signed off to instruct. I was very proud with a car that looked like a wreck.
Another friend of a friend heard my story and said "Hey, I can paint cars". Job number two was underway. This gent was much more true to his word and did probably the best he could in his father's dusty garage. When the car emerged, it was as I had envisioned it – but it was far from perfect. The color combination – black with titanium colored spoiler and rockers, was inspired by the E34 M5 colors, and the GT now looked downright sinister. But the paint needed to be wet sanded; I took it to a shop my family had frequented for years and agreed upon an amount of $400 to wet sand and polish the car. When I came to pick it up, the proprietor said "Bad news: you owe us $600. Good news: we repainted your car (again)." It looked much better overall and cleaned up pretty well – certainly good enough to head to the track! Along the way I picked up some factory option wheels with larger tires, rebuilt the engine, and headed to the track every time I could.
Through the corners, the car was amazing. Down the straights, it was a joke. I actually slowed down through the Esses at Walkins Glen; the prognosis wasn't good – I had lost compression on a cylinder. Engine three went together as a 2.3 bottom end with the head from the earlier motor. It sounded great and ran well, but still didn't provide the grunt I was hoping for. The obvious solution would have been a turbo unit, but the GT's open differential and the lag-prone power delivery of the 10V turbo wasn't ideal for the track. No, I needed revs, and after driving a Coupe Quattro 20V I decided that without the additional 700 lbs of B3 quattro, that motor would be perfect.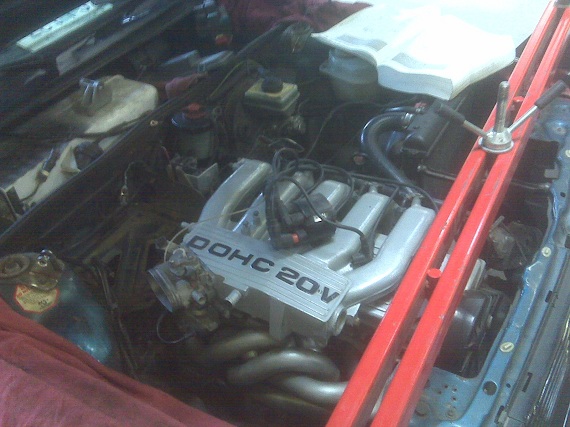 Lucky for me, I bought in when a bunch of nice Coupe Quattros were being taken apart to make S2 clones. I found one particular model with very low miles that was getting a full S2 treatment. $600 later, I had a low mile 7A 20V 2.3 motor with full wiring harness to bolt in. The 7A is very underrated as a motor; basically a big version of the 16V motor with around 165 horsepower, it would be plenty to motivate the GT and the increased but smooth torque curve would ease power delivery to the inside wheel. I did a fair amount of the swap myself – it was relatively straight forward but there were a few expected hiccups. Overall, the result looked near-factory and the power – and sound – were awesome.
But I was at a turning point in the ownership of the car. When I started going to the track, E30 M3s in stock form were considered "really fast". They're not. By the time the 20V was installed, the average novice group participant at a BMW school was turning up with a 300 horsepower car, with better tires and better suspension. The GT, while still potent, just really can't compete straight up against E46 M3s (though, I've passed them!). The time had come for a subtle change to the car, and I had assembled more parts. This time, Euro-spec H1/H4 headlights went in, along with a new better looking exhaust and a ROW-spec 86 fiberglass trunklid. Inside, the car got a new steering wheel and a new lease on life – as an antique now.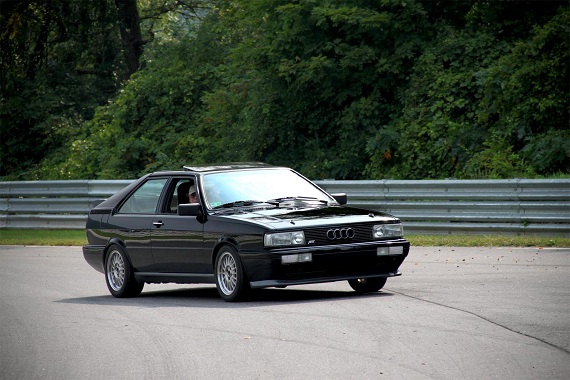 Sure, it's a bit of a laugh driving around in what is a borderline race car with antique plates on it, but it's made ownership of the GT much easier. Older, married and now with a 2 year old, the track schedule takes a very far back seat – and when I'm eventually able to go more often I'll likely look for a new track car. A little less than two years ago, the GT finished its metamorphosis in current form when I attended the first show with the car. It's no concours example by any means; now with 240,000 miles showing on the digital dash it's rough around the edges – much like its owner. But if I had a dream about what I could do with the Coupe, it's exceeded every expectation I've had; it was the unassuming choice that carried me to work, school, and the track. What's even more interesting is that the Audi Coupe itself has undergone a metamorphosis with enthusiasts too; where once when I pulled up to a BMW event and was laughed at, the car now gathers smiles, thumbs up and much more appreciation than it ever did when new. I'm still not sure what the next chapter holds; I've toyed around with the thought of repainting it in the original and rare Oceanic Blue Metallic once again, but every time I see it clean in black (for the 10 seconds it's clean, anyway), I just smile. It's the same feeling that GT has given me for 16 years, and hopefully for many more to come.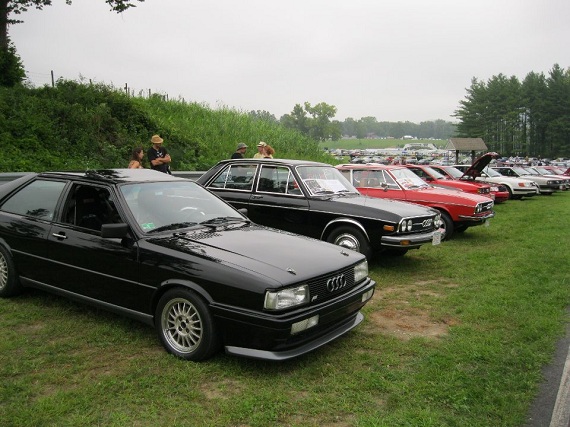 -Carter