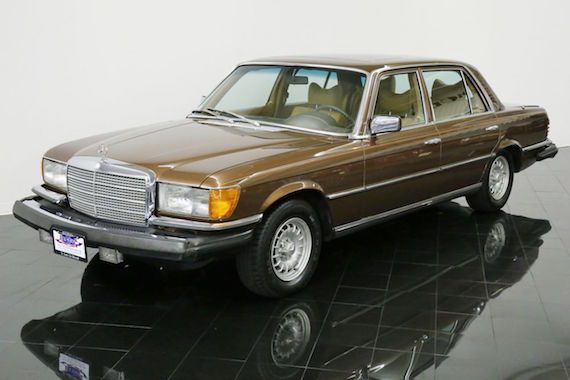 The 450SEL 6.9 was the top of the range, high performance version of the W116 S-class, produced between 1975 and 1981. To make it, Mercedes took an ordinary W116 and shoehorned the largest V8 into its engine bay that they could find: a mammoth 6.9 liter unit making 250 hp and 360 ft-lb of torque in US spec. They then added a sophisticated hydropneumatic self-levelling suspension system that gave these cars a dual personality. On ordinary roads they had a magic carpet-like ride that would soak up bumps in a manner entirely befitting a W116, while on the track they would handle far more nimbly and capably than their size would have led you to believe. The result was an early luxury super sedan; a 70s incarnation of today's souped up AMG S-classes. But unlike their modern counterparts, on the outside the 6.9s didn't look any different to the rest of the W116 lineup. Distinguished only by a discreet "6.9" badge on the trunk lid, the understated menace of these cars meant they quickly found favor among the sorts of people who wanted to go very fast and had lots of money, but didn't always want you to know just how much money they had. Driven by Hollywood moguls, gangsters and foreign dictators alike, these cars were expensive, fast and technologically advanced.
Jumping forward to today, these cars have rather languished on the classic car market. You can still find tired examples on Craigslist costing only a few thousand dollars, often resting on their emergency bump stops as a result of failed suspension, with faded paint and sad interiors. Lately however, nice 6.9s appear to be climbing in value, with more and more nice condition examples coming to market with large price tags attached. And that leads me to today's car.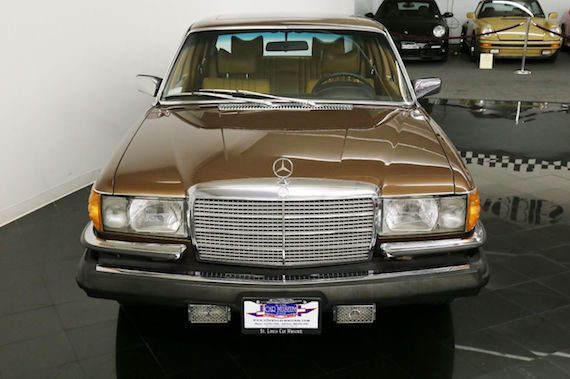 Year: 1979
Model: 450SEL 6.9
Engine: 6.9 liter V8
Transmission: 3-speed automatic
Mileage: 66,700 mi
Price: $42,900 Buy It Now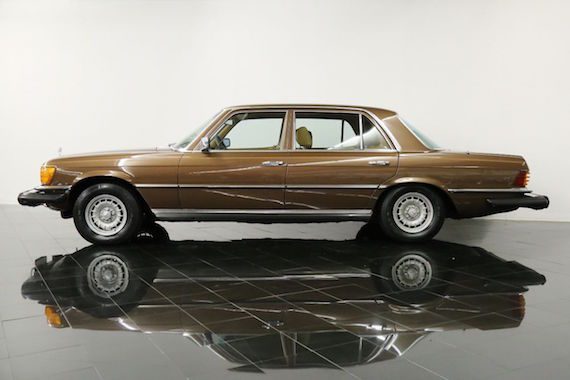 A very well kept 6.9L showing just 66,000 original miles! A rare, final year example for the USA market representing one of only 576 imported in 1979. Factory coded 494-California Version provided a rust free life style early in life! All features remain functional, and drive qualities do not disappoint! Large with excellent handling, and very fast even considering the overall size! Hugely expensive when new, comparable to the S-Class of today! Don't miss this very desirable, hard to find model!

Many automotive manufactures had little help from federal regulators when it can to making horsepower in the mid-1970 into the 1980's. Stemming from the oil embargo of 1973-1974; fuel consumption, lower emission& highway speeds, along with oil conservation efforts were now all mandated. Apparently over in Germany, Mercedes-Benz didn't get the memo! They set out to produce the world's fastest, most powerful sedan. Only available in the USA from 1977 through 1979, the M00 6.9L engine option was exceptional! Its 417 cubic inch displacement was powered by Bosch K-Jetronic fuel injection, forged crankshaft, connecting rods, & pistons; aluminum heads, sodium filled valves, nitrated intake valve stems, chromed exhaust stems, hydraulic lifters, and a 12-quart dry sump engine lubrication system. Even with a low 8.0:1 compression ratio, it still managed to produce 250bhp and a massive 360 ft lbs of torque! To put this into perspective in 1979, this meant more power than a Ferrari 308 GTS, Porsche 930 Turbo, Corvette L82, or a Pontiac Trans Am SE. Although this bragging right came with a very hefty price tag meaning MSRP's breeching $50,000 by 1979! This would be equivalent to about $175,000 in today's dollars. This also meant very low production totals, and an exceptional opportunity to collect a tremendous piece of Mercedes history! Only 1,816 were ever imported and just 576 of those found garages in 1979.

We are very excited to offer this 1979 Mercedes Benz 450SEL 6.9 Sedan. Finished in its original color of Milan Brown Metallic (404G) over Bamboo Tan interior, this low mileage example has traveled only 66,700 miles from new! Loaded from the factory with M100 6.9L engine, 3-speed automatic transmission, Hydropneumatic Self-Leveling suspension, power windows, central door locking system, Becker Mexico AM/FM/Cassette radio with power antenna, cruise control, power steering, power 4-wheel disc brakes, front fog lamps with rock guards, automatic climate control, electric sunroof, VDO instrumentation, remote chrome mirrors, passenger vanity mirror, heated rear window, 14" light alloy wheels, and rear first aid kit.

Our example is truly an excellent survivor featuring all original window glass, perfect undamaged dash, all original seat upholstery & floor carpeting, original owner's manual, original tool kit, and the factory supplied set of 4 emergency rubber buffers should the suspension system fail. The trunk retains the spare tire, rubber & carpet mats, and jack. Just recently, the original spark plugs, plug wires, & distributor cap were replaced for the first time. The hood insulator pad, battery, and tires were all installed in 2015. The Euro-style headlamps have been on this car for many years. Built in June 1979, this unit is factory coded with option 494 representing a 'California Version' meeting west coast emission demands. It continues to retain a rust free, super solid body & chassis today! A garage kept, well maintained unit without question. All features have proven to work including the air conditioning, factory radio, dash clock, and electric windows & sunroof. A surprisingly fun car to drive for the power, a stellar car riding over the bumps, and amazingly quiet at speed. Please call with questions or offers. Thanks for looking!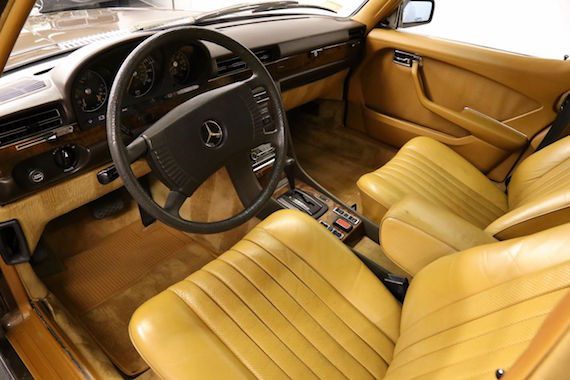 Let's get it out of the way: this is not a cheap car. The $43k asking price is rich even by 6.9 standards, and means that this example is a serious proposition only for the collector for whom money is no object. It's also not even the best version available: a US-spec car, it's saddled with the ugly, US DOT mandated bumpers and the emissions restricted engine, although a previous owner has at least had the good sense to install European headlights. And while the 66k miles on the odometer is low, it isn't quite low enough to make this a museum piece, despite the museum-piece pricing (as an aside: the seller refers to the car as a "survivor," which I think is a bit ominous).
But what a car it is. The very 70s-esque Milan Brown paint looks gorgeous while the Bamboo Tan leather interior appears to be in nice condition, with only some minor wear showing in the photos (possibly a worn driver's seat bolster, an imperfection on the armrest, and some possible blemishes in the wood around the gear lever, though it's somewhat hard to tell). All features and accessories are reported to work and a basic service is said to have been recently performed.
I suspect that the seller is banking on the nice color and low-ish miles to bring in the money, but ultimately it probably won't sell for this price. And whoever does buy it has to face the dilemma of whether to park it and hope it goes up in value even further, or to use it for rapid, luxurious transport, as it was intended. I know that if I could afford this 6.9, I would buy it and just drive it, because life is short and why the hell not?
– Craig