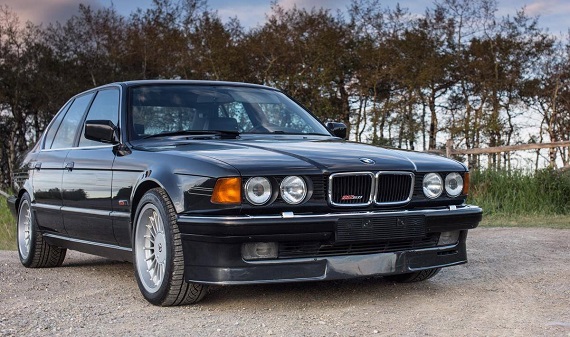 I was quite lucky as a teenager to have some pretty serious metal from Bavaria to cut my teeth on. My father had gotten quite into 1980s BMWs, so we had a few 6-series and even a M5 in the house. But it was the "family" car that I liked the most, believe it or not. That family car was a pretty special one as it was an E32 735i 5-speed. The manual in the large body car might be a bit of an aberration, but as a whole package the E32 was a great car. It was fantastic to drive and felt much lighter on its feet than the size would indicate. It was comfortable, too, in either front or back posts, with rich smelling leather, a modern climate control system and a great sounding stereo. It was a car which ate up highway miles with ease, and outside it was quite a looker, too. It managed to look both more substantial and much better proportioned than the E23, finally integrating the mandated bumpers well into a design that was market leading. In fact, the only area I ever really felt our E32 could have used some help in was to have a bit more motor.
Of course, BMW offered a revolutionary motor in the 750i. It was the first of the big three luxury brands to make the leap to a modern V12, and the M70B50 was a pretty impressive motor on paper. With 300 horsepower from 5.0 liters, it was nearly 100 horsepower north of the M30 mill in our 735i and smooth as silk. As the years progressed though, the M70's power was nearly matched by the lighter M60 and there was somehow a loss of exuberance about the V12 as a new run of V8 motors proved the impressive mainstays. I have always had a soft spot for the twelve though, and to me none are more special than the very limited production Alpina B12 models: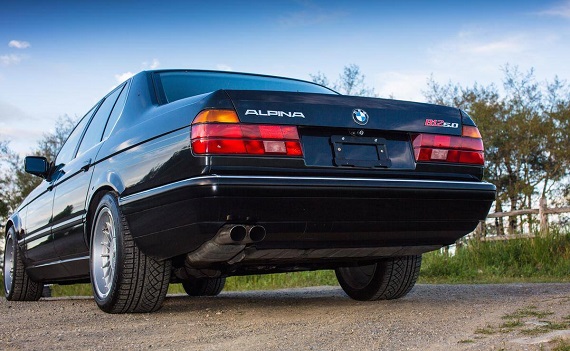 Year: 1991
Model: B12 5.0
Engine: 5.0 liter V12
Transmission: 4-speed automatic
Mileage: 48,000 mi
Price: $29,900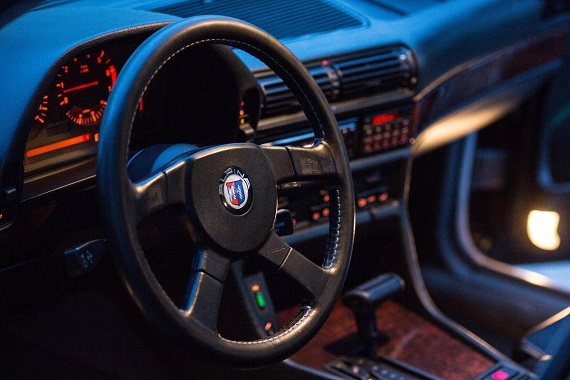 Location:Calgary, Alberta , CanadaVIN #:WAPBC50000D100139Mileage:48075Trans:AutoCondition:ExcellentExterior:Grey (Diamantschwarz-metallicInterior:Black Leather with Suede Accents
Description:
Rare opportunity to own #139 of 305 E32 Alpina B12's built worldwide. Alpina modified a standard E32 7-series to create the ultimate autobahn cruiser capable of comfortable trips to 275 km/h. With adjustments to the engine, brakes, chasis and suspension this sharknosed Alpina is an all-round tourer. Originally sold in Japan, #139 has only travelled 48,000 miles and has been kept in wonderful, original condition. It has spent the last 9 years in Canada – currently with its third steward here – and has seen plenty of care.

A local BMW specialist, Motorwerks, has just completed a full inspection, compression test (155, 155, 155, 160, 155, 160, 155, 155, 155, 160, 155, 160, 155) and leakdown (10-15% on all twelve cylinders) on #139. The specialist found only a handful of areas that could be improved on #139, and is currently replacing the rear sub-frame bushings, front control arm bushings, upper & lower oil pan gaskets, drive belts and fan clutch – all preventitive in nature.

While #139 has aged beautifully there are a few hints of its era; spots of overpolishing around the washersprays, small scratches on the hood, and a glued on (but still completely functional) gas filler cover. #139 appears to have never been in an accident and to have completely original paint, aside from the front lip spoiler. In order to bring #139 from 99% to 100% the windshield would have to be replaced, the rear shade replaced (included) and the fuel level bob adjusted.

#139 was produced on Feb. 2, 1990 making it 26 years old and able to be imported to the United States for the first time in its existence. This vehicle will make an excellent addition to any collection to be used as a comfortable special event commuter or simply as a daily driven character vehicle. #139 is a classic demonstration of all of the luxury features we have come to expect in modern vehicles so there is no sacrificing comfort for character with #139, it is truly the best of all worlds.

I look forward to finding the next steward of this exceptional example of an Alpina B12.

Price: $29,900 negotiable Phone: 1-780-710-1245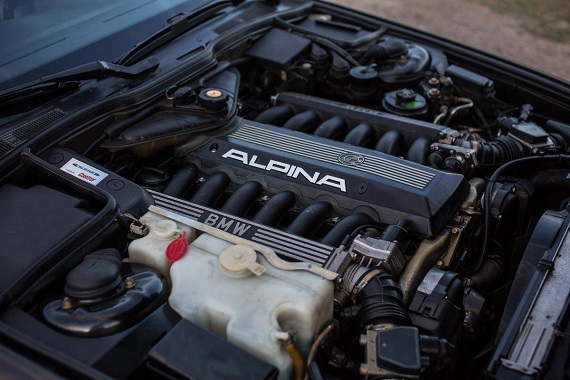 If I had to choose just one wheel to look at for the rest of my life, Alpina's wheels might be it. The turbine look conveyed the serious horsepower that lay beneath the subtle wrapper in these mega-sedans. Alpina worked its engine magic in the M70 with revised pistons and cylinder heads and squeezed a further 50 horsepower out of the V12. Coupled with the standard wheel, suspension, exhaust and interior Alpina details, these were among the fastest 4-doors you could buy in the early 1990s and were accordingly expensive. All Alpinas are limited production, and the B12 was no different with only 305 made. They are infrequently seen compared to their more popular smaller brother E34 models but are certainly no less purposeful looking. This one checks all the right boxes with the beautiful Diamond Black Metallic paint with subtle Alpina striping. That's matched by the black interior; normally dark but so much brightened by the signature Alpina blue and green stripes along with the lovely wood trim. The seller goes to great lengths to show the current condition of the car accurately, and there are few that would surpass this one in overall presentation. Minor repairs could correct some of the flaws, but as it sits this car is a stunning time piece from the early 1990s and would certainly draw a crowd at any BMW events. On top of that, I believe the market will continue to recognize these Alpinas as some of the best period tuned models produced from taste to performance. But what perhaps is most striking about the entire package here is the presence generated by the alluring combination of V12, great E32 looks, originality and Alpina provenance. It is a package which is nearly impossible to beat and difficult to match at this price point.
-Carter