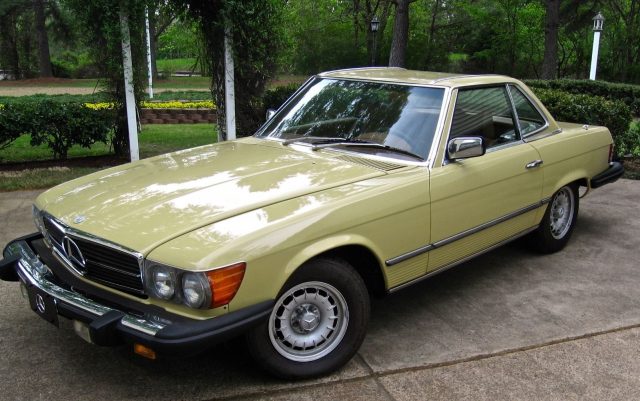 Imagine walking into a Mercedes-Benz dealer today and saying "Yes, I'm in the market for a new SL. Do you have one in yellow?" The sales representative would probably look at you a little strange then come to realize he or she could talk you into plopping down an extreme amount for a custom color — granted that dealer had enough pull to fulfill the request. But roughly 38 years ago, you could grab a SL right off the lot in yellow. No one batted an eye at this because after all, it was 1979 and yellow was also a color that people painted their homes. Not everyone is now lining up to buy a yellow house (unless it's at a beach) but this 1979 450SL up for sale in Tennessee? It's garnering bids because it is not ugly, but period correct.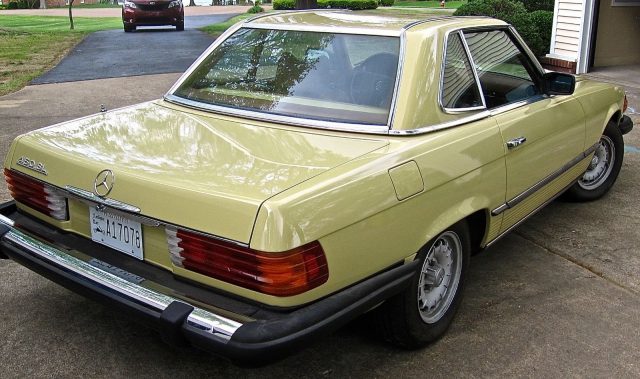 Year: 1979
Model: 450SL
Engine: 4.5 liter V8
Transmission: 3-speed automatic
Mileage: 102,627 mi
Price: Reserve Auction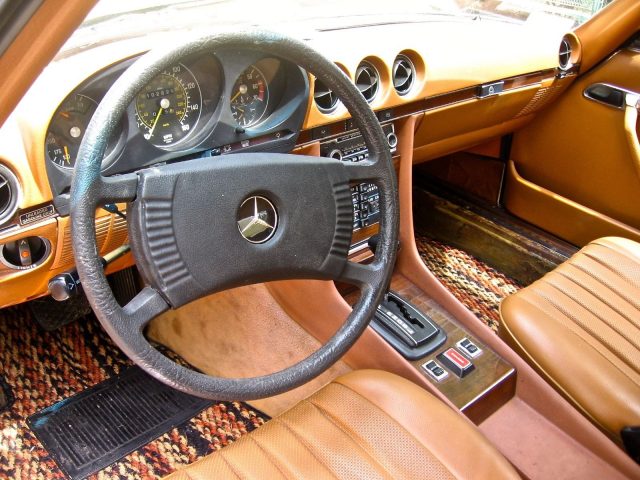 You are bidding on a very desirable highly optioned 1979 Mercedes-Benz 450SL Convertible finished in maple yellow with saddle interior. Between 2013 and 2017, this classic was painted back to the original color, base coat/clear coat including the removable hard top. A brake job was completed including resurfaced rotors and drums, new pads, hone wheel cylinders. New plugs, wires, distributor cap, and battery were installed and tires replaced as well as a complete tune-up. A new set of Jaspe (Black-Tan-Rust) floor mats were installed. Reserve is less than restoration receipts alone. Winning bidder will also receive a new hard top rolling stand with cover to store the hardtop when not on car. Vehicle will need a new convertible top installed and you can pick your favorite color.

Mileage may vary slightly from photo as this car is driven occasionally. Clear Mississippi title will be provided. Reserve is very low (less than recent restoration receipts) so bid with confidence. This car runs and drives great with no smoke or leaks. Tracks down the road straight with plenty of power. Chrome is in good condition with one minor scratch shown in photo and black bumper trim is in good shape. All gauges work (speedometer, odometer, tach, temp, gas gauge, oil pressure, etc. )including the clock. Lights and blinkers work perfectly. Even the original AM/FM Becker radio and speakers work properly. Among the many factory options include power electric windows, folding armrest, auto antenna (works), heat insulating glass, bumper guards, central locking system and others. Headliner on hard top is in good condition. Some small pieces of carpet have been removed when car was painted but are in trunk and can be reinstalled or you can inexpensively install these small pieces with new carpet. Two pieces of chrome trim missing on side of seats but these are available and do not affect the functioning of the seats. Dash pad is good with one small crack shown in photos. ACC unit works intermittently.

VERY LOW RESERVE, less than restoration receipts provided with sale of car. Local pick up available but buyer is responsible for pickup or shipping. Car is being sold for a friend and is located in Memphis, Tennessee. $1,000 deposit required within 48 hours (cash, certified check, or PayPal. Balance due within three days. I can assist with loading if car is being shipped.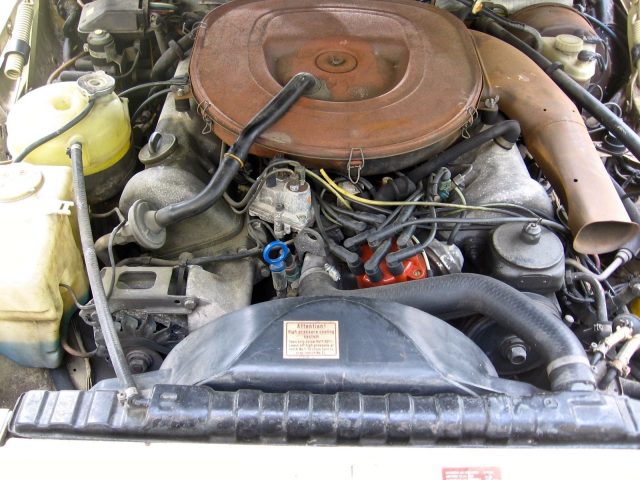 This R107 is far from a cream puff or garage queen. It has been painted once, it needs a new convertible top, the wood is cracking, some of the carpet is missing, it has a dash cap that even has a large split in it and under the hood is some serious oxidation. Despite all this, the seller says that mechanically the car up to snuff and everything is working fine. I'd still be wary of everything on this car but it doesn't seem like it is a total lost cause. 1979 wasn't a great year by any means for the R107 as you still were saddled with the 3-speed automatic, single-row timing chain M117 V8 and god forsaken automatic climate control system. But for whatever reason, these things still have a fair amount of demand.
Where this auction ends will be interesting. This is no doubt a real work in progress car that can still be driven, but you would think anyone buying one of these in yellow wants to show it off. The haggard interior will need some effort and I would think the price would reflect that. It still amazes that R107s like these will bring a higher price than a decent R129 that is in much better shape. If this thing tops $10,000 I'll be beside myself, but then again nothing in this inflated market really shocks me anymore.
– Andrew