Warning!
This post is in our archives. Links in this post may have been updated to point to similar cars available to bid on eBay.
The 1980 BMW Alpina Turbo E21 "Prototype" featured last month created a lot of discussion amongst our readers. One of our readers, Mario, emailed us at the end of last month. He has worked in a large BMW dealership in Switzerland for the past 13 years. He spotted this E21 and was skeptical, stating that hew knew Alpina was not in the business of selling prototypes. After some research on his part, he discovered that this car is a US market E21 with original Alpina parts. Attached is the letter that Mario received from the Marketing and Sales department at Alpina. The letter was originally written in Germany, so I have included the original letter along with the English translation:
Bitte entschuldigen Sie die verspätete Antwort, jedoch stehen wir mitten in den Vorbereitungen für den Genfer Auto Salon. Dieser angebliche ALPINA Prototype hat bis auf einige Teile wie Lenkrad, Zusatzinstrumente, Schriftzüge nichts mit ALPINA zu tun. Bei der angegebenen Fg-Nr. handelt es sich um einen BMW 320 US, der nie bei uns im Hause war. ALPINA hat auch nie einen 4 Zylinder Turbo gebaut.
Mit freundlichen Grüssen aus Buchloe
Angelika Jörg-Kane
Marketing/Verkauf
ALPINA Burkard Bovensiepen GmbH + Co. KG
English Translation: We apologize for the late reply, but we are busy preparing for the Geneva Motor Show. This alleged ALPINA Prototype has a few Alpina parts such as the steering wheel, dashboard instruments and lettering. According to the specified VIN, it is a US BMW 320, which has never been in our facility. ALPINA has never built a 4 cylinder turbo.
With friendly greetings from Buchloe,
Angelika Jörg-Kane
Marketing/Sales
ALPINA Burkard Bovensiepen GmbH + Co. KG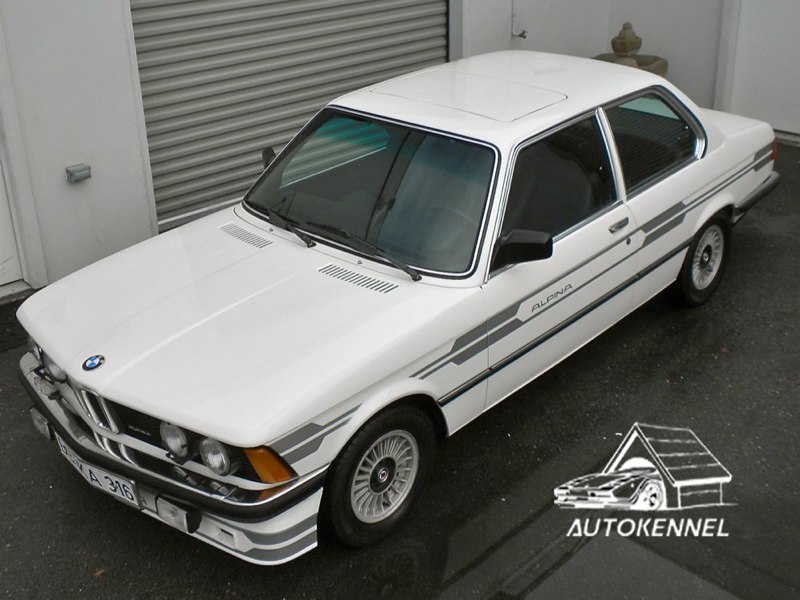 The below post originally appeared on our site February 14, 2013:
Often times we come across the E30 M3s, talk about how collectable they are and how the premium prices are justified due to collectability and so on and so on. So if the E30 M3s are the future collectable from BMW, what does that make this car?  A no brainer, that's what.
Alpina was founded in 1965, and started life producing typewriters and office equipment. In the mid 1960s, founder Burkard Bovensiepen started a BMW tuning business out of the original Alpina typewriter factory. By the early 70s, Alpina was making a name for itself in competition. The highlight was in 1970, when the team's cars won the European Touring Car Championship, the German Hillclimb Championship, rally and track racing championships and the prestigious Spa 24 Hours. The rest is tuning history.
Over the years Alpina has softened a bit, focusing more on luxury sedans based on the BMW 7-series, but throughout the 80's they were experimenting on all BMW platforms, and the results speak for themselves. This stunning E21 prototype is a prime example of the days when Alpina seemd to be turbocharging everything.
Year: 1980
Model: Alpina E21 Prototype
Engine: 2.0L turbocharged 4-cylinder
Transmission: 5-speed manual
Mileage: 40,000
Price: $29,900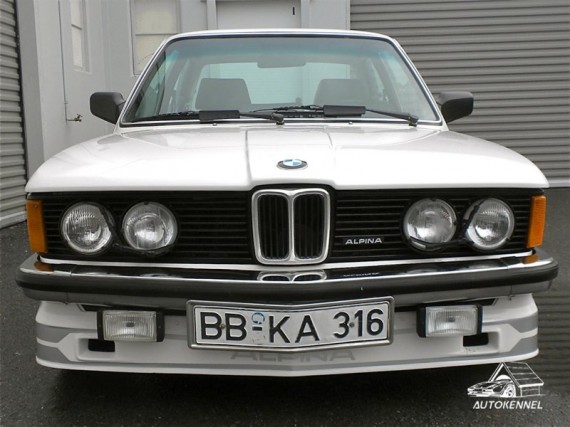 Alpina Burkard Bovensiepen GmbH has been working closely with BMW since the early 1970's producing some of their most memorable racecars. By the late 70s, Alpina became their own manufacturer and no longer sold their cars as BMW Alpinas, but rather just Alpina. They would order raw chassis and engines and build their own vehicles, many of which were then sold through the BMW dealership network. Forty years later, they are still producing some of the best-engineered versions of BMWs and sill reselling them through BMW dealerships worldwide.

This very unique prototype is very typical Alpina. In the late 70s, as BMW was determining what engine to put in their new 320/E21 chassis to give it more performance, they once again enlisted the engineers of Alpina to produce a Turbo variant.  They were provided 3 blank E21 bodies with 3 of the 4-cylinder 2.0-liter motors. Several of Alpina's top engineers were enlisted for this project.

What is so unique is that the head engineer of this particular example was able to purchase the car once it was complete since BMW ended up pulling the plug on the project and going with the 2.3 liter 6-cylinder. The engineer was lucky enough to access BMW's parts bins in order to install the "Hi-Lux" package on this example. This package included front and rear fog lights, European headlamps with washers, power windows, power mirrors, power locks, glove box flashlight, under hood and trunk lights, electric sunroof, and even the map light rear view mirror from the E23 program. Once the car was complete, being that the engineer was an American, he imported the car to his home in Colorado and federalized the car. Also (since the German engineers would have no part of it), he installed a correct Behr A/C system with an upgraded compressor. The final result was a very comfortable and fast sport coupe that could hold its own on the Autobahn. He used this car for fun weekend events and stored it during much of the winter. He sold the car a couple of years ago to a local BMW/Porsche enthusiast.

However, just before selling the car, the original owner went through the whole car and did a nice restoration. This included taking the car completely down to a bare body. The suspension was redone with new Bilsteins, front and rear bushings, rear suspension arms, and new brakes (discs and rotors) all the way around. Also a top end rebuild was performed on the engine.

After purchasing the car in 2011, the recent owner put the finishing touches on the car. He spent over $6,000 restoring the interior of the car. The factory sport seats were recovered in vinyl. A new headliner and carpet kit was also installed. Also, he completely restored the original dash including the rare Alpina gauge cluster. Finally, he redid the door panels and center console. The only flaw is the small plastic trim near the gauge cluster has a few cracks in it. It isn't that noticeable, but unfortunately, the part is NLA. We are still on the hunt for a good used one. Recently, a major service was performed on the car including a valve adjustment, alignment, and oil service. This Alpina is ready to be enjoyed.

The build on this car was typically BMW contract prototype budget. No expense was spared and nearly every component on this car was improved upon.

Modifications include the following:

Recaro sport seats
Electric Sunroof
Alpina body stripes
3:64 Limited slip differential
Leather 3-spoke steering wheel
Rajay oil fed turbo
2.3L Bottom End Engine that's been Stroked
BMW 323 Suspension
All Wheel Disc Brakes
Bilstein Shocks
Minor Porting
Minor Head Work
Battery relocated to the trunk

I love these "affordable collectibles." These cars are not only fun to drive and easy to live with even on a daily-driver basis, but being so rare, they have a huge upside in collectible value in the long run. Included with this vehicle are much of the original build information as well as the factory tool kit.

If you have any questions, please do not hesitate to contact Paul at 714-335-4911 or paul@autokennel.com

Note:

This vehicle is sold "as-is" with no warranty, written or implied. In some cases, the vehicle does have the remaining factory warranty still in place and will be described above if that is the case. All taxes and fees are the responsibility of the buyer and are not included in the listed price. All vehicle sales will require a $55 document fee. The vehicle listed is described to the best of our ability. We are not responsible for errors in our description of options or any other details. The above-mentioned vehicle is used and can be expected to show some wear and tear. It is not a brand new vehicle. We do our best to accurately describe the vehicle. We do welcome all local pre-purchase inspections on vehicles in order to verify condition.
A car like this is close to impossible to put a pricetag on due to the shear rarity of it. Regardless of what E21 values are, and Alpina values are, a well documented, one of two prototype should command a premium, as it can only appreciate as the years pass. All factors considered, this car is priced well for the BMW enthusiast market and if you ask me, is a far better collector choice than an E30 M3. That's not to say that I'd love to have both sitting side by side in my garage.
-Brian