Warning!
This post is in our archives. Links in this post may have been updated to point to similar cars available to bid on eBay.
You may be thinking, oh no, not another Alpina. After all of the controversy over the E21 a few weeks back we can understand why you'd think that. But this is Wagon Week, and we would not be doing our jobs if we didn't bring these cars to light. So here it is a stunning example of Alpina engineering, straight from the source.
The Alpina D3 Touring is the quintessential BMW 3 series touring as far as I'm concerned. It offers everything that a wagon should, performance, economy, utility, and drop dead sexy looks. With revised engine mapping, and a new high flow exhaust system, the 2.0-liter turbo diesel puts down numbers that will certainly make you forget you're driving a 4 cylinder station wagon. The D3 puts out 214 bhp and a monstrous 331 lb/ft of torque that will move this grocery getter to 60 mph in 6.7 seconds and a top speed of 152mph.
The Alpina upgrades don't stop there, the D3 sports the signature 19″ Alpina wheels, suspension upgrades, and the full Alpina appearance package. All of these touches make this one of the most stunning wagons we'll never get in the US.
Year: 2012
Model: Alpina D3 biturbo
Engine: 2.0l inline four turbo diesel
Transmission: 6-speed manual
Mileage: 17,500 km (10,873 miles)
Price: €34,500 ($44,153 USD)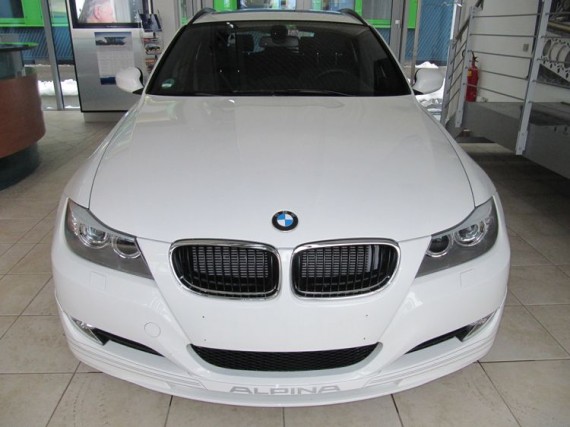 111 Fußmatten ALPINA / ALPINA floor mats
1CD Brake Energy Regeneration / Brake Enrgy Regeneration
200 Dieselpartikelfilter / Diesel Particulate Filter (DPF)
216 Servotronic / Servotronic
249 Multifunktion / Multifunction for steering wheel
2XAA/255A Sportlederlenkrad / Leather sports steering wheel
3AA Dachreling schwarz / Roof rails black
402 Panorama Glasdach / Panoramic glass sunroof
431 Innenspiegel aut. abblendend / Rear-view mirror automatically dimming
441 Raucherpaket / Smoker's package
464 Skisack / Ski bag
481 Sportsitze für Fahrer und Beifahrer / Sports seats, driver and front passenger
493 Ablagenpaket / Storage-compartment package
494 Sitzheizung für Fahrer und Beifahrer / Seat heating, front
497 Mittelarmlehne im Fond / Centre arm rest rear
4AE Armauflage vorn, verschiebbar / Armrest front, sliding
502 Scheinwerfer-Waschanlage / Headlight wash
507 Park Distance Control (PDC), hinten / Park Distance Control (PDC), rear
520 Nebelscheinwerfer / Foglights
521 Regensensor mit aut. Fahrlichtsteuerung / Rain sensor with automatic headlight activation
522 Xenon-Licht / Xenon headlights
534 Klimaautomatik / Air conditioning, automatic
540 Geschwindigkeitsregelung / Cruise control
563 Lichtpaket / Lights package
5DC Fondkopfstützen, klappbar / Rear-seat headrests, folding
606 Navigationssystem Business / Navigation system Business
612 BMW Assist / BMW Assist
615 BMW Online, erweitert / BMW Online, extended
616 BMW Online / BMW Online
620 Spracheingabesystem / Voice control
633 Handyvorbereitung mit Bluetooth Schnittstelle / Bluetooth telephone preparation with telematics
676 HiFi Lautsprechersystem / Hi-Fi loudspeaker system
6AA BMW TeleServices / BMW TeleServices
6FL USB Audio Schnittstelle / USB audio interface
6NF Music Player Anbindung Mobiltelefon / Music Player Mobile Phone connection
6VC Steuerung Combox / Combox
775 Dachhimmel Anthrazit, Individual / Headlining in Anthracite, Individual
7KA Navigationspaket Business, inkl. Handy-Vorbereitung Business m. Bluetooth-Schnittstelle u. USB-Audio-Schnittstelle / Navigation Package Business, incl. Bluetooth telephone preparation and USB audio interface
Interne Nr 9056305
Of all the cars that we've featured this week, this is in my top 2. I can't say enough how stunning I think this car is. From the Alpine white exterior to the grey cloth interior, this car hits all of the right notes. Throw in diesel fuel efficiency and wagon versatility, and this may be as good as it gets for a BMW Touring. All of these goodies don't come cheap, however, considering that the 328iT we featured earlier this week was going for $41,000 USD, the $44,000 USD price tag on this car seems like a bargain. Now all we need to do is find a way to get one here legally.
-Brian