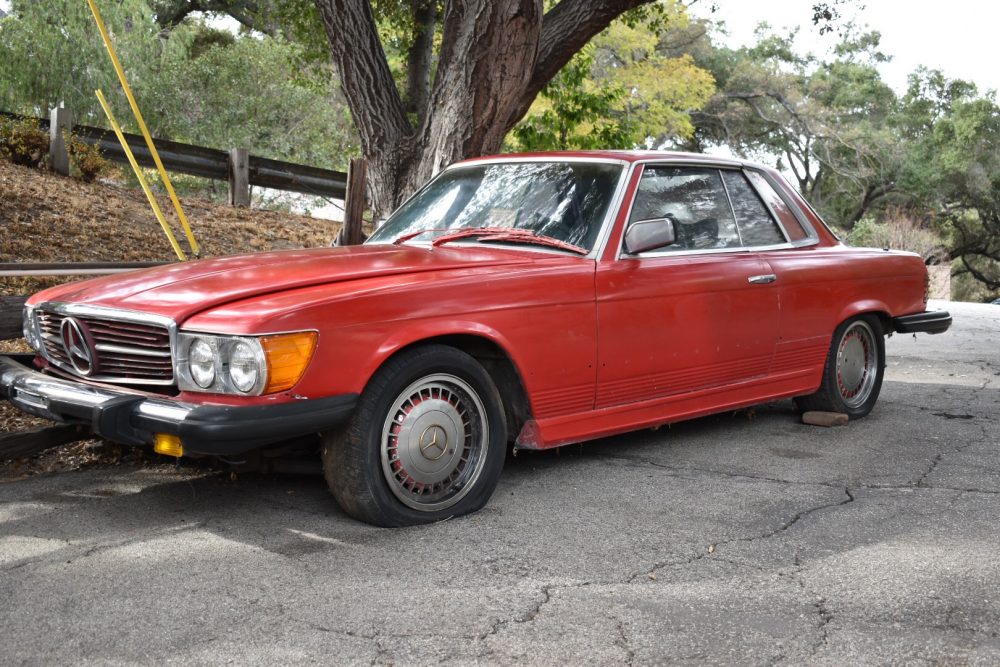 The majority of the time, I can "figure out" a car pretty quickly. I usually give them a quick glance, form an opinion on them, then move on to the next interesting car. Not with this one. Not with this 1980 Mercedes-Benz 280SLC.
It started out harmless enough. A listing for a $1,500 for a 280SLC. Naturally I'm intrigued by this. The 280SLC with the M110 inline-6 engine was never officially sold in North America so this was a big plus for me. Then I peeked inside and saw a manual transmission – things are looking even better. Yes, it's pretty rough looking, but the extra parts the seller is throwing in with the car could make this deal worth it especially since one of the parts looks to be a real pre-merger AMG bumper. But when I really started to do some digging into this car I was just confused.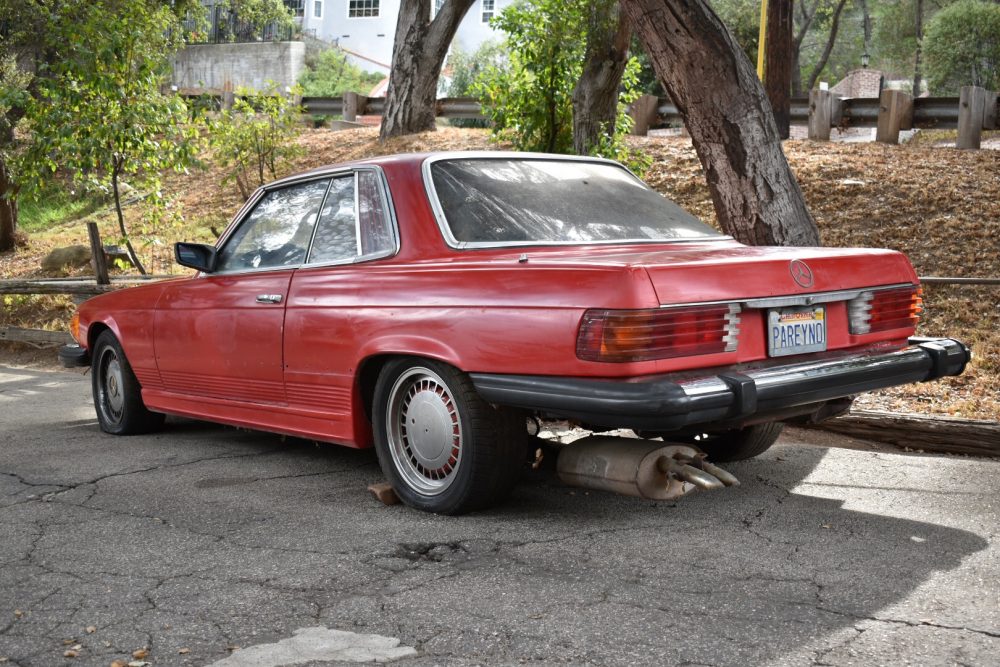 Year: 1980
Model: 280SLC
Engine: 2.8 liter inline-6
Transmission: 4-speed manual
Mileage: 256,761 mi
Price: $1,500 Buy It Now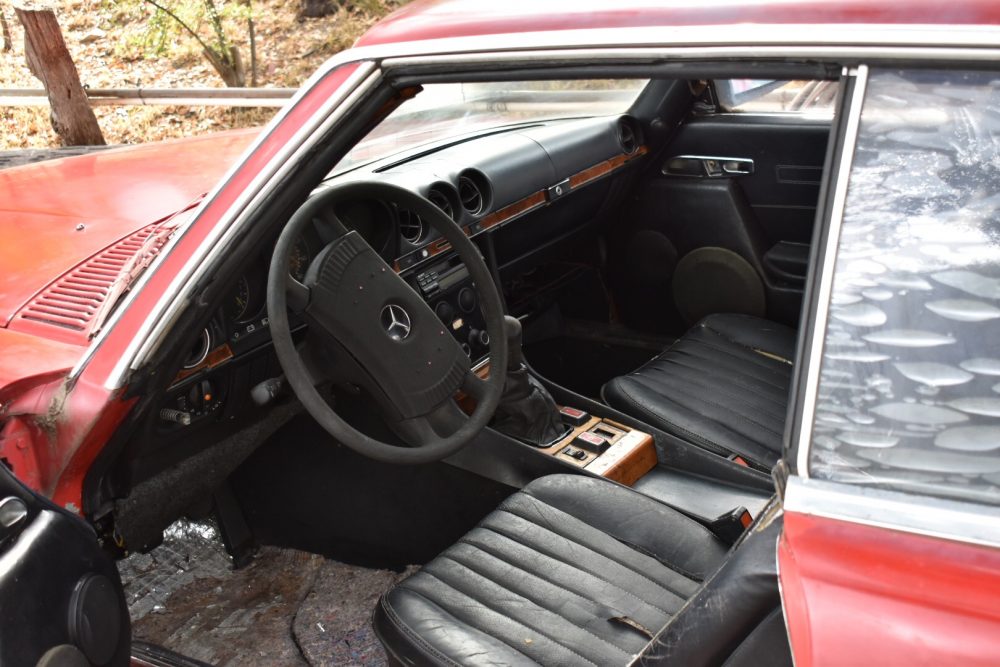 1980 Mercedes Benz 280SLC factory 4 Speed Manual
California Car
Vin Number: 10702210007450
Clean california title
Rare factory 4 speed manual transmission
Lots of good parts
Included are: vintage D&W body kit, AMG rear valance, and an extra set of genuine mercedes 107 seats.
All additional bumper hardware included as well (rubber trim, rear valence, etc)
256,000 miles
Engine rebuilt 20,000 miles ago
Lights and bumpers in excellent condition
This is a very rare 280SLC with a factory 4 speed manual. Lots of good parts on it. I dont have a key for the car. The previous owner said the engine was rebuilt at 230k miles. I was going to do a hot rod build out of this but just dont have the time at the moment. Feel free to contact me with any questions. The car is being sold ASIS. Buyer is responsible for vehicle pick up or shipping. International buyers welcome.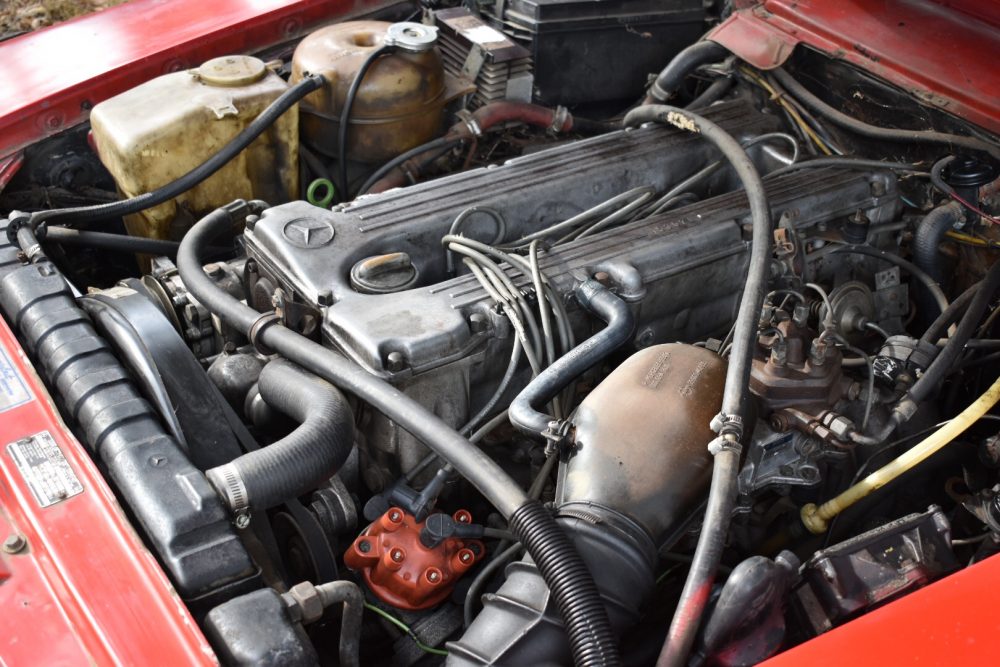 Let me try to go through everything without writing a novel. This 280SLC is a mess. It has the over 256,000 miles, the exterior paint and body work is haggard as could be, the interior is a strange mash up of swapped in non-original parts with random switches and wires going everywhere and while the engine looks OK to the naked eye, all six of the spark plug wires disconnected from the distributor cap isn't a good sign.
First, this C107 didn't leave the factory as the color red. I thought the paint looked awfully bad for the Mercedes standard of that time and there is a reason for this. I saw a bunch of paint over spray everywhere and when I ran the data card, it was relieved that this car was actually Astral Silver. This also explains why the grill, wheels and windshield wipers are all red too. Can't let that paint go to waste, I suppose.
Secondly, the shifter looked a little odd to me when I first glanced at it and I noticed the extremely peculiar placement of the window switches and somehow there is an extra hazard switched added in as well. My guess is that this crazy audio system that looks to be present has something to do with all these extra switches. The doors have speaker coverings bigger than most dinner plates and the little tiny speaker grills where HVAC controls should be is just as puzzling. Throw in some kind of decorative things (whatever they are) and this interior is just over the north side of crazy.
Finally, why is it basically abandoned on the street? I know in a place like La Crescenta, California, where the median home price is $791,300, a classic Mercedes with a flat tire parked on the street is as common as a cigarette butt on the sidewalks in New York City, but someone clearly loved this car at one point in time. This SLC could of been sitting like this for years. The seller cared about it enough to keep all the extra parts tucked away but not enough to throw some air in those dry rotted tires every once in awhile? I know life gets in the way a lot of times and cars get pushed to the back burner, but this odd ball had a lot of potential at one point in time.
At the end of the day, this is a $1,500 parts car. It is far too gone and the labor it would take to even get a decent baseline on this car isn't worth it let alone the laundry list of parts you need to get it moving under it's own power. I think someone will snatch it up to start parting out as the bumpers have some value, the engine and transmission can be reused and various interior parts will live on in other R/C107s. It's a shame this car ended up like this as it was probably a fun little runner in it's prime, but at over 256,000 miles, it lived a good life. Now it is on helping other cars.
– Andrew