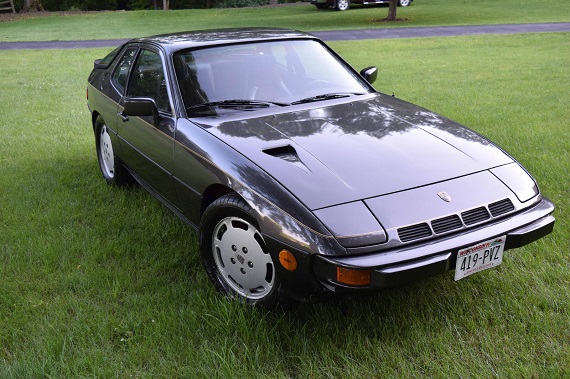 It's easy to overlook the importance to Porsche of the 924 model, but it was a significant and successful model – purists be damned. Not only did it make Porsche a viable company so that those precious air-cooled dinosaurs could be produced, but it laid the platform for many enthusiast favorites down the road both inside and outside of Germany. Of course, the most tangible benefit was the later 944 and 944 Turbo spawned from the bones of the 924, but highly prized models from other manufacturers were also influenced; the Mazda RX-7 was a blatant copy for example, but you can also see aspects of the 924 seep in to the Toyota Supra and Nissan 300ZX designs later in the 1980s.
Like its similarly revolutionary big brother 928, for some time the market did not recognize the importance or the significance of these designs. But while the 928's needle has begun to head up the tach, the lowly 924 remains an absolute budget bargain for classic Porsche fans. One model that has gained some appreciation of late is the 924 Turbo. Though the technology was relatively primitive compared to more recent turbocharged mills, the 931 packed a potent punch in the early 1980s. Even in detuned American-market form, the 924 Turbo had nearly 150 horsepower from the pedestrian but heavily revised Volkswagen 2.0 liter at the same time that a 5.0 liter Corvette hit the market with 180 lazy horses. The Turbo was upgraded over its relatively short life span too, and models like this 1980 came equipped with a sport package that included 16″ forged wheels, upgraded 4-wheel disc brakes and a sport suspension:
Year: 1980
Model: 924 Turbo
Engine: 2.0 liter turbocharged inline-4
Transmission: 5-speed manual
Mileage: 92,875 mi
Price: Reserve Auction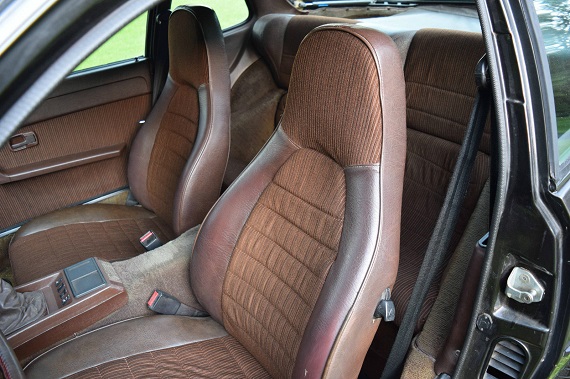 Up for sale is a 1980 Porsche 924 Turbo, or 931 as it is otherwise known. This particular example is what I would describe as a good driver. The reason I am selling however is I have a few other projects and vehicles requiring my attention, and I think it's time for the car to move onto another owner.

My son and I purchased this car in 2009 from a reseller who received it on a trade. Since then we've spent much time repairing the car. This particular 931 has the desirable M471 option which came with 928 brakes, a quicker steering rack, Koni shocks, and stiffer suspension. The original oil shocks were completely blown and were replaced with KYB units and the brakes were rebuilt. The timing belt was replaced as well as the water pump and belt tensioner. The notorious plastic elbow supplying oil to the cam has also been replaced. In addition, the turbocharger was rebuilt by Majestic Turbo. The car runs very strong, and the dogleg 5-speed shifts well although the synchros are showing some signs of wear.

The current paint color of the car is a dark gray metallic, which was done by a previous owner. From what we can tell, the factory color was Mexico Beige. The interior is brown vinyl with brown corduroy cloth, which was reupholstered by a previous owner. All power options are in operating condition – the windows work well, along with the mirrors. The rear wiper also works, which is very rare to find as most are broken by now.

While this car is not perfect, I believe this is one of the nicest 924 Turbos currently on the market, and is a classic that will continue seeing its value rise.
Thanks for looking!

Shipping and Payment

Purchaser is responsible for shipping and/or picking up the car. Purchaser must make a $500 non-refundable deposit within 24 hours of auction close. Payment may be made only through cash or wire transfer.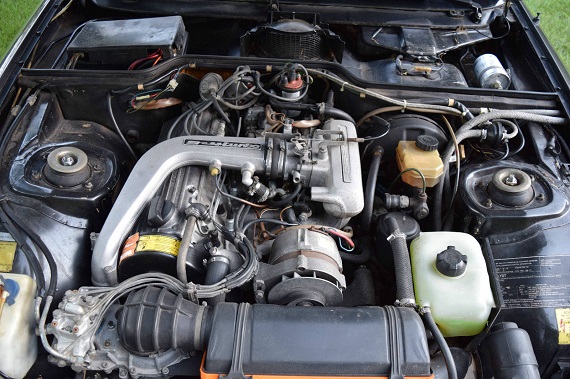 Recently a friend told me that he was looking for a clean 924 Turbo. My reply was "good luck!", as that can be a challenge in spite of the nearly 6,000 sold in the U.S. market. This one is clearly no show car at this time; non-original paint and interior simply won't win you a Concours today. But a clean driver this car appears to be, and I feel the seller is correct in stating it's one of the better ones out there. Though most of the 1980 models seem to be similarly equipped to this M471 model, it's still a great looking package with the 928 Gullideckel wheels, and the Turbo vents, ducts and light flares make the 924 shape much more sporty. Oversized tires make this one look even a bit more race-ready. Really top condition 924 Turbos have increased sharply in value thanks to attention from notable Porsche collectors like Magnus Walker, but most of the market has remained flat. This car probably represents a condition 3 model most closely; driver and occasional show but with some obvious flaws. That would put the value around $6,000 – $8,000, far short of where current bidding is. We'll probably see this car be a no sale this time around, but if it could be had for under $8,000 it probably represents a worthwhile investment that could be improved upon. And, ultimately, it's just such a neat car!
-Carter