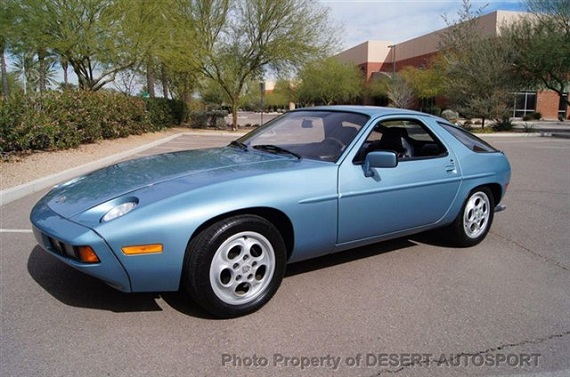 When it comes to the world of the 928, most people think about the repair bills associated with ownership rather than the premier grand tourer from Germany in the 1980s. So advanced was the design that it basically ran into the 1990s still looking quite fresh. Granted, the interior colors and plastic materials are quick to date it, but if you look at the overall layout it is not dissimilar to many supercars of today, and it's especially notable when you see how antiquated the 911's dash layout from the same time was. Today it has gotten a bit rare to see early 928s as many suffered from neglect and they're difficult and expensive to resurrect; but in spite of an apparent engine failure this light blue metallic example has weathered the ages very well, and with a replacement heart and pristine exterior and interior looks like it just awaits a new owner. The best part? Of course, it's a manual: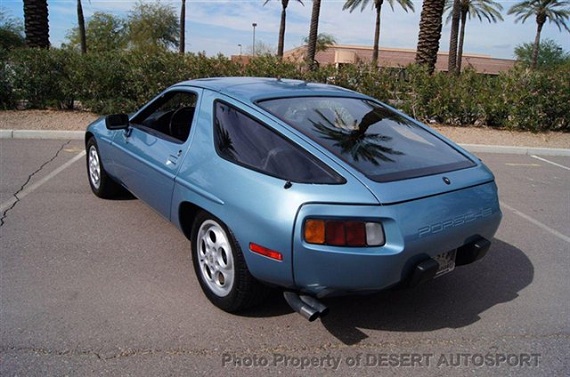 Year: 1980
Model: 928
Engine: 5.0 liter V8
Transmission: 5-speed manual
Mileage: 73,000 mi
Price: $16,995 Buy It Now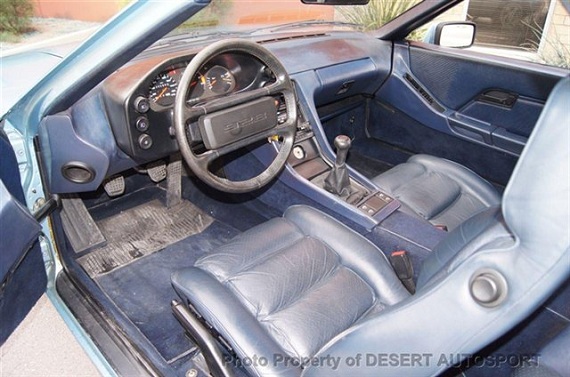 Vehicle Overview
1980 PORSCHE 928, 5.0 LITER FACTORY CRATE MOTOR BUILT TO EURO SPECS,5 SPD,CLEAN!!
Up for sale is a 1980 Porsche 928 coupe. For starters in a markefull of 928 project cars this car is the polar opposite. It is an outstanding example of what made these cars so popular over the years and is worthy to be parked in any porsche enthusiasts collection. For starters we have a stack of receipts that go back over 20 years and even have the original window sticker and owners manual.

The original upgraded factory options on this car include: limited slip differential, heated outside mirror right side, porsche cr stereo radio, 16 inch alloy wheels, power seat left side and power seat right side. This car cost $41,755 in 1980!!

The exterior is finished in it's original color of light blue metallic and complimented wih a navy blue leather interior. The exterior and interior are both totally stock right down to it's original phone dial wheels and blaupunkt stereo system. The exterior has been reprinted at point in the past and it shows very well. The interior seems all original and still in excellent condition. The speedometer quit around 72,000 miles and a new one was installed with 0 miles on it. It now shows just under 1000 miles on it so the total mileage on the actual car is around 73,000.

The drivetrain is the focal point of what makes this car so special and we have all the receipts to document it. First it had a brand new factory Porsche 5.0 motor installed known as a short motor (part# 928 100 911 00). Today's price on that motor is $12,500. It has European heads with larger ports and has larger intake and exhaust valves. It also has euro cams with much higher lift on both the intake and exhaust side. It has a 10:1 compression ratio which is premium unleaded friendly. It also had a new water pump, timing belts and clutch installed at the same time. This motor is strong and pulls hard. It is a solid 100 plus horsepower stronger then the stock 220 horsepower it originally came with. The transmission was also rebuilt in the past and currently shifts great into all gears. It not only runs great but sounds amazing. It has a very healthy V8 rumble and sounds like a true European muscle car that it is.

We just serviced this car and everything we could find and check on the car works well including the ice cold air conditioning. Porsche 928's rarely come around in this condition, yet alone an earlier first generation example. Do not snooze on this car as it will sell fast and be in someone else's garage and not yours. If you have any questions please call Randy at 480-894-4004.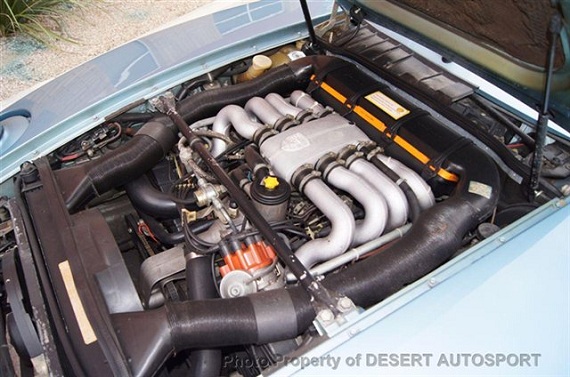 The big question is if it really has a 5.0 or a 4.5. The part number they list – 928-100-911-00 – is a 1978-1979 short block replacement and would not have been a 5.0 block, which would have carried 05, 08 or 14 as the last two digits from what I can see. Then there is the question of engine management on the 5.0, as the later cars went from K-Jetronic CIS to a LH-Jetronic digital fuel injection. Certainly, as I've made a similar switch on my Audi GT, overcoming this isn't impossible, but I wonder if the motor swap really entailed what it being laid out. That said, the Euro motors did put out quite a bit more power and with the claimed Euro bits it should be a strong runner. There are reciepts there to prove a lot of work has already been done, and the icing on the cake has to be the 5-speed manual. Couple that with the cleaner lines of the early cars and this is one real stunner.
Overall condition on the car is impressive and original, and while not as flashy as the Guards/Pascha combinations we've seen I think it certainly looks stately and refined in light blue metallic with blue leather. What's the price you pay? As we've seen, you can get into one of these early 928s at or under $10,000, but as noted in the advertisement they usually have a lot of question marks or need a fair amount of work. This car seems to have some questions still such as the true nature of the motor and the odometer replacement, but looks the part and is priced accordingly at the higher end of the early 928 market. For the right person, if the PPI checks out this could really be a great deal and a lot of car.
-Carter