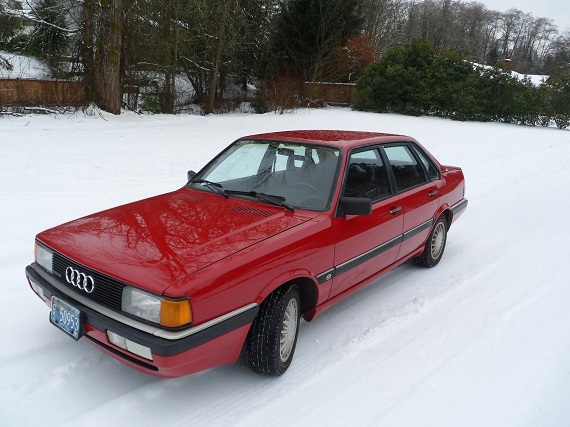 When I started at GCFSB, it was my mission to raise awareness of two of the most unappreciated cars in German motoring – the Audi Coupe GT, and the Audi 4000 Quattro. Of course, those were my first two cars so it makes sense that there would be sentimental value, but they are genuinely good cars that often get overlooked for not being Ur-quattro enough. I've written up some quite nice ones over the past few months, including a Graphite Metallic 1986 4000CS Quattro and Alpine White 4000S Quattro, a car that stunned most of the B2 Audi world by pushing well into the teens. Granted, perhaps it was the perfect storm, but we've seen sellers asking serious premiums for mint condition, original 4000s and GTs and today is no exception. Looking splendid in fresh Tornado Red comes this 1985 example: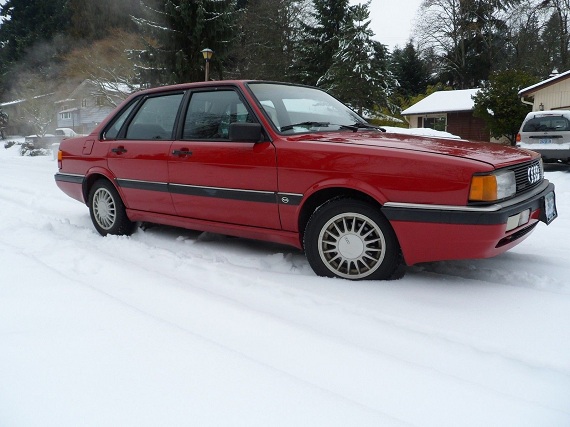 Year: 1985
Model: 4000S Quattro
Engine: 2.2 liter inline-5
Transmission: 5-speed manual
Mileage: 119,000 mi
Price: No Reserve Auction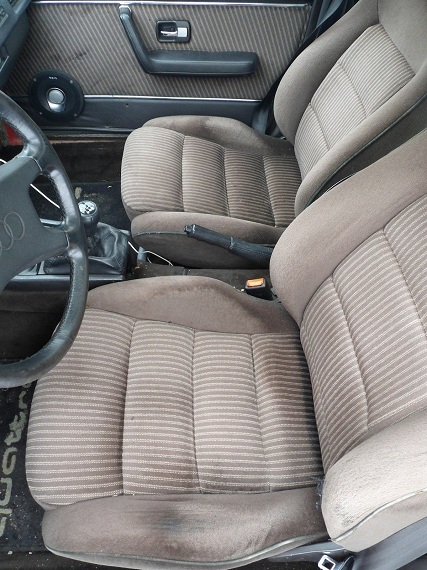 Hello,
I am selling another one of my Audi's. I am trying to downsize my collection as you have seen in previous auctions already..This is a rare 1985 Audi 4000 CS
Quattro Sedan. Completely unmolested nice original car. Has been repainted about a year and a half ago. Original Tornado Red color. Original Ronal r28 Wheels with almost new Toyo Eclipse All Season mud and snow rated tires. Interior is in Excellent condition. Magnaflow Muffler 2 years ago. I have been driving it in a foot of snow the last 3 days going everywhere. Anyone who knows these cars, they are able to go anywhere you want. Original Owners Manual. In the last 2 years, New rear calipers, pads, rotors, control arm bushings, front struts, strut bearings, bump stops, 4Wheel Alignment, Fuel Filter, tie rods.
So much has been done to the car. JVC CD with usb, etc. Will add more later.

On Feb-09-14 at 21:01:00 PST, seller added the following information:

Some dings here and there, all windows work. burn hole and minor wear in driver seat as pictured.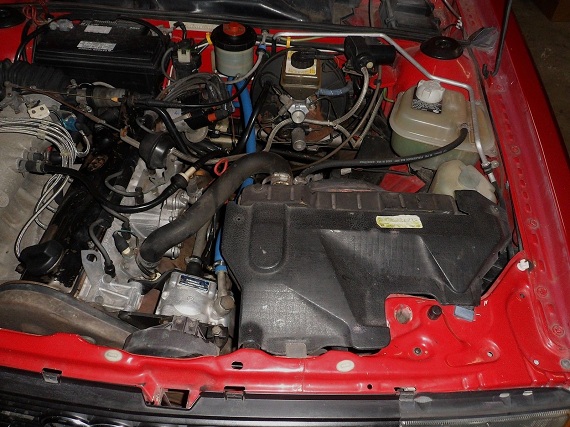 There do seem to be more 86 models than 85 or 87s, but the 1985 was "S" only – the "CS" didn't roll out until the 1986 model year. Changes were minimal – flush aero center caps and a third brake light were about the only notable differences, but this car properly should have the smaller black caps with exposed lugs. Ultimately, it makes no real difference as the condition of the car is much more important. That condition appears quite good, as it should with fresh paint and a host of mechanical replacements. What to me really tells the story is under the hood, where you see relatively unscathed bare aluminum – it's something that we New England folks just don't ever seen when we pop the hood. Overall, this car is in quite good condition – perhaps not as good and without the records of the other two cars, but certainly amongst the best 4000s that have graced us in recent memory. That condition comes with a price, as if done correctly that repaint should have been very expensive. Starting bids are around $5,000 and I expect the seller is hoping for the best part of double that, but we'll likely see this car hammer between $6,000 and $8,000 if the stars align just the right way. For that money you could have more Audi, but it just wouldn't have the character or be in the condition of this 4000.
-Carter