While we're on the subject of vintage Volkswagens on offer in Germany, how about this Mk1 Jetta with a mere 14,000 km (~8,700 mi)? Over the past several decades, the Jetta has emerged to be a bestseller in the US market for Volkswagen, where cars with a traditional trunk are favored over the hatchback. This museum quality Mk1 Jetta is for sale near Aachen, Germany. Since many of the Mk1 Jettas have disappeared from the roads worldwide, seeing this car in this kind of condition simply transports you to a different era.
Year: 1980
Model: Jetta
Engine: 1.6 inline four
Transmission: 5-speed manual
Mileage: 14,000 km (~ 8,700 mi)
Price: Auction, No Reserve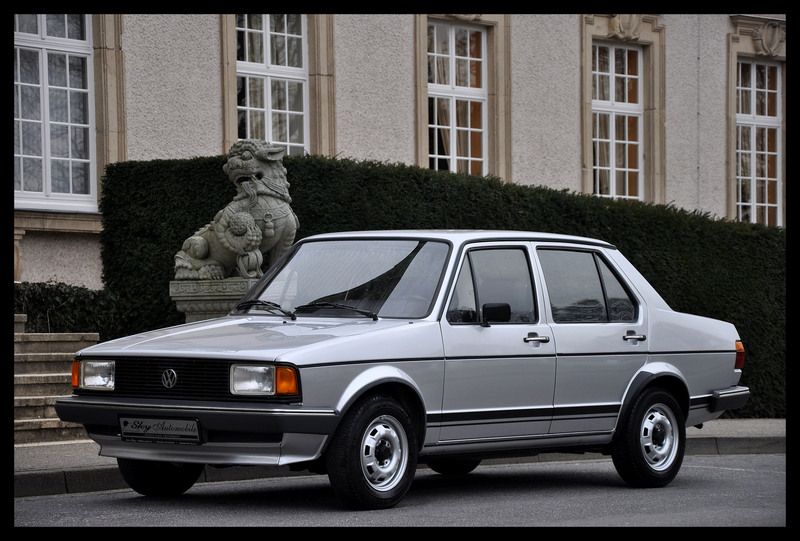 We present a real rarity, the top opportunity for collectors, original 14,000 km! Hardly been used, and the interior is especially like new. Inclusive of VW cars from 33 years ago. Includes original board folder along with service book. The following inspections were entered in the service log:

Delivery inspection at 0 km by VW
Inspection at 1530 km by VW
Inspection at 5120 km by VW
Inspection at 5863 km by VW
Inspection at 9716 km by VW
Inspection at 10,774 km by VW
Inspection at 12,000 miles through VW
In addition, an inspection at 12,500 km, but this was not carried out at VW.

Along with the entire board folder is the original "service coupon" for the first Volkswagen service available, which VW offered at the time free of charge. Colour Name: Diamond Silver Metallic (Lacknr. L97A). Due to his age, the good owner over the last ten years was barely able to drive his beloved VW. After death, the vehicle was then released for sale.

The piece was then in 11/2012 for a check-up along with a new timing belt & oil changes. Likewise, a new TÃœV demonstration together with H-approval (vintage). There even the original tires from 1980 (with 14,000 miles) were mounted, which we leave for reasons of originality on the vehicle. It comes from the first owner. Since the VW dates back to the us from directly neighboring Belgium, he has to get us one day admission (to German approval).

The interior is especially remarkable. Experts know how vulnerable these delicate, thin upholstery were and that they were worn since the eighties. The cushion is flawless and found only in specimens that were partially used (VW Museum). It is the same with the dashboard, which is something that is known to crack. In this car, this is absolutely spotless, including headliner, all switches, controls and so on. Almost like new. This specimen benefits from being a 100% non-smoking vehicle.

Even the exterior is more than just above average beautiful. After toggling you have to look very carefully, meticulous perfectionists will find but one or two minimal flaws. Thus the exterior is in as perfect shape as the interior. In possession of the good owner, the vehicle was repainted in its original paint. Since we don't know otherwise, this can not be assured without accident damage. In some corners and also in the engine bay is even the factory wax preservative. It would look nice if you removed this, but that would be pure blasphemy. The handling of the VW only can be described as perfect! It's an incredible experience to move a vehicle this model year that feels and drives as if it were brand new!

Location: 52146 Würselen (NRW/Germany)

Collection please within five days, with a down payment of 25% and a pickup within one month is possible. Disclaimer: Despite the excellent condition, one can assume this 33-year old car has no warranty or the like.
With no reserve and about two days left in the auction, we're closing in on $5,000 USD. I'd suspect this unbelievably clean Jetta will probably pull somewhere between $6,000 and $7,000. In silver with the Euro headlamps, this Jetta has a fresher look to it than its US market counterparts.
-Paul