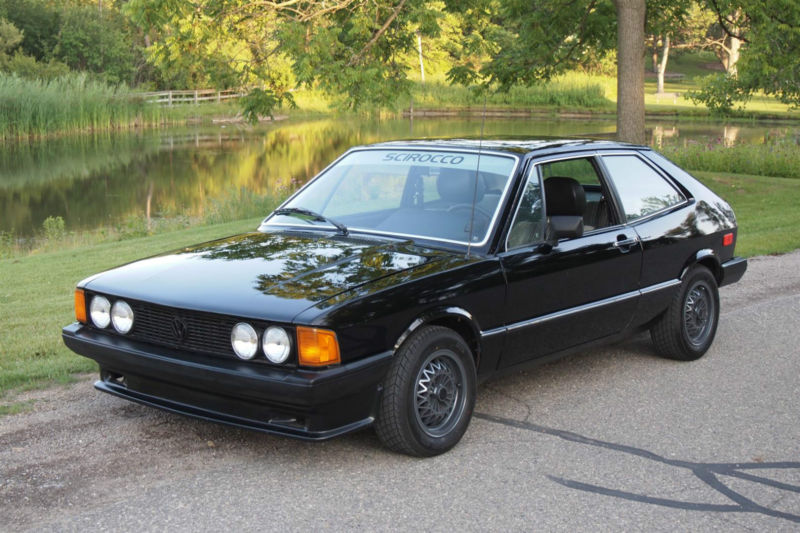 When talking about the Volkswagen Scirocco, most enthusiasts seem to forget the first generation and concentrate on the more angular Mk2 that was designed in-house by Volkswagen. Perhaps that is due in part to it not being the best performing car, or more likely because most succumbed to rust far too early. Despite not being very old, in the "everything must be a straight line" 80s the Giugiaro design quickly looked dated. Age has proven the merit of the design, however, and in my opinion it has matured much more gracefully than the Mk2 and many of the styling clues reappeared in the Corrado. Still, it's fairly rare to find a clean original Scirocco, and that's why it's especially pleasing to see one pop up on the market, like today's stealthy black 1980: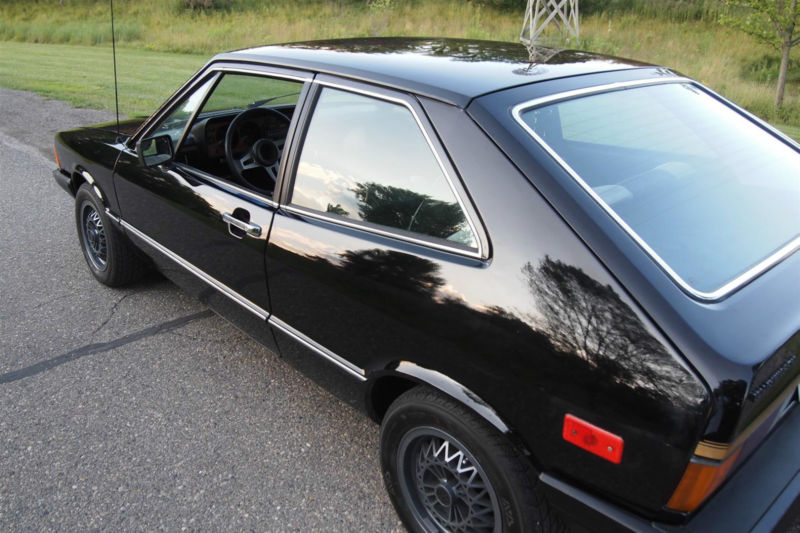 Year: 1980
Model: Scirocco
Engine: 1.9 liter inline-4
Transmission: 5-speed manual
Mileage: 88,500 mi
Price: Reserve Auction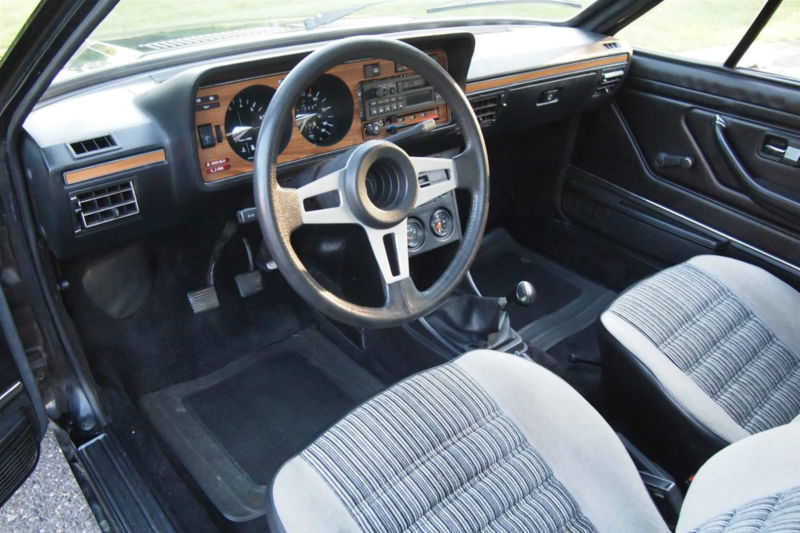 Well maintained and cared for Scirocco Mk1. I'm 2nd owner and have had it 26 years. Always starts and drives amazing. Always garaged, never seen winter. 88k miles. Only occasionally driven the last 10 years. Have had 7 watercooled VWs but never sold this one! I am now up to 6 cars so it's time to thin out the fleet.

Original paint. Car looks original but with some intelligent enhancements. Car lightened to under 1950lbs (mainly the euro-spec bumpers) but still has the factory A/C. Starts, idles, runs, drives and stops as it should.

Have to drive to fully appreciate; this car is just plain Fun to Drive! The engine is very responsive at any RPM or gear! The CIS injection runs well and very reliable.

Engine / Trans
• 1860cc Techtonics Tuning "Big Bore" kit, 10:1 compression, very torquey
• Head fully ported, cc'd and big valves by Tim Conolly.
• This engine pulls hard from 1200 to 7000 yet is very streetable with excellent drivability.
• Freshened about 10 years ago when head work done. New pistons, rings, belts, clutch, water pump… Probably has 2-3000 on it.
• Intake and exhaust manifolds opened and port-matched to head
• VW Euro-GTI camshaft
• Techtonics Tuning dual-pipe exhaust system
• Audi oversized throttle body
• Later model factory oil baffles added to oil pan and cam cover
• 5 speed transaxle (left over spare part from VWmotorsports rallye team) shifts better than my Miata
• F&S clutch/pressure plate, lightweight flywheel, done same time as head
Suspension, brakes, steering
• Front and rear sway and stress bars
• Ground Control adjustable height coilovers w/Eibach springs. (Can easily re-install the stock springs.)
• Recent Tokico adjustable struts and shocks.
• New (not re-builds) Ate brake calipers, hoses and master cylinder
• Powdercoated period rims w/new Yokohama tires. Alternate choice of Rabbit GTI wheels w/Yokohama tires
Body
• Original factory paint (exc. front fenders)
• Lightweight Euro bumpers and mounts (70lbs lighter!), period Kamei Spoiler (have original too)
• no rust other than a few paint nick/stone chips, always stored for winter, hasn't seen rain in years.
• Rustproofed when new. I scraped off a lot of it from engine bay but still goop in corners and other places.
Interior
• Original except for upgraded radio and speakers. Original Blaupunkt included
• Gas pedal widened to aid heel-toeing
Also included
• Many spare and additional parts including original parts removed to reduce weight (rear wiper, washer bottles, horns, trim…)
• Folder with parts and maintenance receipts.
Known issues
• Heater fan stopped working couple years ago after winter sleep. Haven't bothered to inspect since not cold when driven.
• A/C probably needs re-charge. Was serviced 15 years ago but not used lately since fan switch not working to engage it. I have R-12, will look into charging it.
• Lost the little noise clips for the front brake pads so they rattle on bumps.
• Some cracks in the dash.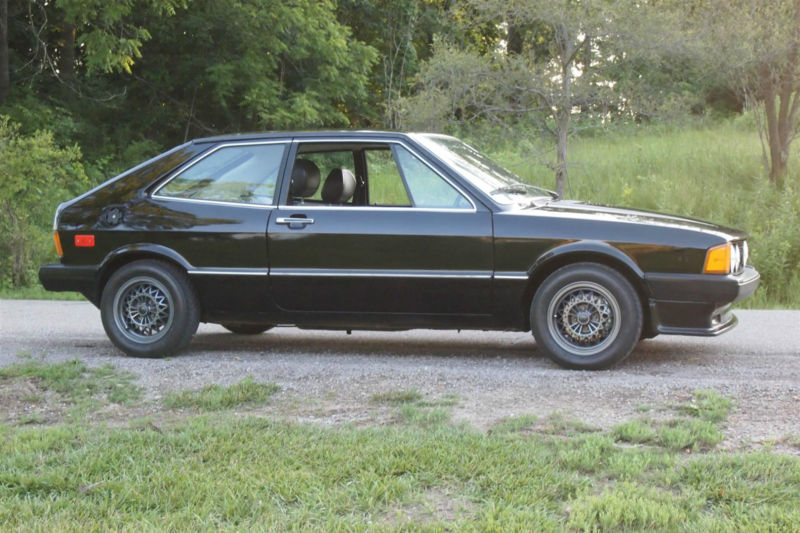 The owner of this car has been committed to it for quite some time, and I appreciate not only his dedication keeping it alive, but also a series of tasteful modifications. The engine should be a pretty serious upgrade over the stock unit, and it has some substantial running gear upgrades to deal with the extra power. At a reported 1950 pounds, it is sure to be entertaining on the back roads. The period mesh wheels aren't my favorite, but certainly look unique on the car. The best addition has to be the great looking Euro-market bumpers. It's nice to see the owner kept a most, if not all, of the items he removed for lightness, and they're included in the sale.
I expect this car will probably fetch between $8,000 to $10,000 given what it is, and it may even go higher. That's an awful lot of money for an old modified Volkswagen, but this is a pretty rare example of such a beautiful car and it's probably worth it. Given that the less desirable (in my mind) Mk2 models are selling above $10,000 now, it may even be a bit of a deal for a classic design. So, at that price, what do you do with this car? You find your nearest back road and enjoy the ride, that's what you do! When you're done wringing its neck on those roads, park it near a window at your local coffee spot, order up an espresso, sit back and soak in what a beautiful design Mr. Giugiaro penned. These cars are sure to continue to appreciate over the next few years.
-Carter